Michigan State senior Shawn Horcoff won an unprecedented five laurels to highlight the 2000 CCHA Awards, presented Thursday, March 16, at the Fox Theatre in Detroit.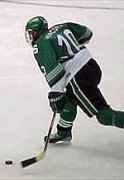 Fellow Spartans Joe Blackburn, Ryan Miller, and Mike Weaver, who picked up two plaques, accompanied Horcoff as Michigan State led all CCHA teams in postseason accolades.
Michigan's Jeff Jillson was also honored twice.
Horcoff was named to the CCHA All-Academic Team and the league's first All-Conference team, was the leading scorer in league play this season with eight goals and 36 assists, and was also named the league's Best Defensive Forward and Player of the Year.
After being named Player of the Year, Horcoff thanked the Michigan State coaches for their patience, thanked his equipment manager, trainer, and strength and conditioning coach, and said of his four years as a Spartan, "It's made me into a man."
Blackburn was named to the league's All-Academic Team, Miller earned Best Goaltender honors, and Weaver was named first-team All-Conference as well as picking up the Best Defensive Defenseman award.
Lake Superior State head coach Scott Borek was named coach of the year. Borek, who said that the award was more of a reflection on his players than himself, told a story about his family that he said illustrates the perspective you need as a coach.
Last season the Lakers lost a 5-4 home game to the Nanooks, after being up 4-0 in the first. Lake Superior had a chance to tie on a penalty shot and missed. "Not only did I get booed by the fans," said Borek, "but I walked into my house and got booed by my wife and four kids."
Borek said, "We have a saying in my house: It's only a movie. That keeps it in perspective."
Until this week, Borek had yet to be offered a contract extension on his current three-year deal. Yesterday, he said, he was negotiating with the university.
Northern Michigan's Chris Gobert was named the league's Rookie of the Year, while Jillson was named Best Offensive Defenseman and earned a spot on the league's first-team All-Conference roster, and fellow Wolverine Sean Peach was given the Terry Flanagan Memorial Award, an honor that goes to a player who has overcome adversity to continue to play hockey. The award is named for assistant Bowling Green coach Terry Flanagan, who died of cancer in 1991.
Peach, a senior, sat out his sophomore season with a series of concussions, and there was doubt about whether he'd take the ice again. He talked about how difficult it was to watch from the sidelines the during the 1997-98 season, when Michigan won its most recent national title.
"Probably they won because I wasn't there," Peach quipped.
Other players named to the All-Academic team include Andy Jurkowski (Notre Dame), Jim Dube (Ferris State), Dustin Whitecotton (Miami), and Jason Redenius (Western Michigan).
In addition to Horcoff, Weaver, and Jillson, the first-team all-CCHA honorees were Mike Comrie (F, Michigan), Roger Trudeau (F, Northern Michigan), and Jayme Platt (G, Lake Superior).