There are times in life when people are pleasantly surprised. Rensselaer fans have been pleasantly surprised over the last four years by a quiet young man from Saskatchewan.
Joel Laing came to Rensselaer from Maryfield, Saskatchewan, and has played his way into being one of the ten best players in Division I college hockey.
Laing was named one of the ten Hobey Baker finalists on March 16, a distinction that really was a pleasant surprise.
"Not realistically, no," said Laing about his chances at being a Hobey Baker finalist. "I didn't think it would be feasible, with the situation that I was in, I didn't expect to get the ice time to get there. I was expecting to go from game to game. The situation is strange, and I don't think it has hit me. I never get too high or too low. I'm not too excited that I am one the finalists and if I never played a game I wouldn't be disappointed. I don't let those emotions gather too much except for game day."
That statement says a lot about Laing. An even-keeled type, Laing came to Rensselaer at the last minute in 1996 — a decision which has changed his life.
"I'm kind of surprised it worked out as well as it did," he said. "Coming in here my expectations weren't too high. The only thing I knew was there were two freshman goalies and I thought I could play right away or at least get a look. But as far as the school, I didn't know too much about it, I didn't get a chance to fly down, I just took a gamble. I based the decision on the tradition and recognition of RPI through the hockey ranks. I took a gamble and I am real happy with how things turned out."
Laing was with a junior team in Minot, North Dakota, in 1996, when he was traded to the Melfort Mustangs. There he was the backup to Scott Fankhouser (who went on to UMass-Lowell), but when Fankhouser was injured in the first game of the Royal Bank Cup, Laing found himself thrust into the center ring, as the goaltender for Melfort in the Tier II championships.
"I knew that I was going into a role where I was there for insurance purposes," he said. "But I also knew that I might have the opportunity to be put in the position to show off my talents to recruiters at the next level and it just so happened that in the first game of the tournament Fankhouser got hurt and I played the entire tournament and won the Goaltender of the Tournament Award. We lost in the final, 2-0 to Vernon, BC, but it was a great experience for me.
"After that nothing was looking promising and I decided that I was going to school in Canada. RPI was still looking for a goalie in July; I got a call and they said there was some money available and I said I was in. It was a no-brainer for me. It wasn't like I had a lot of other options. They took a gamble on me and I took one on them."
Without visiting the campus or seeing it, Laing came in with classmate Scott Prekaski, and the two immediately got their chances on the stage of the Houston Fieldhouse ice. The two freshmen played as a duo and continued to throughout their four years. Something special was brewing in Troy, and it became evident the first weekend of the ECAC regular season in 1996.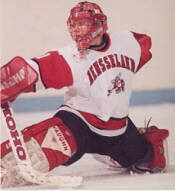 The Engineers were playing Martin St. Louis, Eric Perrin, Tim Thomas and the number-one ranked Vermont Catamounts in the Gut. Laing got the start and Engineers upset the top team in the nation in their own barn.
"It was my first college win ever," reflected Laing. "To go into Vermont when they were ranked number one, and I played one of my better games that night. It was so exciting to play in that action and environment. It elevated my level of play and it made the game that much more enjoyable."
From there the Engineers began to ride the coattails of Laing and Prekaski. The Engineers made it back to Lake Placid that season, but fell in the semifinals and narrowly missed the NCAA tournament.
The next season the Engineers were picked to finish first in the ECAC, wound up third and were eliminated in the ECAC quarterfinals, putting an end to their season. Through it all the two goaltenders continued to alternate.
"We've been able to feed off one another and we've had a healthy relationship," said Laing about Prekaski. "When one of us is playing well and when things go a little wrong, we lean on one another and bank on one another's experiences. Through all the turbulence it makes it a lot easier for us and had made us stronger over four years."
During the middle of the 1998-99 season, Laing started to get more ice time. One major reason was that he was just incredibly hot on the ice. After the holiday break Laing shut out Yale at home, allowed one goal against Princeton, and then shut out Brown and Harvard on the road. Then next game was against Union, and Laing fell 1:13 short of tying Trevor Koenig's mark for most consecutive shutout minutes in ECAC competition. Laing also garnered five shutouts that year, tying him with Bobby Fox for the most shutouts in a season at Rensselaer.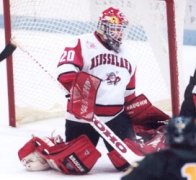 The Engineers made it to Lake Placid, but lost in the ECAC semifinals and narrowly missed the NCAA tournament once again.
This past season, Laing was given most of the load on the ice and he responded. He put up a 17-7-2 record, had a GAA of 1.82 and a save percentage of .947. Numbers that goaltenders dream about.
The Engineers made it to the ECAC championship game, but fell to St. Lawrence and were left out of the NCAAs, ending Laing's college career.
"I was real proud of how our team played in Lake Placid," he said. "We gave ourselves a chance to win each night and I will always remember that: when we went up there we played hard and it was a battle each night," he said.
"I'm not really a sentimental guy. I knew it was over and it was the last game I had played, but it's out of your control. I have no regrets and knowing that I see all the guys every day helped out. It will be something that you miss. You're part of a family.
"It's not that often that a small-town guy from Saskatchewan gets to move to the big city, Troy," he continued with a laugh. "It's a long way from home and it's real good that I had the chance to get an education and a chance to play.
"I am grateful for it."
In his career, Laing set shutout marks at Rensselaer both for a single season, six, a career, 13.
But Laing does have one more thing to shoot for in his college career — the Hobey Baker Memorial Award. And when one looks at the criteria, one can't help but be impressed and think that perhaps Laing fits the mold of your model Hobey Baker candidate.
1. A candidate must exhibit strength of character on and off the ice.
Laing was named assistant captain this season and has shown why. Even though he won't be on the team next year, his leadership may be. He offered the following words of advice for Rensselaer's incoming goaltenders, Kevin Kurk and Nate Marsters.
"They're coming into a great opportunity. They'll battle for ice time and if they come into camp in good shape and in the right mindset, they'll be great. They have to have the attitude that they have to earn their time. That's something that always drove me — every day I felt that I had to prove myself, and every week I had to prove that I deserved a chance to play.
"Even though I got two shutouts in a row, in the back of my mind, I didn't know that I would play. I would go out in practice and get lit up, and that would drive me to play that much better in practice. If they take that attitude of battling every week for what they deserve, and not that it's handed to them because they are two freshmen and one of them has to play, they'll both have a chance to show what they can do. They have four years ahead of them; if they come in with a good attitude and a good work ethic then they can break any record that they want.
"Everybody's replaceable. There is always somebody better than you, and that's what I truly believe. That's how I try to keep level-headed, because I know there is somebody better. You can always find somebody to fill a role at any time."
2. Candidates must contribute to the integrity of the team and display outstanding skills in all phases of the game.
Laing's numbers speak for themselves, and his skills as a goaltender have improved from year to year. He explained: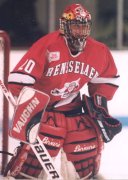 "I don't know if I have a style. I'm more of a positional goaltender — they always have trouble finding saves from me for the year-end highlight film for the banquet. I always try to put myself in the position where the puck is going to hit me right in the chest, and if I'm not in that position I probably won't make the save. The keys for me are reading the play, being aggressive and taking away the angles.
"When I was in junior I was more dependent on two-pad stacks and flaring glove saves, but now I keep those to a minimum. They're fun, but it's not something you want to depend on.
"Every goaltender plays the give-and-take game. A guy at the side of the net doesn't have a lot of angle so you open your legs wide, and when he doesn't have a lot of time to think, he sees it and he shoots and you know where the puck is going.
"It's been the mental perspective where I have seen it make the difference in the game. One of the things that I have done is not let in the late goal. It's the mental preparation, visualizing and constantly being on the ball when you're on the ice. If you're not focusing on it, then you're going to be slow to react. That's one of the differences in goaltending; it's that for a goaltender the game is 80 percent mental."
3. Consideration should be given to scholastic achievement and sportsmanship.
Laing has gathered a 3.97 GPA over the course of seven semesters at Rensselaer, as a management major concentrating in finance and information systems.
"I approach [school] in the same situation that any student approaches college. I'm just another student going to school. I play hockey on the weekends and in the afternoons, but other than that, when I am off the ice I am off the ice. I'm in class, contributing to group projects, and in clubs around campus. I take that just as seriously as someone who is in the same situation, as someone who is trying to better themselves for a career after their college years are over.
"I've been fortunate to be in a curriculum that I enjoy, surrounded by faculty that are cooperative and have been a lot of help in the classroom. They make it enjoyable to go to class day in and day out. As long as the interest is there and the motivation is high, you are going to be successful.
"When I sit down to do homework, I enjoy doing it. It doesn't matter whether it's investments, systems analysis and design or geometry, I enjoy seeing new things and gaining new knowledge. I think if you take that attitude it makes it more enjoyable. Whereas if you're going into class and saying, 'Ugh, I'm in class until two, then I have to go the gym', once you take that mindset you're going to wear yourself out. It will take out a lot of the joy out of the educational experience. I have been able to enjoy myself and apply myself to my utmost abilities."
There is no doubt that Laing has all the qualifications. Now he sits and waits for the Hobey winner to be announced. With the above going his way, Laing certainly has a decent shot at getting enough votes to be the recipient.
He has already won USCHO's Vote For Hobey.
"I was real excited to see that," he said. "Just to see the pride and enthusiasm of the RPI fans. It's something that shows the kind of program that there is here, and the following that we have is all quality fans. They're willing to go that extra mile for you and that helps us on game days — we feel that the fans need to see our best effort, game in and game out. It's not only coaches and players, but it's fans that make a lot of sacrifices that come to see us, and they deserve the best."
The next step for Laing will be a shot at the professional ranks, something that he is looking forward to.
"It's a progression — you can't stay in college forever. It's one of the best times in your life and I have no regrets at all.
"I'm hoping that things work out and I hope that I get an opportunity where I have a chance that will prove that I belong. I think I have to go and take the same attitude and…prove that I belong there, and that everything I get is earned. Never expect that anything is given to you — you're not better than the next guy unless you prove it. There's a lot of growing that needs to occur, and I'm ready for that."
But whether or not Laing walks away with the prize on Friday, or the hefty professional contract, the Rensselaer community will be grateful that Joel was a part of their lives.
"I hope that they say that [I] was a nice guy. Not only a good player on the ice, but a quality guy off the ice. I try to do things that are not only right for the hockey program but for other programs around the school. It's something that I have taken some pride in trying to fit in as a student, and not just as a hockey player.
"I walk around here and no one knows who I am. That's how I want to be remembered, not somebody that walks into a room and has all the focus. That's not what I want. When I go somewhere I would rather not be noticed. I don't mind that someone talks to me, but I feel that when I walk into the room, I want to be a regular student. That's who I feel I am — Joe Schmoe, the management student at RPI."