Twenty-four hours before Niagara upset New Hampshire in the Western Regionals, Purple Eagles head coach Blaise MacDonald delivered two sentences that poked fun at a collective college hockey community that had yet to learn that the CHA team deserved its first-ever NCAA playoff berth.
"I'm a little disappointed we're not the number-one seed. I'm very happy to be here–that's a standard line," he said.
If MacDonald sounded a little defensive about his team's trip to Minneapolis, his quips and occasional jabs at the press were understandable, given that the Purple Eagles had to justify their postseason presence, prove their worth as a team, and fight a lot of stereotyping about programs that are not affiliated with one of the "big four" established conferences.
But MacDonald himself is the first to admit that, just as many people found it hard to believe that Niagara not only participated in the NCAA Tournament but also advanced, the Purple Eagles themselves exceeded their own expectations.
"It's been a dream come true–it's been a dream fulfilled to be here, I should say," said MacDonald after the 4-1 loss to North Dakota.
MacDonald said that the dream itself began because of ties maintained from his days as a player at RIT. Someone phoned MacDonald in Boston–where he was an assistant at Boston University–to tell him that Niagara was starting a program.
"I had heard about it…so I contacted Niagara to find out what they really planned on with the program," MacDonald said.
MacDonald was enticed to return to western New York from his native New England because of the chance to put his own "fingerprint on the program" and "create the high-performance culture" he says is necessary for a winning tradition.
"It was a tremendous professional challenge." he averred. "When I showed up the first day, there was no manual telling me how to build a hockey team.
"I didn't get here until mid-January of 1996. There were no assistant coaches and no 26 players for the following season." To recruit, MacDonald says with the inflection only he can give a phrase, "I was in Toronto–a lot."
The fruits of his initial labors not only led his team to the NCAA Tournament in just its third season of play, but resulted in a week-long game of speculation about whether MacDonald would leave the program he built from scratch for a chance to work the same magic closer to home, in Amherst, Massachusetts. After some admitted "sleepless nights," MacDonald withdrew his name from consideration for the UMass job.
In a statement issued by the Niagara University athletics department, MacDonald said, "It has been a privilege for me to be part of building the Niagara University hockey program. It has taken a lot of hard work, dedication and pride from everybody involved and I want to continue to be involved in this project."
Just four years after MacDonald began the Niagara project, the coach will find himself facing a different challenge as he and the program say goodbye to 15 seniors, the pioneering class that included goaltender Greg Gardner, forwards Mike Isherwood, Kyle Martin, and Mikko Sivonen, and defenders Chris MacKenzie and Nate Handrahan.
And MacDonald says there's more to it than losing talented players. "It's like all of a sudden your family–it's like you live on the East Coast and your whole family packed up and moved to California."
It is, in fact, this senior class and the real affection among the entire Niagara squad that was as captivating as the team's play in Minneapolis.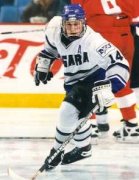 Said Isherwood, "Chris [MacKenzie], Nate [Handrahan], and I came from the same home town. Nate and I grew up together, played hockey together all of our lives."
"Our legacy to the program and the underclassmen," said Gardner, "is that beyond everything, beyond the 5,000 fans, beyond the fancy jerseys, the sticks, the fringes that come along with playing hockey, you have to play for each other, you have to enjoy the game itself. You have to realize that there's a bond between teammates…and nothing else matters."
"That vacuum and void of losing these men here–we can't replace that," said MacDonald. "But we relish the challenges and opportunities to come."
MacDonald likes that already people are talking about his team's chances next season after graduating such a large and talented senior class.
"That speaks to a little bit of respect, and I know that we've earned that respect," he said.
MacDonald talks about respect a lot, necessarily so. Perhaps after this season the coach won't have to justify Niagara's mere existence, but he was deft at doing so in Minneapolis.
"The question," he noted, "is, 'Are we worthy?' Given the road that we had to take to get here, I truly believe we deserve to be here. You know, we had one opportunity–one slim opportunity–to make the tournament, and that was an at-large bid.
"If we had played in a major conference–to which we have made a couple of presentations– you're given three opportunities to get into the NCAA tournament: win your league, win the tournament, and also vie for an at-large bid."
MacDonald joked about the team's travel schedule that included 28 road games–"…this is our 18,000th mile of travel this year…"–and said that the priests at Niagara "have had to take up a few extra collections for our team travel budget."
About the progress of the program in such a short period of time, he said, "It's a dream come true for these kids, as we were two years ago playing in a league where one of our member schools had an outdoor rink."
And while MacDonald's sense of humor carried him through many questions about Niagara's worth, he made it quite clear that the Purple Eagles were and are no joke.
"We beat the defending national champ [Michigan, in 1998] on their own ice surface after losing to them with 1.7 seconds left in overtime," he reminded. "This year I think our team knew the implications of every game we played from January on in terms of our ability to get into the NCAA tournament. That puts a lot of pressure on every single game–it's like a 60-minute season.
"We go out to Colorado College, which is a pretty good ballclub, and on an Olympic sheet play them, beating them 3-1. Going into the last game of the season, playing a good Nebraska-Omaha team that was in the CCHA Championship game and get three out of four points–I think was terrific.
"That's a lot of pressure, and you can say, 'Well, you only play X amount of games against big-time programs. Maybe it's easy for you to get up for those games.' I would argue that it's more difficult, because we only get one at-bat as opposed to four at-bats, so you can argue that point either way.
"Also, in terms of us having victories against the Air Force Academy, for example, correct me if I'm wrong, but I think every conference in the country has a last-place team. I think if you historically look at our team and our program, I think we've proven that we're pretty good."
After the burden of proof had been lifted with a win over New Hampshire, even the Purple Eagle players admitted that the figurative distance the team had covered was more than they had ever imagined it would be. Said Gardner, "I don't think any of the guys would have expected how far we've come and how close we came to the Frozen Four, if you'd asked that question at the beginning of the year."
Martin echoed his teammate's sentiments. "It's a dream come true. If someone would have said to me in my freshman year we'd be in the NCAA tournament, I would've laughed at them, quite frankly. Fifteen of us seniors started off as pioneers, and it's very special."
Says MacDonald, "This will never end. This is something we will relive because of the human relationships that we've developed and the experiences we've had, and the journey will continue.
"And the journey will continue to be a benchmark for Niagara University hockey for years and years to come. Truly, as we talk about with the team, success has no destination."
Maybe so, but Niagara hockey has certainly arrived.