On March 19, 1949, Boston College won its first national championship in only the second NCAA hockey tournament. Fifty-one years later, the Eagles entered their title game against North Dakota still looking for number two. When they lost, 4-2, it added one more brick in a wall of agonizing frustrations.
"It's been a long time since Boston College won a national championship. Many of us have been to 'The Dance,' but never won it."
— David Emma, 1991 Hobey Baker Award winner
From 1950 through 1999, they earned berths in 18 NCAA tournaments, but came up empty each time. This season, though, was supposed to be different.
"This year we thought we had the team to do it," said senior captain Mike Mottau. "It's real difficult to swallow."
Losses in the fifties and sixties carried none of the frustration of being good enough, but still coming up short. Western teams dominated the four-team tournaments of those days, winning every year but 1954 and 1967 and boasting all-West finals more often than not.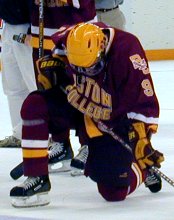 BC clubs of that era dealt with the frustration of losses like 10-3 (in 1950), 14-1 (1954) and 10-4 (1956) rather than that of the close-but-no-cigar variety. When the Eagles did make it out of the opening-round semifinals in 1965, they lost to Michigan Tech, 8-2.
After the East gained parity in the late sixties, however, the losses grew more frustrating. In 1973, the year after their Commonwealth Avenue archrival, Boston University, won back-to-back titles, the Eagles still took it on the chin from Denver, 10-4.
Five years later, they reappeared in the NCAA tournament and defeated Bowling Green in impressive fashion, 6-2, only to lose to none other than Boston University in the championship.
In 1984, however, BC began a run of seven appearances in an expanded tourney, interrupted only by the 1988 Olympic year. Names like Brian Leetch, Craig Janney, Kevin Stevens, Greg Brown, David Emma and Steve Heinze dotted the roster. From a talent perspective, BC played second fiddle to no one.
But in 1985, the Eagles ran up against a human brick wall in the form of Chris Terreri, who made 62 saves in a triple-overtime, 4-3 upset by Providence. The next year, Michigan State swept them in a two-game opening-round set. And in 1987, the top-seeded Eagles — including Leetch, Janney, Stevens, Brown, Ken Hodge and Tim Sweeney — hosted Minnesota and lost a two-game, total-goals series.
The frustrations were becoming almost Promethean. How could players like that not win it all?
"It's hard to say," said Emma. "We've had some unbelievable talent at Boston College. But when you have two great teams playing, anything can happen. Hockey is like that."
Was this team cursed? Nobody rational really believes that kind of thing, but if the Red Sox have their Curse of the Bambino, does Boston College have its Curse of the '49ers?
"It sure felt like that to me," said Emma. "We were in the Final Four against Wisconsin [in 1990] and lost, 2-1. I remember in the third period we outshot them something like 18 or 20 to three and we just couldn't score.
"The puck just didn't want to go in the net for us. It felt like we did everything we could to win the hockey game, but it just wasn't meant to be. It felt like we had a curse on us. I'm sure a lot of teams at Boston College felt like that."
And perhaps the weight of those frustrations — a rational explanation for The Curse — made winning it all even more difficult.
"No matter what, there's always a tremendous amount of pressure in this game," said Emma. "I know going into [the NCAA tournament] I never really thought back to the past years.
"I just thought sure that we had the team to win the hockey game. It was just a matter of us doing all the right things to win. I felt that we did that; we just didn't win for whatever reason. But no question, there's pressure."
Two years ago, BC hit a post and a crossbar in overtime against Michigan, before giving up the game-winner. Last year, the Eagles had chances in the semifinal overtime game against Maine, but lost, 2-1.
Cursed? Coach Jerry York dismissed the notion with a smile.
"I don't think that's a negative factor," he said. "I think it's a great motivating force for us to win another championship. We're focused and we want to win a national championship. But you don't always get what you wish for."
This year, though, held high expectations for breaking The Curse. A talent-laden squad bought into a defense-first approach, had dominant special teams and a hot goaltender in Scott Clemmensen.
And the Eagles seemed to be getting a bit of puck luck in this NCAA tournament, too. Down to Michigan State with only a minute left? No problem. The Spartans self-destruct with an embarrassing too many men on the ice penalty that leads to a six-on-four tying goal. In overtime, a five-minute MSU major leads to another power-play goal and a win.
After an impressive win over Wisconsin, BC then gained entry to another national championship game with outstanding individual performances by Blake Bellefeuille and Jeff Farkas to defeat St. Lawrence.
Playing for their second title, the Eagles led, 2-1, after two periods. They were 20 minutes away.
"It's exciting for the alumni and everybody involved," said Emma during the intermission. "Boston College is a close-knit family. A win will definitely take some of the sting [of past losses] away and it would be great for the college.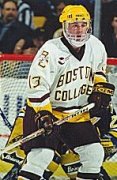 "But if they lose here tonight again, it's going to be a situation where everyone is going to be pointing the finger at Boston College and saying how they've had so many great teams and just haven't been able to win a national championship.
"That's going to remain there until one of these teams finishes it off. I hope it ends tonight, but I'm sure they're going to have many great teams along the way and eventually they'll end this curse."
Unfortunately for BC fans, it didn't happen this time.
North Dakota tied the game early in the third period on a screened shot only seconds after a great Clemmensen save on a breakaway.
At the 10-minute mark, Mottau hit the post. Within three minutes, Ales Dolinar had a partial break, but was stopped by goaltender Karl Goehring.
Going…
Just 52 seconds later, the Fighting Sioux scored the eventual game-winner.
…going…
With 46 seconds remaining — just after BC missed a golden opportunity in front to tie it with an extra skater on — North Dakota iced the game with a Lee Goren shot into the empty net.
…gone.
While Goehring skated circles in the defensive zone in celebration, a crestfallen Mottau sank to one knee inside the net as if felled by a low blow.
"That goal really hurt because I thought we had a chance to tie it up," he said.
Every member of the Eagles squad felt that sucker-punched pain.
"I don't think you can put it into words," said Bobby Allen. "It's an awful feeling, almost like a desperate feeling. You see the puck go in and there isn't anything you can do about it."
The run at a national championship was over. The final seconds ticked off the clock, handshakes were exchanged and at 10:17 p.m. the Eagles gave one last stick-tap salute to their fans. Seniors Mottau, Farkas, Bellefeuille, Kevin Caulfield and the injured Tony Hutchins would never again don a BC jersey.
"I'll never get to play with Motts again," said Allen. "I've been playing with him since I was a little kid. Most of the time we've been partners together. Things like that really haven't hit me yet. It's tough."
The bitter disappointment prompted many a tear within the BC locker room.
"They're not doing real well because this was something we had our heart and soul set on," said York. "I love them all. What can I say?
"It makes me appreciate just how much they want to be successful and how much they've put into wearing that sweater. You really can't say much. It's a disappointing thing.
"Sometimes crying isn't bad for a guy. We really wanted it. We didn't get it. It's tough to shake it off."
Before walking back into the BC locker room one last time, Mottau swallowed his disappointment for a moment and told the press what it meant to play for Boston College.
"It's been a pleasure playing with those guys," he said. "This has been one of the best years of my life. It's been a pleasure to play for Boston College and wear this sweater for four years.
"I can tell you that it's not going to come off too soon. I'm going to go back and sit down and cherish the memories that I have. Tonight was a disappointment, but there was a lot accomplished at Boston College. I want to thank Coach York and my teammates for making that happen for me."