Is Jeff Hamilton what makes all the difference in New Haven? Despite the fact that the Eli lost five of its top scorers and its returning defensive corps is relatively unseasoned, some folks are still uncertain about how this Yale team will fare. Hamilton is the ultimate X-factor.
"I believe that we are an enigma," said Yale head coach Tim Taylor. "That's based largely on the way we performed last year. At one point we found ourselves on top of the league and then those one-goal games we won, we couldn't find a way to come out on top. We hope to address that issue this year and the return of Jeff Hamilton will make an obvious impact on our ability to generate some offense."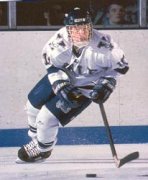 Hamilton returns to the lineup after sitting out all but two games last season due to an injured abdominal muscle suffered against New Hampshire on November 2, 1999. Although rumors swirled around his intentions of turning pro, the NCAA granted Hamilton a medical-hardship waiver, which allowed him to return for his senior year.
"He is a mature kid who has succeeded in the league and will give us…one of the real key marquee players in the league and in the nation," said Taylor of Hamilton, who posted 47 regular-season points and was one of only two junior Hobey Baker Award finalists during the 1998-99 season. "I'm not putting undue pressure on him, but he has to maximize his effectiveness this year."
Although some have criticized the team for holding back its offense in favor of a more defensive game plan, Taylor insists that his forwards will be the focal point from day one. In addition to Hamilton, senior Ben Stafford will once again be looked upon as one of the team's top snipers. Stafford finished his junior year with a team-high 10 goals and 20 assists while skating alongside Jay Quenville and Jeff Brow. It's still up in the air whether or not Taylor will decide to load up his first line with both Hamilton and Stafford or separate the two in hopes of a more balanced attack.
"I believe that we are an enigma."
— Yale head coach Tim Taylor
"I'm expecting Ben Stafford to have a terrific year," said Taylor. "He has a little bit of a scoring touch, and should I opt to play him and Hamilton together, they would be one of the strongest lines in the conference. We graduated a lot of grinding players whose places will be taken by a different style of player, which is good and bad."
The grinding players — such as Brow and Quenville — that Taylor alludes will be replaced with the likes of Nick Deschenes (6-9–15) and newcomers Vin Hellemeyer and Ryan Steeves, all young men with sniping on their minds.
"I'm a little concerned about how much grit we'll have this year, but if you want to look at this year and last year in terms of skill and finesse, we've taken a step forward," said Taylor. "We'll be more adept with the puck and play a better style in open ice. Whether we can be good enough to create that open ice remains to be seen."
Defensively, the Elis will look to a senior pair of defensemen — Joe Dart (1-4–5) and John Gauger (2-3–5) — to anchor the blue line. The two veterans will be joined by the sophomore tandem of Bryan Freeman (3-5–8) and Stacey Bauman (1-4–5), who will need to mature pretty quickly to help guide the less experienced players such as Robert Mutter, David Sproule and Greg Boucher.
"We basically have two defensemen in each class," said Taylor. "Dart and Gauger will be the top pair along with two sophomores in Bauman and Freeman who are game kids and skilled and quick. I feel comfortable about their enlarged roles this year. The big question marks are our two junior defensemen Sproule and Mutter. Those two kids will be challenged by freshmen [Jeff] Dwyer and [Nate] Berry."
Both Dwyer and Berry have been highly touted as solid two-way defensemen with tremendous ability to read the rush and generate offense from the back. A solid crew in front of the net could help the play of returning goaltender Dan Lombard, who split duty with Trevor Hanger throughout most of last season. Lombard finished the season with a team-high .911 save percentage and 2.80 GAA and will look to add stability as the starter this year. Sophomore Chris O'Connell and newcomer Peter Dobrowolski will vie for playing time behind Lombard.
"It's clearly Lombard," said Taylor of his starting netminder. "He will be our number-one goaltender and he will be handed the mantle to start the year. He will be our workhorse for the year. He is a motivated kid and he's determined to make this an exceptional year."
No matter how good the Eli defense ends up being, and no matter how great a year Lombard may have, the focus of attention invariably falls back to the offense. After all, it was never the defense that was questioned in all those one- and two-goal losses last year. Taylor thinks that his team may have found the answer in the form of, yes, Jeff Hamilton.
"We have a no-name defense in many ways, but I like our team back there. I like our goaltending and if we can parlay the return of Hamilton with some of the new faces into some offensive production, I think that we can surprise some people this year with our hockey club."