In a sense, former Minnesota-Duluth coach Mike Sertich picked a good time to retire and look out for the future of the program simultaneously.
Scott Sandelin was looking for a head coaching job. With Sertich's retirement after 18 years with the Bulldogs, Duluth was looking for a coach.
And the rest is history.
Duluth grabbed one of the hottest coaching prospects in college hockey in Sandelin, a former assistant to Dean Blais at North Dakota.
If only the news on the ice were better.
The Bulldogs lost their top two scorers — from a team that had plenty of trouble scoring in the first place. Jeff Scissons and Colin Anderson accounted for over one-third of the team's scoring last year and their punch will be missed.
Goaltender Brant Nicklin is gone, leaving only one player who's seen a decent amount of ice time, Rob Anderson.
The defense is mostly back, but, with all apologies, is that a good thing or a bad thing for a team that allowed 3.95 goals per game last year, ninth in the league?
Sandelin doesn't give a rip about what's happened in the past; it's the present and the future on which he's focused.
"I didn't watch any tape," said Sandelin, who spent six seasons with the Sioux. "I did not care what they have done in the past. I look to the future and what they're going to do now. They're all going to get an opportunity to show what they can do and show they belong here. I didn't want to go back and look at things and draw opinions on certain players based on what they did or didn't do in the past. That's fair to them.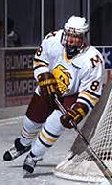 "What I've been most impressed with with this group is there's a lot of tremendously good kids. They're excited about getting this year going. They've worked hard and they've showed a lot of enthusiasm and a lot of team camaraderie. We've gotten better each day, and that's kind of what I'm trying to stress as the year goes on, that we do get better each day."
Things will have to get better on a daily basis if the Bulldogs are going to climb out of the bottom part of the league, starting with the offense.
UMD scored 2.51 goals per game last season — 93 goals in 37 games — the lowest per-game average in team history. And that was with Scissons and Anderson.
"Our problem here in the past was scoring goals, but hopefully that trend is going to change too," Sandelin said. "I think there is the ability to score goals. Are we going to score five, six goals a game? I don't know. I'm not banking on that, but I think we can increase our goal production and make sure we take care of the other end of the ice."
To remedy the situation, Sandelin wants to stress creativity. Not the creativity of one player taking the whole team in his hands and trying to do it all, but of players willing to take a few chances in the offensive zone.
"I believe in allowing the players to play the game," he said. "There's going to be some responsibilities that they have to be accountable for, obviously defensively. But they need to be a little creative, them having the confidence to go out and try some things and not be afraid to make some mistakes that way, I think is a way to improve in that area."
Without Scissons and Anderson, the offense will probably be more balanced. Derek Derow, Judd Medak and Ryan Homstol may prove to be the leaders, but there's no question that improving this part of the Bulldogs is going to be a team effort.
Sandelin, a former North Dakota defenseman who worked with the Sioux's blue line for most of his time as an assistant coach, can bring experience on working with one of the best defensive corps in the nation.
So expecting the entire team to focus on defense is a given. And Sandelin has some players with WCHA experience to work with. Seniors Ryan Coole and Jesse Fibiger will join juniors Mark Carlson and Andy Reierson to hold down the blue line.
"In this league, it's very important to have some experience back there," Sandelin said. "It doesn't mean you have to have six guys, but we have five guys returning that played. I won't say just because of that, we'll be great, but I think it helps because they've been around the league and they know. Our game is maybe going to revolve around that back end. You go where your experience is. "
"I didn't watch any tape. I did not care what they have done in the past. I look to the future and what they're going to do now. They're all going to get an opportunity to show what they can do and show they belong here."
— Minnesota-Duluth first year head coach Scott Sandelin
In that case, goal will not be the center of the universe as far as Duluthis concerned. With Nicklin — the school leader in appearances, save percentage and shutouts — gone, Anderson, who had a 5-6 record last year, and Jason Gregoire, who played seven minutes, will battle for the top spot. Adam Coole will also work into the mix.
"Maybe our goaltending isn't quite as experienced as it was with Brant leaving, but there's going to be a good battle and we have three pretty good goaltenders," Sandelin said. "Who is going to emerge, I don't know. Is one of them going to be the guy that carries us? Maybe, but I think that remains to be seen. It starts there and works out. If we can play well there and do the job to create offensive chances up front, I think we'll be all right."
Sandelin's experience at North Dakota might help with the special teams as well. The Bulldogs were seventh in power play at 17.2 percent; they were ninth in penalty killing at 77 percent.
A team doesn't win many games with those kinds of percentages, as the Bulldogs learned last year.
"If you do well in those areas, you can win some games," Sandelin said. "A lot of times, that's the difference in games right now because the goaltending is very good and the league has great depth, and to be able to convert on the power play or kill off a shorthanded chance or maybe get a shorthanded goal a lot of times is the difference in our games.
"Who's going to be on there? It's kind of a work in progress and we're going to find out. Hopefully we get the best people for the job."
The Schedule
Call this the Year of the Tournaments for the Bulldogs. Over Thanksgiving weekend, UMD will play New Hampshire and Vermont in the Sheraton/Howard Bank Hockey Classic in Burlington, Vt., and the Bulldogs face Merrimack and Colgate in the Silverado Shootout in Duluth at the end of December.
Plus, Duluth is the opponent for Michigan Tech's Winter Carnival on Feb. 9 and 10.
"We're playing some pretty good teams outside (the league) and I think it's very helpful," Sandelin said. "Looking at our league schedule, we don't have an easy start. We're on the road a lot, which I don't mind, being new to the situation. You find out a lot about your team on the road.
"We've got 21 home games so hopefully we can take care of that. But in this league, you have to win on the road. We're going to find out early what kind of character we have, starting at Minnesota, we have to go into Colorado [College] and go into North Dakota in the first month and a half of the season."