OSU head coach John Markell recently quipped, "Michigan State lost their best goaltender last season–Mike Weaver."
Gone from the Spartan ranks is Weaver (0-8–8, +17), the last of a long line of great stay-at-home defenders that included Jeff Kozakowski and Tyler Harlton.
Even head coach Ron Mason can read some of this writing on the wall. "In the past, we've put up some unbelievable defensive numbers, surprising even to me some of the numbers we've put up. Whether or not we can continue with those kinds of numbers, I think that's kind of up in the air. I don't think we're going to shoot for them, but I think we'll be pretty strong defensively because we have a lot of return players."
With a 6-4 preseason loss to the US Under-18 Team, perhaps there's more than defense that's "kind of up in the air" in East Lansing.
Starring…
Without question, the sole superstar on the Spartan squad is sophomore goaltender Ryan Miller (1.34 GAA, .941 SV%, CCHA). Not only did the fabled netminder carry the load for Michigan State his rookie year, but shutout opponents in one-third of his starts (8 of 24), including back-to-back blankings in the CCHA Semifinals and Championship game.
Up front, the Spartans look to Rustyn Dolyny (18-19–37) to fill the enormous skates left by Shawn Horcoff. Says Mason, "Rustyn Dolyny is our captain. He's a proven scorer and a good leader, and I think our leadership will be there. He's had some pretty good people to follow in Horcoff, and Tyler Harlton, and also Mike York, so I like that aspect of our team a lot."
Also contributing offensively will be Adam Hall (26-13–39), the team's leading returning scorer.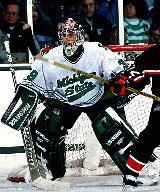 So far, that there are more alumni mentioned than current players should tell you something about how hard Michigan State is going to have to work to live up to expectations.
Defending the Tribe
The Spartans are team that has prided itself on overall team defense, not just stinginess from the blueline. Players like Horcoff and York left a legacy of two-way play that will be hard to recapture.
In addition to Hall and Dolyny, Brian Maloney (12-19–31), Damon Whitten (10-14–24), and John Nail (5-9–14) are the most likely candidates to carry on as solid two-way forwards. Nail, especially, is a very physical player.
Defensively, any team would have difficulty in trying to match Michigan State's numbers from the 1999-2000 season. In 28 conference games, the Spartans allowed just 46 goals, averaging 1.64 per game. No one in league play came close to Michigan State on the PK, either, where the Spartans were effective 91.1% of the time.
"I think this year, like every year, is going to see a lot of one-goal games. The team that wins those one-goal games is usually the team that ends up having the best record."
— Michigan State head coach Ron Mason
Andrew Hutchinson (5-12–17, +4) is being touted as Michigan State's leading return defender, but sophomore John-Michael Liles (8-20–28, +14) may be the best blueliner on the squad, effective on both sides of the puck.
Miller is, of course, expected to start in net, and barring a shift in the Earth's polarity, he's likely to contend for top goalie in the nation, again.
About That Lifeline…
Part of Michigan State's success in recent years is the annual emergence of a new hero to lead the team. After Sean Berens, it was Mike York; after York, Horcoff. This year, Mason's banking on Dolyny to do the proverbial stepping up, and while Dolyny may have a solid season ahead of him, it may not be too long before "Liles" becomes a household name in the CCHA neighborhood.
Another issue for the Spartans to face is their cluster, which included Michigan, Northern Michigan, and Lake Superior State. Michigan will do damage to a good many teams in the league; Northern, although young, is never a cakewalk; Lake State will prove formidable opposition this season.
If the Spartans hold their own within that cluster, they may finish high. If not, they may be looking at playing some place other than Munn in the first round of the CCHA playoffs.
Is That Your Final Answer?
"It's nice to be chosen as one of the top teams in the league," says Mason. "We've been there in the past and I don't think we're going to change the way we do things. We'll go after everybody every night if we can; we know how difficult it really is."
What's nice is hearing a coach say he pays attention to preseason polls. The standard line is usually contains the phrase, "we don't pay much attention," and ends with "…a battle every night."
Well, Mason doesn't deviate from script completely.
"I think this year, like every year, is going to see a lot of one-goal games. The team that wins those one-goal games is usually the team that ends up having the best record. Our league is that tight and if you can persevere and be successful in those games, that's usually the key."