Another second-year coach, Jim Culhane, is pleased with the progress his Broncos made last season.
"Last year was a very exciting year for us in that we finally made it back to the CCHA tournament with a young team and a young staff. It was the first time in three years that we made it back into post-season play. It was a tremendous experience for us to go into Yost Ice Arena to play against Coach Berenson and the Michigan Wolverines, and I think we learned from that experience."
There's no doubt that the Broncos had plenty to learn. Absolutely, unequivocally, indisputably dead-last in league and overall team defense, yet in the middle of the pack offensively, balance is one lesson Western could have studied at Yost.
In the second half of the season, the Broncos limped into the playoffs, posting a 5-12-1 record in the second half of the season.
Starring…
Yes, there are a couple of stars on the Bronco squad. As Culhane will point out, David Gove and Michael Bishai are not only Western Michigan's top two returning scorers, but two of the top offensive veterans in the league.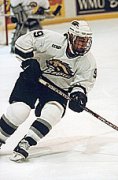 Gove (18-28–46) finished 3rd in conference scoring, notching seven goals of those league goals on the power play. Bishai (15-18–33), tied for fourth in CCHA offense with FSU's Brian McCullough, had 11 power-play goals, tying him for 8th in the nation.
Sophomore defenseman David Cousineau (8-17–25) is the squad's third returning scorer, while Steve Rymsha (13-11–24) will also contribute.
Defending the Tribe
There's no getting around it: Western Michigan's defense was, well, not very good last season.
"In net, you'll not see a change there. Jeff Reynaert will continue to be a workhorse for us," says Culhane. Reynaert (3.76 GAA, .888 SV% CCHA) finished last among league goaltenders, and second-to-last in saves.
"Defensively is where we need improvement," says Culhane. "We were last in the league last year defensively, and we feel offensively we have good firepower up front, be we need to make a commitment defensively. We need to pride our team…on not giving up the odd-man rushes, and doing a better job on the penalty kill situation also."
The Broncos had the worst penalty killing unit in the league, successful just 78.1% of the time. Doing a better job on the penalty kill situation is an excellent idea.
"Defensively is where we need improvement."
— Western Michigan head coach Jim Culhane
A Lifeline?
Are you kidding?
Is That Your Final Answer?
"A big key for us," says Culhane, "is not being able to put the puck in the net but being able by committee to take tremendous pride in reducing our goals against."
In other words, they can score, but they can't defend. In conference play, the Broncos scored 83 goals–one fewer than Michigan State, more than Notre Dame, as many as Nebraska Omaha. But Western allowed 109 goals in 28 league games–more than anyone, including Alaska Fairbanks and Ohio State, the two teams that sat out the CCHA playoffs last season.
The final answer? Unless things change on the Bronco blueline, life could be lonely at the bottom.