Since taking over the coaching reins at his alma mater four years ago, Bob Gaudet has made his mark with an all-American message.
"My approach as an athlete and as a coach is that hard work pays off," says the proud coach of the Dartmouth Big Green. "That's something that goes back to my parents. It's an important facet of being successful. If you don't work hard, then you get what you deserve."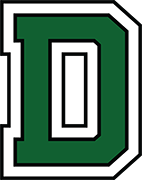 Lately, the unsung Dartmouth squad has been getting what it deserves — wins.
Each time the Big Green takes the ice, Gaudet's work-ethic mantra is evident: players winning one-on-one battles along the boards; a team-wide defensive effort that ceaselessly pesters opponents; and a penalty kill that is a sparkling 22-for-22 in the last five games.
As a result, Dartmouth (12-10-3, 9-6-3 ECAC) has an 8-3-3 mark since Jan. 1 — third best in the ECAC, behind only St. Lawrence and Clarkson — and is squarely in the hunt for the ECAC regular-season title.
"We're starting to mature as a hockey team," Gaudet says. "We have guys on our team who understand the work ethic that's involved in becoming a winning program.
"It's easy to be excited when the arena is filled and you're standing at center ice. It's much more difficult to be excited coming into the weight room at nine in the morning on Sunday after playing two games. There's no accolades for that; it's just hard work.
"But our guys understand that. Preparation is the key ingredient."
Dartmouth is a team without a recent history of abundant success. It doesn't have an individual all-star whose presence fills the seats game-in and game-out. It's simply a team that understands the value of working hard all the time — each practice, each workout, each shift.
And that's how the players like it.
"We're all pieces to the puzzle," says junior Chris Taliercio. "There are no big shots here."

Gaudet's blue-collar approach isn't the only thing that's rubbed off on his players.
He's an eternal optimist. Even when the Big Green was 1-5 going into Thanksgiving, the coach insisted that he liked what he saw — that it was only a matter of time before things turned around.
They soon did.
"I'm the type of person who likes to see the glass half-filled, not half-empty," says Gaudet, who played in net for the Big Green from 1977-81. "I came in here knowing that Dartmouth can be an excellent program. I'm constantly pushing that with our players. Why not be excellent?"
Gaudet's players seem to feed off the coach's optimism and pride for Dartmouth. And lately, that's translated into a budding sense of confidence and strong results on the ice.
"Confidence is a huge thing," says junior tri-captain Jamie Herrington, a centerpiece of Dartmouth's power play. "Everything snowballs. When you're losing games, you're always trying to tinker with things and figure out what's wrong.
"For me, it starts every day in practice. As long as I can remember, my coaches have always drilled into me that you practice the way you play. I try to come to the rink every day with a game-day mentality."
— goalie Nick Boucher
"But we haven't had that lately. Once we started winning some games, the confidence snowballed. We have faith that we can come back in the third period; we have faith that we can score on the power play; we have faith that our penalty kill can come up big.
"We have a little more faith in ourselves every time we succeed."
The Big Green has succeeded a lot lately, to the tune of a seven-game home winning streak — second-best in the nation behind top-ranked Michigan State — and a crucial three-point trip to Cornell and Colgate last weekend.
Dartmouth currently sits in a tie for fourth in the ECAC with 21 points, only four behind league-leader St. Lawrence. The team is excited about being in the hunt, but it also knows that in this league, the difference between being in the top tier and being near the bottom is razor thin.
"I think it's a maturity thing," says third-year assistant coach Brendan Whittet, who played under Gaudet at Brown, where Gaudet's philosophies took another long-dormant program to the NCAAs. "The fact that some of these guys have been through the tougher times is important. When you've experienced that, you don't want to get back there. You want to keep climbing the ladder, so I think these guys are very focused."
Whittet, along with second-year assistant Dave Peters, works year-round on recruiting, helping to bring highly-regarded players like defenseman Trevor Byrne — an All-American candidate — to Hanover.
On the road, meeting players from New England to the Midwest, from Quebec to British Columbia, Whittet and Peters can tell that Dartmouth's name is improving. The response keeps getting better.
"There's no question that more people come up to you in the rinks and say, 'Great win last weekend,' " Peters says. "There has definitely been a lot more interest around our program because we've strung together some wins and we're playing well."
While all the abstract messages and emotions — work ethic, optimism, confidence — have been crucial to the resurgence, the consistent production of certain players has made the difference.
Dartmouth's top line — junior tri-captain Mike Maturo, and sophomores Kent Gillings and Mike Murray — has produced 64 points, or 30 percent of the team's offense.
Gillings, for one, has been a pleasant surprise. He had only two assists in 22 games as a rookie; this season, he has 22 points and counting.
"The emergence of Kent Gillings has been a huge plus for our team," Gaudet says. "Here's a kid who had two points last year. Now, he has twenty-some points, which is a big boost. The development of players is really crucial."
Gillings' story is just one of many on a squad whose confidence increases by the weekend.
Most of all, the Big Green is developing a reputation for displaying a team-wide effort on defense.
On the blueline, Dartmouth has a core of players who will be around for years to come. Of the five defensemen who have appeared in every game this season, three are sophomores and two are freshmen.
"In practice, we focus a lot on defensive-zone coverage," says the elder statesman on the blueline, senior Dory Tisdale. "Defense is a team game. It's not just the goaltender and the defensemen. It takes all six guys on the ice to be working their hardest in order to be successful."
Between the pipes, the Big Green has a netminder who ranks among the best in the league.

Sophomore Nick Boucher, one of two NHL draft picks on the Big Green (Trevor Byrne is the other), was the team MVP last season and is compiling similar numbers this time around. With just three goals allowed in the last four games, Boucher has an impressive .911 save percentage and 2.59 GAA.
"For me, it starts every day in practice," Boucher says. "As long as I can remember, my coaches have always drilled into me that you practice the way you play. I try to come to the rink every day with a game-day mentality. Some days it isn't there, but you always have to work hard."
In the end, of course, it all comes back to that all-American message: hard work pays off.
"There's a saying in my hometown: 'Hard work beats talent when talent doesn't work.' That's the philosophy on this team, " says Tisdale, who hails from Merritt, B.C.
Okay, so maybe hard work isn't a uniquely American ethos. Maybe it's in the Canadian blood, too. Whatever it is, it's working pretty well for Dartmouth.