Defending ECAC champion St. Lawrence led the way in the 2000-2001 ECAC awards, announced Thursday morning. The Saints placed three members on the All-ECAC First Team and picked up two pieces of hardware, the Defensive Forward of the Year and the Player of the Year.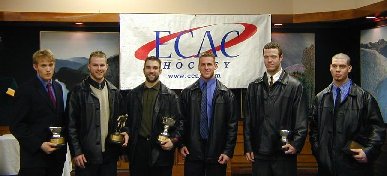 Erik Anderson (16-24–50), the captain of the Saints, earned the ECAC Player of the Year Award. The Hobey Baker finalist also is a member of the All-ECAC First Team.
Meanwhile, Saint leading scorer Mike Gellard (19-35–54) was honored as Best Defensive Forward and also was named to the All- ECAC First Team.
The other Saint named First Team All-ECAC was defenseman Matt Desrosiers. Yale's Jeff Hamilton was the third forward named to the All- ECAC First Team.
The Dryden Award Winner, given to the league's top goaltender, was Oliver Jonas of Harvard. Jonas, a senior, had a .915 save percentage and a 2.99 GAA this season. He was also named the goaltender for the All-ECAC First Team.
The Defensive Defenseman Award went to the other defenseman named to the All-ECAC First Team, Clarkson's Kent Huskins.

The All-ECAC Second Team consisted of Harvard's Dominic Moore, Colgate's Sean Nolan and Clarkson's Matt Poapst at forward; Colgate's Cory Murphy and Dartmouth's Trevor Byrne at defense; and at goaltender, Clarkson's Mike Walsh.
The All-Rookie Team consisted of Rensselaer's Nathan Marsters in goal, Yale's Jeff Dwyer and Colgate's Rob Brown on defense, Vermont's Patrick Sharp, Harvard's Tim Pettit and Clarkson's Rob McFeeters at forward.
The Rookie of the Year went to McFeeters (15-15–30), who bested Marsters (.929, 2.35 GAA) for the award.
The Coach of the Year was Clarkson's Mark Morris. The Golden Knights were picked to finish fourth by the league coaches, but Morris guided his Knights to their ninth ECAC regular-season title.
ECAC Player of the Year
Erik Anderson, Sr., F, St. Lawrence
ECAC Coach of the Year
Mark Morris, Clarkson
ECAC Rookie of the Year
Rob McFeeters, F, Clarkson
Defensive Forward of the Year
Mike Gellard, Sr., St. Lawrence
Defensive Defenseman of the Year
Kent Huskins, Sr., Clarkson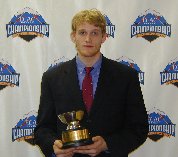 Dryden Award
Oliver Jonas, Sr., Harvard
All-ECAC First Team
F Erik Anderson, Sr., St. Lawrence
F Mike Gellard, Sr., St. Lawrence
F Jeff Hamilton, Sr., Yale
D Matt Desrosiers, Sr., St. Lawrence
D Kent Huskins, Sr., Clarkson
G Oliver Jonas, Sr., Harvard
All-ECAC Second Team
F Dominic Moore, So., Harvard
F Sean Nolan, Sr., Colgate
F Matt Poapst, Jr., Clarkson
D Trevor Byrne, So., Dartmouth
D Cory Murphy, Sr., Colgate
G Mike Walsh, So., Clarkson
All-Rookie Team
F Patrick Sharp, Vermont
F Rob McFeeters, Clarkson
F Tim Pettit, Harvard
D Jeff Dwyer, Yale
D Rob Brown, Colgate
G Nathan Marsters, Rensselaer