The possibilities are limitless.
No, let's try that again. The possibilities are very, very limited.
Only four teams remain in a race which began with almost 60 — four teams still with a shot at the NCAA Division I men's ice hockey championship, to be decided April 5 and 7 in Albany, N.Y. The suspects include:
The winningest team in the nation, No. 1 in the polls for virtually the entire year.
A four-time returnee to the Frozen Four, looking to end a half-century championship drought.
The most decorated program in NCAA history, gunning to extend its own record to 10 titles.
And — oh yeah — the defending national champions.
In case you've been living in a cave all season long, those teams are Michigan State, Boston College, Michigan and North Dakota, respectively. All four come stocked with some of the nation's premier talent, including Hobey Baker finalists in MSU's Ryan Miller, UND's Jeff Panzer, BC's Brian Gionta and Michigan's Andy Hilbert. Each coach has been to the summit before, and each team's fans expect a celebration this time around.
To quote legendary boxing referee Mills Lane, "Let's get it on."
East No. 2 North Dakota (28-7-9) vs. West No. 1 Michigan State (33-4-4)
Thursday, April 5, 1:30 p.m. ET, Albany, N.Y.
(USCHO pre-game show coverage at Noon ET)
Michigan State
Entering this year's Frozen Four with the best record in men's Division I ice hockey, the Spartans remain an enigma.
To many observers, goaltender and Hobey Baker finalist Ryan Miller (.950 SV%, 1.31 GAA) is the only trick in this one-pony show. People who say that Miller is the only reason for Michigan State's success this year — in lieu of standout frontmen such as a Mike York or a Shawn Horcoff — see only one aspect of the Spartan game.
Then there are those who say that Miller doesn't deserve all the credit for his goaltending numbers, arguing that the team in front of him makes his job easier, implying that the guy has to make little effort between the pipes.
It's like the old Hindu fable about the elephant and the five blind men. Each man touches a part of the elephant, and each comes away with a drastically different description of the beast.
American poet John Godfrey Saxe summed it all up like this:
And so these men of Indostan
Disputed loud and long,
Each in his own opinion
Exceeding stiff and strong,
Though each was partly in the right,
And all were in the wrong!
Yes, Michigan State has an amazing goaltender who makes his own job look easy. And, yes, the Spartans play well as a team in front of Miller. As Wisconsin head coach Jeff Sauer said, "They don't have the best players — but they have the best team."
"They don't have the best players — but they have the best team."
— Wisconsin head coach Jeff Sauer, on Michigan State
"Our team this year was the most consistent team in many a year," says Ron Mason, MSU head coach. "We've had some great teams here at Michigan State University, but this one set the record for [fewest] losses in school history."
And other than Miller, can the casual college hockey fan name another standout Spartan? Difficult to do, now that Horcoff, York, Sean Berens, Mike Weaver, and their like have departed.
As Mason has been fond of saying all season, this Spartan team does everything except play the net by committee.
No one player has put up stunning offensive numbers for MSU this season. Rustyn Dolyny (13-26–39) leads the team in scoring, followed by Brian Maloney (15-22–37), Adam Hall (18-12–30), and John Nail (20-8–28).
Miller and freshman center Tim Hearon are the only Spartans who have played in 30 games who have not tallied a point.
Defensively, the Spartans have some emerging superstars. Brad Fast (4-24–28, +21), John-Michael Liles (7-18–25, +18), and Andrew Hutchinson (5-19–24, +18) are three of the best non-household names in the business.
It can be argued, in fact, that their excellence works against the Spartans. After guiding his team through a season that saw just four losses, Ron Mason wasn't even considered for the league's Coach of the Year award, and therefore not considered for the Penrose. Many people dismiss Miller's Hobey Baker chances because of the squad in front of him, and other players on the team have been overlooked in glaring ways.
Hutchinson was named the CCHA's Best Defensive Defenseman for the 2000-2001 season, yet didn't make the league's First Team. An even bigger slight was thrown John Nail's way. The senior was named the league's Best Defensive Forward, but wasn't even an honorable mention for All-League Team honors.
Mason says that his team this season has "been able to focus on the moment better than any team I've had in years." Maybe that's the reason why even Miller has been able to dismiss the hype and simply play the game.
"He's pretty level-headed," says Mason of Miller, who has fielded instant celebrity with the grace befitting one much older than his 20 years. "He's gone through a lot this year, especially the one week when he tied the all-time shutout record."
Mason attributes Miller's poise to the sophomore's background. "He comes from a hockey family that goes all the way back to his grandpa."
As for the attributing all of Miller's success to the team in front of the netminder, Mason says, "This year, there's no question about it; we've left Miller out to dry on several occasions."
Unlike years past, when Michigan State was defense and only defense, says Mason, "We play a much more balanced attack. He kept us in it many times early in the season. If he was on any team he'd be putting up those numbers."
Getting to the Frozen Four isn't easy for any team, but the Spartans made it look like a cakewalk. Michigan State won both the CCHA regular-season title and the playoff championship, becoming the first team to do so since — themselves, in 1998.
After dispensing with their own league, the Spartans rested a day in Grand Rapids before beating Wisconsin 5-1 to advance to Albany.
In spite of the Michigan State's businesslike efficiency and consistent results, the Spartans are not taking North Dakota lightly.
"We know how good the Panzer line is," says Mason. "I'm not sure we can expect to stop them, but maybe try to control them."
Control is the name of the game for Michigan State, a team that has outscored opponents 134-55 this season, dispelling the myth that the Spartans can only defend. Sure, MSU wins close games, but Michigan State also won 16 games by three or more goals.
What it boils down to, says Mason, is a combination of teamwork and talent, and a squad of unpretentious players. Mason's take on the Spartans' game against the Sioux says it all:
"I think it's going to be a fun game for us, because we haven't played each other in a while."
North Dakota
Yes, the coach of the defending national champion can honestly say he's surprised his team is back to try to defend the title.
Most others aren't.
North Dakota didn't exactly coast into the Frozen Four. The WCHA playoffs were full of pitfalls for the Sioux, but they were always a threat to be one of the last four teams standing.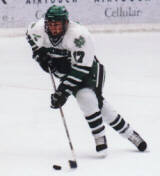 Now that they're back in the Frozen Four, they're not expecting to be surprised by much. When you've been in college hockey's biggest spotlight three of the last five years, you know what's ahead.
"There's something to be said about returning to the Frozen Four," North Dakota coach Dean Blais said. "Our guys aren't going to be intimidated. Everyone's physically prepared at this time of the year; I think we'll be mentally prepared. I don't think we're going to be intimidated by playing Michigan, Michigan State or Boston College."
Jeff Panzer, the center of the highly touted Sioux top line and the nation's leader in points with 81, said knowing what's ahead is a big advantage over players who may not.
"Last year, everything was kind of new and we didn't really know what to expect when we got down there," he said. "This year, the guys kind of know what's going to be expected and what's going to go on. There's going to be no hidden stuff because a lot of us walked in there wondering what's going to happen.
"It makes you concentrate on the game and not so much all of the other stuff that goes with it."
This season, much like the last, hasn't always been stellar for the Sioux. They won only two of their first seven games, but still rebounded to claim the MacNaughton Cup, symbol of the WCHA regular-season title, for the fourth time in five years.
A year ago, North Dakota saw Wisconsin claim that prize, and it sparked the Sioux's national title run. They could be using a pair of playoff losses this season as another motivator.
Minnesota-Duluth stunned them by winning the first game in a best-of-three, WCHA first-round series in Grand Forks, N.D. The Sioux won the next two games to advance to the Final Five, only to go down 5-2 to St. Cloud State late in the championship game.
The Sioux pulled off an incredible comeback, scoring three times in the last six minutes of the third period to tie the game, but lost in overtime.
It's a North Dakota trademark to be sparked by a loss. It worked enough to get the Sioux to the Frozen Four. They beat Colorado College 4-1 in Worcester, Mass., to advance to Albany.
Panzer assisted on all four of his team's goals — two by linemate Ryan Bayda and two by linemate Bryan Lundbohm — in the quarterfinal. Like it has been for every Sioux opponent, Michigan State's challenge in the national semifinal on Thursday afternoon will be to keep the Panzer line off the scoreboard.
It would then be up to the rest of the Sioux's forwards to make things happen.
"They have to think about how they're going to shut down Jeff Panzer's line," Blais said, "which might free up some other line to do well." Against Michigan State's vaunted defense, North Dakota will have to play its transition game to perfection to get its chances.
It's no secret the best UND chances are created in the neutral zone, and against a solid defense, the Sioux will have to make the most of anything they can create in transition.
"That's what we've set ourselves on doing: the transition game, moving the puck and moving our feet," Panzer said. "Obviously, that's going to play a huge part of it if we're going to be successful. If we let them shut us down and play their type of game, it's probably not going to be the best for us."
Panzer also warned against trying to change styles to combat Michigan State goaltender Ryan Miller. In the battle between the nation's highest-scoring forward and its stingiest netminder, Panzer said he and his teammates will have to stick with what got them here.
"One thing you can't do is worry about them too much," Panzer said. "You have to stick to your game and worry about your game. Obviously, we're not going to change our game plan around or do anything different because that wouldn't be us. We have to play our game, which is a speed game, and get shots on net."
Blais said his hope is that his team will get 30 shots on net.
And if Miller stops them all?
"If he can stop all 30, he deserves it," Blais said. "Our thing is we're going to be a team of patience and not panic. We're going to still try to continue to generate offense. Even when there's nothing there, we'll try to have enough creative players to sometimes make an offensive play out of nothing."
The key is that North Dakota has the players who can turn a harmless rush into a scoring chance. Its talent level may not be as high as some years when the team didn't even reach the Frozen Four, but the Sioux have taken the talent they have and used it to the maximum.
Even last season, when the Sioux defeated Maine and Boston College in the Frozen Four, Scott Sandelin, then a Sioux assistant and now the Minnesota-Duluth coach, knew they talent stockpile was elsewhere.
"We weren't the most talented team; Boston College was," Sandelin said. "But at the time we were playing pretty well as a team. Sometimes those things carry a lot farther than having the talent."
West No. 3 Michigan (27-12-5) vs. East No. 1 Boston College (31-8-2)
Thursday, April 5, 7:30 p.m. ET, Albany, N.Y.
(USCHO pre-game show coverage at 6 p.m. ET)
Boston College
The Boston College Eagles return to the Frozen Four for the fourth straight season, hoping that this is the year they bring home the title. In an interesting twist, they may get a chance to avenge their losses in 1998, 1999 and 2000.
In 1998, they lost to Michigan in the championship game, 3-2 in overtime. The Eagles face the Wolverines on Thursday night. In 1999, BC lost in the semifinal game to eventual winner Maine, 2-1, again in overtime. Boston College defeated the Black Bears, 3-1, in the East Regional to advance to the Frozen Four. Last year, BC lost to North Dakota in the title game, 4-2.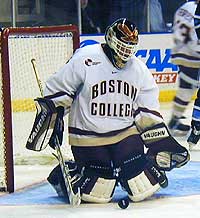 If those two teams win in the semifinals on Thursday, it will give the Eagles an opportunity to win the title in a most satisfying fashion. None of which matters a whole lot to BC coach Jerry York.
"I don't think that redemption or payback really figure in the present," he says. We've got to be involved with this year's team."
Without question, it isn't going to be any easier for Boston College to win it this time than it has the last three years.
"When you look at the field we have going into Albany, it's probably the strongest field that I've been involved with in the four years at BC," says York. "One of my assistants mentioned that if you took the won-loss record in the last four years of all the teams in the country, we might have the top four going into Albany. It's certainly a marquee field."
Coincidentally, three of the four teams met in a Frozen Four Prequel, the Great Lakes Invitational, between Christmas and New Year's Day. BC lost to Michigan State, 4-1, but defeated Michigan, 8-5. None of the coaches are putting a whole lot of stock in those results, however, given their timing right after the holiday layoff and the fact that BC's J.D. Forrest and Michigan's Mike Komisarek, Andy Hilbert and Mike Cammalleri were all away at the World Junior Tournament.
"It was a funny game," says York of the win over the Wolverines. Not only were the four players missing from the lineup, but "it wasn't for a championship. It was a consolation game."
The matchup with the Wolverines is an interesting one. While the other bracket features a game of contrasts — North Dakota's high-powered offense vs. Michigan State's suffocating defense — Boston College and Michigan are two like-minded teams. Both led their leagues in scoring while still ranking second in keeping the puck out of their own net.
"To be successful in college hockey, you have to have a good offense and also a good defense," says York. "There needs to be a balance among them. I think we both pay attention to both areas of the game.
"[Michigan coach Red Berenson's] team skates very well. That's always been our goal, to recruit skaters who can get up and down the ice very quickly. There are a lot of similarities, but with a lot of these teams, when you get out of your league and advance past the regional, the similarity means you've got good players on your team."
Berenson, for his part, notes some key differences, despite those similarities.
"I think Jerry's top scorers are more experienced than ours," says Berenson. "When you look at a player like [Brian] Gionta, for example, he's a senior and one of the top players in the country. Our top scorers are sophomores.
"His defense is a little more experienced than our defense and his goalie is a little more experienced than our goalie.
"I like the depth that their team has. [When] we played during the Christmas break and we had a few players missing, you could see that their team was deeper at just about every position."
Arguably, that depth is the one often-overlooked ingredient that distinguishes this year's BC team from previous editions. In the title game against North Dakota last season, the Eagles led 2-1 going into the third period, but had leaned heavily on the top lines and defensemen. The Fighting Sioux's stronger depth, by contrast, allowed them to seize control of the third period and win in impressive fashion.
However, that depth advantage may tip in BC's favor this year. Going into the postseason, that X-factor prompted York to note, "Our depth has been very good for us. That's helped us an awful lot. We play six defensemen on a fairly regular basis. Our fourth line plays more than it's ever played."
While one could argue that of the two strong offenses, BC's is the more explosive, the deciding advantage could be the experience factor that Berenson mentioned. Even though the Eagles have gotten enormous contributions from their freshman class and such stellar sophomores as Krys Kolanos, it's still the seniors who lead this team: Gionta and Mike Lephart up front, Bobby Allen and Rob Scuderi on defense and goaltender Scott Clemmensen.
"Our players generally have the benefit of that [experience and poise]," says York. "In '98 at the [Frozen Four], Brian Gionta and Scott Clemmensen were freshmen and were kind of awed by the whole thing. As we've continued on our [four-year] run here, they've gotten more experience and more poise. The more you're in big games, the easier it is to really look at what is the most important thing and that's to stay focused and stay on track."
It wouldn't be a surprise to see Clemmensen, in particular, step to the fore. He was instrumental in keeping the BC-Maine game scoreless through two periods. He is much improved from the goaltender that Michigan beat in 1998.
"I hope he does become the Marty Turco of '98," says York with a laugh, in response to a question about the Michigan netminder who was the difference that year. "He's a big strong kid. He's a competitive kid and I think he's come miles from his freshman year when he was asked to play almost every one of our games. … We're all hoping to rally around him."
One thing seems certain. The BC-Michigan contest won't be played close-to-the-vest with both teams in a chess match subtly probing for weaknesses. It should be an up-tempo fan's delight.
"At this stage, we're trying to go after things and not sit back and wait for other [teams'] mistakes," says York. "We're going to try to win a hockey game. Skating is our game. We'll go after it, whether we have the puck or not. You have to skate to play defense, too."
Berenson agrees.
"When we played in '98, both teams played to win that game right through the overtime," he says. "I think you'll see a lot of scoring chances at both ends. No matter how much defense you play, there's enough offensive skill on the ice and there's enough pressure in that game, that I think you'll see both teams going all out and trying to score.
"That's what you saw in '98 and you'll see it again [this year]. Jerry York's teams play to win and we do, too. I think you'll see a great game."
Picks: BC 4-2 over Michigan. Michigan State 2-1 over North Dakota. BC 2-1 over Michigan State.
Thanks to Eugene G. Bernardo II for his assistance.
Michigan
Examine the improbable journey of Michigan's senior class. Sure, this is the fifth time in the past seven years that the Wolverines have participated in the Frozen Four, so on the surface the accomplishment seems like business as usual.
But it's those two years during which Michigan didn't advance to the Promised Land that make this year's Wolverine story so interesting. Those two years were the sophomore and junior seasons of this team's senior class, a class that (with a little help from a good supporting cast) won the 1998 national championship as freshmen.
What a long, strange trip it's been.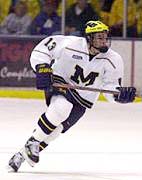 In 1998, the last year the Wolverines won the title, they were underdogs in their own building during the West Regional. After beating Princeton 2-1, Michigan had the daunting task of facing North Dakota, the defending national champion. The Wolverines trailed the entire game until Bobby Hayes put them ahead in the third.
Then in Boston, they blanked the New Hampshire Wildcats 4-0 before beating the heavily favored Eagles of Boston College 3-2 in overtime for the national title. Freshman Mark Kosick had two goals in the win, and classmate Josh Langfeld had the game-winner.
The following two years, Michigan managed just one inspired performance in NCAA postseason play, in the 1999 East Regionals. After watching Denver beat the snot out of his Wolverines for 27:44 in a first-round game, Michigan head coach Red Berenson called time out, and the Maize and Blue returned to the ice a team possessed. Trailing 3-0 in the middle of the third, the Wolverines posted five unanswered goals to beat Denver and advance to a quarterfinal match against New Hampshire.
Darren Haydar ended Michigan's 1999 season the following day, when he took a pass from Jason Krog 3:16 into overtime, giving the Wildcats a 2-1 win.
Last year, the Wolverines beat Colgate in overtime in East Regional play on Mar. 25 before losing badly to Maine the next day, a 5-2 decision in which Michigan allowed four unanswered third-period goals.
So after 1998, what happened? According to one senior, Scott Matzka, success may have been a little too easy back than.
"Given our freshman year, we kind of took it for granted, didn't realize how hard it is to get back," said Matzka, who said that beating St. Cloud to advance to this year's Frozen Four was "one of the best feelings I've had in my four years here."
Berenson doesn't shy away from the truth regarding this senior class. "Our senior class, they've had their moments this season," said Berenson after the St. Cloud win, adding, "but you can see why they won in '98."
And at the West Regional in Grand Rapids, Mich., you could see why they won in 1998. After having to work especially hard to beat a tenacious Mercyhurst team in their first game, the Wolverine bench cleared as players celebrated the win — really celebrated, smiling as though it were Christmas morning.
Then after getting by St. Cloud, the Wolverines reacted as though they won the Stanley Cup, piling on top of goaltender Josh Blackburn and betraying an emotion their fans haven't seen in a long time.
Apparently, winning is no longer treated as business as usual by Michigan, a true step forward for this team. And these Wolverines earn bonus points for remembering how to feel.
"I think emotionally, they've made more of an investment in the team in the last week than they had earlier in the season," said Berenson after the regional.
In other words, they're playing like a team for the first time this season, and that's dangerous for anyone at the other end of the ice.
"People have questioned us throughout the season," Matzka told USCHO.com WCHA correspondent Todd D. Milewski after the St. Cloud win, "and it's a great feeling to get back to the final four."
Of course, getting back to the Frozen Four creates a near-mythic matchup for Michigan, a meeting with Boston College, the team Michigan beat 3-2 in overtime for the national championship in 1998, and a squad that punished the then-lackluster Wolverines in this year's Great Lakes Invitational consolation game by the score of 8-5.
Berenson is 3-3-0 against Boston College, 1-1-0 with current coach Jerry York at their helm.
On paper, everything points to a Boston College win. BC holds the edge in goals per game (4.10 to Michigan's 3.75), goals allowed (2.29 to 2.41), power-play percentage (.215 to .208), penalty-kill efficiency (.902 to .835) — and of course BC spends fewer minutes in the box (17.44 to 21.68) than the Wolverines, but who doesn't?
Then there are wins and losses to consider. The Wolverines (27-12-5, 16-9-3 CCHA) registered more losses this season than in each of the three previous, while the Eagles have dropped just eight games all season.
"We're probably the one school who should really appreciate being here," says Berenson, "since we were the one school who upset a bye team."
Consider, too, that this is Boston College's fourth straight trip to the Frozen Four, and these BC seniors may be especially motivated to vanquish the team that kept them from realizing a dream of their own in 1998.
On paper and in fact, the Wolverines have a very tough task ahead of them, but after displaying genuine emotion and team unity in Grand Rapids, perhaps they realize this for the first time since 1998. If the same Michigan team shows up in Albany, watch for seniors Mark Kosick (14-17–31), Josh Langfeld (16-11–27), Matzka (9-18–27), Geoff Koch (10-16–26), Bill Trainor (3-9–12), and Dave Huntzicker (0-4–4) to give it absolutely, positively — and maybe finally — everything they've got.