Murray Murdoch, the legendary professional hockey player and collegiate coach, passed away today in South Carolina, two days shy of his 97th birthday.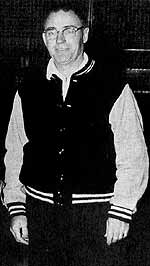 Murdoch, the oldest living National Hockey League Player, played 11 seasons with the New York Rangers (1926-37), totalling 84 goals and 192 points in 508 games. The left wing from Lucknow, Ont., was considered the "iron man" of professional hockey at the time. Lou Gehrig, the famous Yankee and iron man of baseball, once met Murdoch and was quoted as saying, "from one iron man to another."
"I feel very fortunate to have had the opportunity to come to Yale and get to know him," said the current Yale coach of 25 years, Tim Taylor. "Unequivocally, he's one of the finest gentlemen to play or coach this sport.
"I don't know anyone who knew Murray who didn't like him. Not only his personality after his competitive days, but he had respect from NHL people, other coaches, and players.
Murdoch won the Lester Patrick Trophy in 1974 for contributions to American hockey after spending 27 seasons behind the bench of the Yale men's team as head coach. From 1938 to 1965, he amassed a then school-record 278 victories, which was broken by Taylor last winter.
The Yale coaching legend attended Bulldog games at Ingalls Rink on a regular basis until moving South to be with his daughter last fall.
"I deal with a lot of the [Yale] alumni," said Taylor. "To a man, they revered him. We've lost a legendary coach and person."