It's going to be yet another uphill battle for the team from Providence, R.I. After losing seven members to graduation, including four of its top 10 scorers from last year, Brown was picked to finish dead last in the ECAC for the second straight year.
The road to the top spot — or even a playoff spot — may appear a long way off to some, but not head coach Roger Grillo. He feels that this year may be the one that gives his program the spark it so desperately needs.
"I think if you look at the wins overall, it's extremely disappointing, but I felt that last year we turned the corner and played some good hockey," said Grillo, beginning his fifth year at Brown. "We lost every game with the exception of one game where it came down to the third period. It was a one-goal game or a two-goal game. So, I thought we played well, we competed hard and played with good character; it's just a matter of coming up with offensive production. That the young guys played that much will just bode well going into this year."
Offensive production was certainly a problem last year and that was with leading scorer Matt Kohansky on board. Heading into the new season, the onus will be on the shoulders of captain Josh Barker to lead his team up from the depths of the league. The 6-1 Barker is arguably the most talented player on the squad. He is a tremendous two-way player on defense and a fierce competitor who has played a key role on this team since his freshman year. He has experienced the losses — both on and off the ice — and is ready to end his career on a positive note.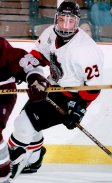 He will get support from junior blueliner Paul Esdale, the team's second leading scorer from last year. Those two defensemen will anchor a defense that returns six regulars to the lineup, including sophomores Scott Ford and Vince Macri, who logged considerable ice time last year. Two freshmen — Gerry Burke and Paul Crosty — will begin their careers at Brown on the blue line and vie for playing time. Grillo is hoping that they will add depth to the defensive corps as the season wears on.
"Josh will be back there and we only lost one kid, Chris Warrington, to graduation, [so] we should be solid back there," said Grillo. "The two freshmen look solid back there. For the first time in two years I feel real good about the direction we're headed and I like the leadership that we have."
Leadership will also come from between the pipes as Brian Eklund returns for his final season. The second-year starter will need to improve his numbers from last year — .902 save percentage and 3.43 goals against average — but his stability will be critical to this team. Eklund is a solid netminder who has the ability to change the tone of a game, as was evidenced by his 48-save performance against Yale in the team's season-ending game last year. Eklund will especially need to be a presence towards the latter stages of a game, when Brown has struggled the most. He will pushed by sophomore Yann Danis.
"Coming into it, Brian looks solid," said Grillo. "He had a great summer, and Yann looks great and a freshman in Scott Rowan as well. It's a battle with Brian and Yann and we'll go from there."
Then there is that offensive issue we mentioned earlier. Kohansky is gone and he was the team's brightest hope for a big-time scorer. What now?
"You're finding that the problems we've faced the last couple of years are facing everyone in college hockey. The days of the 25-30 goal scorers are far and few in between," explained Grillo. "If you're lucky to have one of those, you'll be successful. There will be a lot of tight games because of this. Hopefully we can take some of those one-goal games and put them on the other side. If we do, we can be in pretty good shape."
Grillo will need career years from many of his returning players, including juniors Chris Legg and Keith Kirley. The 6-2, quick-skating Kirley, who comes into this season as the second-leading returning scorer, appeared poised to break out offensively last year before a mid-season shoulder injury curtailed his momentum. If he can avoid injuries this year, he may be able to get on a roll and post some decent numbers for the Bears. Legg, a sixth-round draft pick of the Edmonton Oilers in 1999, has been touted as a natural scorer despite his 3-5–8 numbers from last year.
"There's a couple of guys that can sneak out and have some strong years," said Grillo. "Guys like Keith Kirley and Chris Legg, Shane Mudryk, Brent Robinson and Adam Saunders; those three played extremely well down the stretch as a freshman line."
Mudryk, Robinson and Saunders played as a third line but were clearly one of the stronger trios for Brown down the stretch. It also wouldn't help if one of the six incoming freshmen was able to make some waves right away to take some of the pressure off the lettermen.
"Our leading scorer had 21 points, so that was a negative for us. But I think that the experience that the guys have leads to us knowing what kind of team we have and what kind of team we can put together with our concentration and focus.
"We'll be a much better team all around," said Grillo. "We know that we don't have that so-called legitimate offensive superstar, so we have to think about how we approach and do some things, but we do have some guys that can bust through and be one of those guys. But right now, we don't have anyone that overwhelms the league from last year."
There is no doubt that Grillo has a long road ahead of him, but he understands that his team is in a position to do just one thing — take it one game at a time.
"It's critical for us to get off to a good start. The way the scheduling is, we have a majority of our [league] games at the beginning," said Grillo, whose team faces eight league opponents in its first nine games of the season. "We don't have the luxury to play three or four non-league games at the beginning of the season. We play all of ours in the middle of the season.
"So, for us, to jump right out and play 11 league games before Christmas is critical; that's what put us behind the eight ball [last year]. In the years I have been here, we've been as strong as anyone down the stretch — it's just that we can't bury ourselves so that we put so much pressure on ourselves to have to try to win 10 in a row, which is impossible to do in this league."