The St. Lawrence Saints are the two-time defending ECAC champions, but there could be a change brewing in Canton. With eight seniors graduating last season, this edition of the Saints looks different, though the results may not be.
"Sure, we graduated some very talented players who were also great in the locker room as far as character goes, but they showed our younger players how it should be done," said head coach Joe Marsh. "We have several proven veterans coming back, and we feel we have a good crew of young players who can step in and help us out."
The Saints graduated four of their top five scorers from last season, including ECAC Player of the Year Erik Anderson, Al Fyfe, Mike Gellard and Matt Desrosiers. Coming back is Russ Bartlett, along with captain Robin Carruthers, Blair Clarance, Jim Lorentz and Charlie Daniels.
"We don't expect any one guy to jump up and make up for the kind of scoring loss you take when Erik Anderson, Mike Gellard and Al Fyfe graduate," said Marsh. "But, if four or five players can show an increase in goal production, we can be as effective as we were last season."
The Saints will have Jack O'Brien, Andy Marchetti and Sean and Mike Muir returning to the squad. The additions of Dan Dupuis, who had 41 goals and 100 points in 56 games for the Brockville Braves and sat out last season; Stace Page, a 51 goal and 51 assist man last season at Georgetown; Josh Anderson; and Colin Fitzrandolph will also help to bolster the Saint attack.
"The best way to describe our team is that while we have lost a lot over the last two years, what has returned is a real good group of guys that to this point that have played in the shadows of a Gellard or Anderson, and guys that have had different roles," said Marsh. "I don't know that we'll put up the numbers that we have in recent years, but these roles will increase and they feel that it's now their turn."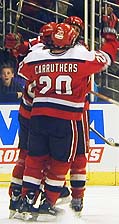 On defense the Saints have graduated Desrosiers, Josh LeRoy and Kevin Veneruzzo, but return Ray DiLauro, Ryan Glenn, Allie Skelley, Jeremy Cormier and Tony Maci.
The defense will be young as newcomers Jimmy Ball, Jim Hakewill and Matt MacDonald all vie for time on the blue line.
In goal, Jeremy Symington and Sean Coakley have graduated, leaving Tim Hall, who saw very little time in his first two seasons, as the only returner with game experience. Sean Knaub, Mike McKenna and Kevin Ackley join Hall in the battle for the job in net.
"We are going to be young in goal and will have several new faces among the forwards and defensemen as well," said Marsh. "But we feel we have some talent to work with. It could a year similar to last year — we took some lumps against good competition early, but came on strong at the end of the year.
"Ackley is one of our freshmen and he looks pretty solid so far. [Hall and Knaub] were third and fourth on the charts and they did a good job in their role. We're giving them as much of a shot as possible. McKenna is a big guy that looks like he has a lot of potential and he's working hard. It's too early to have the edge, but right now based on experience Ackley would be the guy today. We're still trying to get a handle on where all of them are.
"I don't see us really making any goaltending cuts; we just want to take our time. We've balanced it in the past and we'll see how things develop and I'm sure we'll be doing some platooning."
The Saints vie for their third straight championship, but it will be a hard road to follow.
"The old adage is that I am being cautiously optimistic," said Marsh. "There's always optimism in that there's no one [returning] that hasn't played in that championship game. They'll be able to pass that on to the younger guys. The guys seem to be in the right frame of mind to take on this challenge."