At one point last season, the Union Skating Dutchmen were 6-1-2 and ranked 10th in the USCHO.com poll, and were the darlings of the college hockey world. That ride came to a halt with a subsequent 0-9-1 run, and although the Dutchmen rallied to finish the season 12-18-4, they once again fell short in the ECAC playoffs at St. Lawrence.
"We learned a lot last year," said head coach Kevin Sneddon. "It certainly was a great year and a step in the right direction for our program. I think we learned a lot about what it's going to take to sustain a high level of play for the entire season. The middle drought last year was a learning process for us.
"We got out of the gates in pretty good fashion last year at 6-1-2 at one point and were ranked, and some of our players got caught up in the national limelight, I think.
"We really forgot that it was an everyday process, that you have to stick to that process: making sure that you do the little things right every day, not taking the recognition and letting that get to your head. We learned from that and were able to regroup. Getting back to the playoffs again was a positive learning experience for us."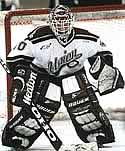 The Dutchmen will be led by Brandon Snee in net. Snee played a boatload of time last season and will once again be called upon as a senior.
"He's been the backbone of this team for a couple of years," said Sneddon. "He doesn't have a [captain's] letter on his sweater, but he doesn't need one. The guys respect his effort, his work ethic, his character, and certainly respect the type of goaltender he is. He'll be counted on heavily again this year, I expect him to be one of the, if not the, best goaltender in the country this year."
The Dutchmen will return seven defensemen to help him out, in addition to three freshmen.
"We definitely have depth [on the blue line]," said Sneddon. "It will certainly make for a challenge for the coaching staff to make sure that everyone is developing in a positive way because we can only dress six, but we have ten. We think we can do that, and you do run into injuries, so it will be nice to have some depth.
"The three incoming freshmen [Chris DiStefano, Colin Hohman and Matt Vagvolgyi] are certainly capable of coming in and stepping in right away and challenging the returners for playing time. There will be some competition there, and we have upgraded back there. We've matured and the youthful enthusiasm will be well.
"A player like Brent Booth was arguably one of our most consistent freshmen from start to finish, and he has a bright future here at Union. We expect big things from him. [Charles] Simard and [Randy] Dagenais put up good numbers last year and we're hoping that they improve on those numbers and step it up more defensively as well."
The Dutchmen are concerned with offense, but not as much as in recent years.
"What we really need is for some of the veteran players to step it up a notch and contribute more offense," said Sneddon. "To our offensive production, if we can have a couple of freshmen step in and make a positive contribution…
"I don't personally like to put pressure on freshmen… but I am sure that they can.
"What we've done is upgraded our speed and skill. We may not be as big and strong as in the past, but we'll be able to skate with anyone in the league. We play a different system now so that we can take more risks. I'm very excited that we do have more skill and speed."
The different system that the Dutchmen will play will certainly be an experiment.
"In general how things are being played, it's more conservative now," said Sneddon. "If you're not willing to take the risks, you're not going to score goals. You make the decision if you're a team that's all defense or are you a team that concentrates on good defensive skill and at the same time give your players a little more wiggle room to create some more offense for you. We don't want to open it up where we're jumping into the play for no reason. We're going to focus on going at teams more with our speed and utilizing some of our skill to create more offense."
Sneddon is hoping the Dutchmen take another step this coming season. If things continue the way they have, they have a good shot.
"We're not satisfied making the playoffs anymore," he said. "You want to get there first, you want to take the step towards taking the right attitude and building the culture that making the playoffs isn't just enough, and I have seen that develop in our guys. To be honest, we're shooting for a championship.
"We don't know if we'll finish in first, but we feel we have to talent to make a run at it."