The outdoor game by the numbers:
38,000,000
Number of homes Saturday's game reached by cablecast (Fox Sports Net in the U.S. and CTV Sportsnet in Canada).
80,368
Capacity at the Pontiac Silverdome, home of the National Football League's Detroit Lions, and enough to break the record of Oct. 6. Michigan coach Red Berenson wondered aloud if a hockey game could be played there in a few years.
74,554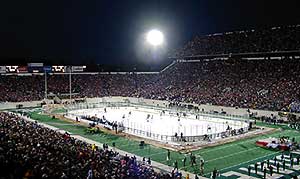 The new world record for attendance at a single hockey game, set Oct. 6 in Spartan Stadium. Michigan and Michigan State skated to a 3-3 tie.
55,000
The former world record (approx.) for attendance at a single hockey game, set March 5, 1957, Lenin Stadium, Moscow. Sweden 3, Russia 2, International Ice Hockey Federation World Championship gold medal game.
28,183
The former North American attendance record. Philadelphia 4, Tampa Bay 1, 1996; National Hockey League playoffs, the ThunderDome, St. Petersburg, Fla.
21,576
The former North American single-game collegiate attendance record, set Dec. 29, 1984; Michigan State vs. Michigan Tech, Joe Louis Arena, Detroit.
18,884
Paid attendance at the Detroit Tigers doubleheader Oct. 6.
17,000
Square feet of frozen water used to make up the rink.
7,121
The former East Lansing attendance record: Michigan State 3, Michigan 1, March 2000.
1930
Year in which Michigan last beat Michigan State outdoors, 7-0, in East Lansing.
290
Number of Michigan basketball games it would take for student season ticket holder attendance to equal that of the Outdoor Game. (Out of over 37,000 students, only about 600 bought season tickets to basketball last year — about half the number that bought hockey tickets).
281
The weight (in tons) of the refrigeration unit it took to keep the ice frozen Saturday.
238
Number of games in the 79-year history between Michigan State and Michigan (Michigan leads the series 122-107-9).
41
Fahrenheit game time temperature at the Outdoor Game.
30
Wind gusts during the game, which blew snow across the ice, creating Michigan's first glimpse of winter.
16
Seconds remaining in the second period when stadium personnel accidentally shut the lights off thinking it was intermission.
14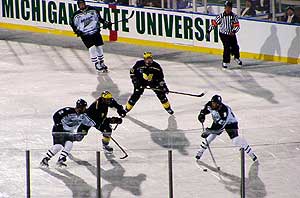 The total number of Canadian players on both teams' rosters (of 54 total spots).
13
The current streak of consecutive CCHA titles that Michigan and Michigan State have combined to win.
12
The total number of freshman forwards playing for Michigan and Michigan State Oct. 6.
9
Number of Michigan basketball games it would take to equal the attendance of the Oct. 6 Outdoor Game.
9
Number of days it took for regular Outdoor Game tickets to sell out.
6
Number of diary entries written by Spartan defenseman John-Michael Liles, made available on Michigan State's website. Wrote Liles, "I never even dreamed that it would be this great."
4
Number of games in Michigan State's unbeaten streak against Michigan, dating back to last season.
0
The number of college hockey games Netherlands foreign exchange student Thomas Lo Gmas had attended before Saturday's game. Lo Gmas is currently living in Fowlerville, Mich. with a host family. "It's super fast, I love all the hits," he said. (Just don't expect 74,000 at every game, Thomas.)
---
Mark Francescutti is a freelance writer and can be reached at [email protected]