Normally, coaches will say that polls, especially pre-season ones, are meaningless. But Plattsburgh State coach Bob Emery says that he doesn't mind being ranked number one in the USCHO.com pre-season Division III men's poll.
"The last two number ones wound up winning the national title," said Emery. "So maybe it's good luck."
Norwich was ranked first in the 1999-2000 USCHO Preseason Poll and won its first title that season. Plattsburgh was narrowly ranked number one in the 2000-2001 pre-season poll, and won it all as well.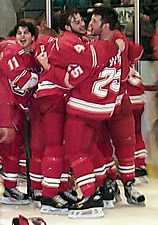 "It also means something for us to be the first defending champs ranked number one going into the next season," Emery said.
"We're being recognized as having a strong team with what we accomplished last season and what we have coming back this year. Guys like (Niklas) Sundberg, Brendon Hodge and Jason Kilcan.
"But we have a long season ahead of us. We have a tough schedule and teams will be coming for us every night."
According to the poll results, most of Plattsburgh's challenges will come from outside the SUNYAC. Only fellow SUNYAC members Oswego and Potsdam were mentioned on any ballots, and both finished well out of the top 10.
"I think the SUNYAC will get better and better as the season goes on, " said Emery. "Many teams lost a lot of key players, and in a lot of cases, their best players this season will be the new guys. They'll get stronger over time."
During his press conference immediately after Plattsburgh had won last season's title, Emery's second, he exclaimed, "I really didn't appreciate the first one (in 1991). Come to Plattsburgh this summer. I'm gonna live this one."
Did he?
"Oh, yes," he chuckled. "We enjoyed being champs. But that's over now. It's a new season and we want to be the best we can possibly be."
Runner-up to Plattsburgh in the poll, just was at the end of last season, is RIT. The Tigers have little room for improvement over last season's 27-1-1 record – the only way to get better is to win the NCAA title.
"We know what we have to do," said RIT head coach Wayne Wilson. When asked prior to the poll's release if he wanted to be number one, Wilson said, "Do I care about being number one? No. Did I care last season about being undefeated? No. Did I care about losing our last game?
"You bet."
He added, "I think (losing the national championship game) has made me a better coach. Last season we didn't change from our gameplan very much, because it was making us so successful. I don't think we thought we needed to adjust to anyone, we really didn't worry that much about what the other team was going to do. We wanted them to play our game and it worked. But I think we could have made some adjustments late in the season and we didn't."
Wilson plans on tinkering a bit more this season in quest of the title that eluded his Tigers in 2000-2001.
"You're going to see a lot of different looks from us, especially the first few games," he said. "We had the same power play all last season, but you're going to see three or four completely different ones this time."
When reminded about USCHO's recent success in picking the eventual nation champion, Wilson joked, "O.K. I changed my mind. I do want to be number one."
He then pointed out another interesting trend – both Norwich and Plattsburgh had been number one in the USCHO pre-season poll, and both had lost to RIT in Holiday tournaments before going on a tear climaxing in the national championship, each getting revenge on the Tigers in the NCAA tournament.
"That's why we're not playing any holiday tournaments this season," Wilson said.
The NCHA has three teams in the top ten, and narrowly missed a fourth, with Wisconsin-Stevens Point finishing just out of the running.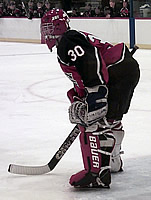 Wisconsin-River Falls is picked to finish third, even though the Falcons didn't get any first place votes. They return 68% of their scoring from last season, as well as All-Everything defenseman Adam Kragthorpe and first-team All-NCHA goaltender Jacque Vezina.
Wisconsin-Superior is ranked fifth, getting one first place vote. The Yellowjackets have lost some firepower up front, but return their entire defensive and goaltending corps.
St. Norbert, ranked seventh, will try to reverse its fortune. The Green Knights have suffered upset loses in recent post-seasons. They return a nice mix of upperclassmen and have added some talented newcomers.
Middlebury is ranked fourth, also getting a first place vote. The Panthers must compensate for the loss of two all-amercians (Scott Goldman and Matt Skoglund), but head coach Bill Beany usually reloads rather than rebuilds, demonstrated by five straight national titles and seven straight trips to the NCAAs.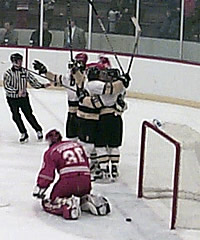 Also representing the NESCAC is Amherst, which came within an overtime goal of making the nationals. The Lord Jeffs lost eight players, including its best defenseman and NESCAC Player of the year Jim Smith.
Norwich placed sixth despite the loss of two-time USCHO.com Player of the Year Keith Aucoin. Chris Petracco, coming off a 34 point season, is expected to fill the void.
Rounding out the top ten are St. Thomas (eighth) and Elmira (tenth). Both are hoping to recover from rough times late last season. The Tommies, who looked to be a lock for the MIAC title and NCAAs, were shocked by Bethel in the MIAC semifinals.
Elmira, depleted by injuries, ran out of gas and was also upset in its conference semis, losing to Manhattanville.
Speaking of the Valiants, they turned a lot of heads last season, making it to the ECAC West finals in just their second season of existence. Manhattanville, which graduated just one player, finished just three points out of the top ten.
Will they be this season's Cinderella story? Or will things play out as they have the past few seasons, with a Plattsburgh repeat? The puck drops on D-III hockey in a few short days.