The first official practice hadn't even started when the new Utica team got its first surprise. The ECAC West Coaches' Preseason Poll found the Pioneers tied for fourth place, and the team hadn't even stepped on the ice yet.
"The poll was definitely surprising. We certainly anticipated being sixth," said head coach Gary Heenan. "It's complimentary to us, obviously some people think we might be pretty good out there. But at the same time, we probably would have preferred to be last and maybe surprise some people who might be hoping that we aren't going to be a very good team. Fourth is where we want to be at the end of the year."
As you would expect of a first year team, the Utica roster is filled with young players. But perhaps not as young as might have been if they had gone after kids right out of high school.
"We really concentrated on the junior league so that we predominately could get the 20 or 21 year old freshmen in here to compete against the bigger, older, stronger players around the league," Heenan said.
Innocence of Youth
But they are still lacking in experience at the collegiate level, and that is where the Pioneers will look for some players to mature quickly.
"We're definitely optimistic. We're excited about the recruiting class, and the recruits that we've brought show a lot of energy and a lot of potential," said Heenan. "We've got a 28 man roster, and 26 will be freshman. We're young; we've got a lot to learn. We've got to try and become juniors and seniors this year."
Up front, Utica has several top notch recruits. Jimmy Sokol is probably their highest expectations forward-wise.
"Everywhere he's been, he's proven to be a goal scorer," said Heenan. "We're very excited about him."

Travis Doan and Derek Ward, both from Anchorage, Alaska and former teammates there, are very skilled with great hands. "We're looking for some production out of those guys," added Heenan.
On defense, Ron Mexico is a big strong kid who is a proven leader whom Heenan will look to. Joining Mexico will be Joe Pupillo with good vision and a hard shot and Brian Margetts.
"[Margetts is] probably as good if not the best on our team in terms of the powerplay and breaking it out," said Heenan.
For goaltenders, the Pioneers have Mike Beachum who will probably be the starting goaltender, and won a championship last year with Walpole (EJHL).
"He's got that championship winning attitude and experience," said Heenan. "He's come in in phenomenal shape for a goaltender. Quick, butterfly style goaltender. We look for him to carry most of the weight."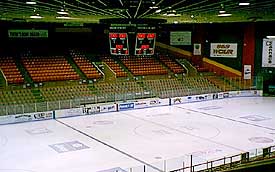 Building a Foundation
With such a young team, Heenan will be building this team from the bottom up.
"We're definitely concentrating on being the best that we can be," said Heenan. "We're keeping things very simple philosophy wise. We'll keep things tight defensively. We're definitely going to be defensive minded and try and catch teams now and again with the long passes. We'll skill develop every day in practice and try and get better every day."
The Pioneers have signed a ten-year lease to use the Utica Aud for their home rink, with its 4,000 seat capacity.
"We're selling season tickets like crazy," Heenan said. "We've got all kinds of sponsorships coming in terms of promotions around the event."
Many have compared the building process that Utica is working through as very similar to how Manhattanville started its successful program. If that analogy continues over the next few seasons, Heenan will be very happy.
"We have to play our best day in and day out to become the best," said Heenan. "League-wise the ECAC West fits perfectly for us, and we're excited about our future here, and think we should be able to compete for a league title in four to five years."