Why Not Rensselaer?
We guess that question has been answered. A win over No. 6 New Hampshire propelled the Rensselaer Engineers into the Top 15 at No. 15. The 6-4 win at home last weekend was enough to impress the voters.
"We had some timely scoring, and our penalty killing did a great job," said Engineer head coach Dan Fridgen. "We knew they had a great offense, and they were a speedy team. But we just played solid defense, and Kevin [Kurk] played a solid game in the pipes.
"I thought we came out and played them pretty physical, and then we laid off of them a little bit, but then we came out banging again in the third period. It was evident that we have pretty good conditioning at this point of the season. It's pretty big to win games in the third period, and that was a nice win in the third."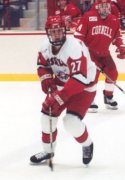 The timely scoring came from Marc Cavosie, this week's ECAC Player of the Week, an even strength goal, and a shorthanded goal to seal the win.
"He's just playing real well right now, and he has it going offensively. He came back this summer real focused, and ready to play," said Fridgen. "He's certainly a player that you have to have on that power play — you add Matt [Murley] on that power play, and it's hard to cover both of them."
"I worked real hard this offseason, and got in real good condition," said Cavosie. "I feel good physically, and the shots seem to be going my way, and the bounces are too. And my linemates are really hustling for me. [Andrew] MacPherson and [Ryan] Shields are working hard for me, and I don't know if I could get what I get."
Cavosie's attitude is not going unnoticed by those around him.
"I don't think he's thinking about that from a points perspective right now," said Fridgen about his five goals in two games start. "He's concerned with playing well on both sides of the puck. Whether it's setting up goals, or scoring goals, or preventing goals, he's getting the job done, and what's he's doing is trying to play as consistent as he can."
The Engineers have moved into the Top 15 in the polls, but that is not a concern right now for Fridgen, and the Engineers. They have a game plan going into this weekend's series at Minnesota-Duluth after the big win over New Hampshire.
"It gives us a boost of confidence," said Fridgen on the win. "But it's pretty early right now, and what we're trying to do is get our identity, and play our game. Play some physical play, score some timely goals, and I am more concerned with that than who we are playing right now."
So Why Not Union?
We guess you have to ask the question again.
"Why Not Union?"
Union is still 2-0-0, and the Dutchmen had last weekend off. But in the latest USCHO poll, the Dutchmen actually lost points in the polling. Nothing changed. Just one of those things, we guess.
"Ah, the old poll questions," said head coach Kevin Sneddon. "It's not a concern of mine or anyone in our program. We are a far more focused group this year. We worry about the day-to-day process of getting better as a team, and not about what others think of us. The wins will come from a commitment by each player to play his role, and sacrifice for the good of the team, not by reading our media clippings."
The Dutchmen will get the chance to prove it some more as they take on Merrimack this weekend in North Andover. With the hot start, the Dutchmen probably would have loved to play games last weekend.
"A week off can provide a team with both pros, and cons, but we always look at things from a positive perspective," said Sneddon. "We missed some class time in order to bus out to Notre Dame, so the week off allowed our student-athletes to catch up with their schoolwork. It also allowed us some recovery time to heal some of our injuries from the weekend at Notre Dame. Lastly, it afforded us the time to work on specific areas of our game that we needed to address after watching video from the two games against Notre Dame."
The interesting part of the Dutchmen wins at Notre Dame was the fact that they were two different games. The first game was a low-scoring defensive tilt, while the second game was more wide open. In the third period the first night Brandon Snee was trying to preserve the shutout. The second night in the third period, the Dutchmen roared back to overtake the Fighting Irish.
All signs of encouragement right off the bat.
"I actually thought we played a more well rounded game the first night," said Sneddon. "We came out flying in the first two periods, and set the tempo of the game. Notre Dame did a great job of turning their game around for the third period, and fortunately, we sustained the lead to win 2-1. Despite the score, we still generated a lot of offensive opportunities [odd-man rushes, two breakaways].
"The next night, I thought Notre Dame was the better team for the first period. We came out with a better effort in the second, and an even stronger effort in the last 10 minutes of the third period. It was nice to see us score seven goals…the last time we did that was a practice in 1998! [note: Union last scored seven goals in a 7-1 win over Army on 11/19/99] It was nice to see us utilize our speed, and excel in areas like penalty kill and power play."
The Dutchmen head to Merrimack hoping to sustain the good start, but Sneddon knows it will be tough.
"We are planning to see a very good Merrimack team this weekend," he said. "Coach Serino, and his staff have done an excellent job with the Merrimack program, and as a result, they have built a team that can beat anyone in the country. We have a lot of respect for their entire team, and in particular, their top line. Players like Aquino, Parillo, and Rosa will give us a headache if we are not prepared for them.
"On a side note, we all wish Chris a speedy recovery, and hope to see him Friday night."
Growing Pains
It's just two games into the season, but there is already proof that there will be growing pains for Colgate.
This past weekend the Raiders dropped a pair to Nebraska-Omaha. On Friday the Raiders led heading into the third period, and on Saturday they had a shot at coming back to tie in the third. Growing pains on opening weekend indeed.
"I was pleased with the way we bounced back from some of those goals, but it's still never acceptable to lose like that," said head coach Don Vaughan about Friday. "We made some rookie mistakes."
"We've got to get tougher around our net," he said after Saturday's loss. "We need to do a better job of taking care of business in our own end. I thought they just wanted it a little more around our cage."
Not only that, but the Raiders also need to get into game condition, something that Vaughan thought was evident this weekend.
"I think some of our guys just aren't where they need to be physically," he said. "You try, and get to that place physically, and conditionally but it's tough to do unless you play games."
The Raiders also head to Minnesota this weekend for a pair at Mariucci Arena. The offense seems to be there with eight goals in the first two games, but that also needs some work.
"We still have to get some of the other guys to get there," explained Vaughan. "[Etienne] Morin, and [P.J.] Yedon, they played well, but we have to spread it around some more. It's not going to be a situation where we're going to have one or two guys like Darryl Campbell or Andy McDonald that had 50 goals between them. We're going to have to get several guys to score seven or eight goals each."
So It Begins …
…at least for a handful of Ivy teams. With just under two weeks of ice time under their belts — the Ivy League allowed official practices to commence on October 15 — Brown, Princeton, Yale, and Cornell will attempt to rid themselves of the offseason cobwebs this weekend in exhibition contests.
The Bears face off against St. Francis Xavier on Friday night. The X-Men, a team a goal away from capturing the Canadian university championship last season, will serve as a good challenge for Roger Grillo's squad despite losing two of its top scorers from last season.
Earlier this month, St. Francis Xavier was shut out by Boston University, 4-0, but rebounded for a 5-3 win over Don "Toot" Cahoon's UMass-Amherst team. Speaking of Cahoon, his former team, Princeton, will take on the X-Men in an exhibition contest the following night in Princeton, N.J.
The next night the X-Men travel to Yale to conclude the three-game swing.
Cornell welcomes another Canadian college team — the Golden Hawks of Wilfrid Laurier — to its barn on Saturday night before jumping into a two-game nonconference battle with Alabama-Huntsville next weekend.
Following this weekend's action, Harvard will be the only Division I team left in the nation yet to play an organized contest. Harvard — aside from an informal scrimmage against Brown — won't officially play in a game until its season-opening contest against the Bears on November 3.
Patriotism Shines Through
In the midst of all the sadness, and loss caused by the September 11th tragedy, there was a poignant display of patriotism at Gutterson Fieldhouse last weekend. Prior to the Catamounts' Saturday night loss to Boston University, 10 members of the Vermont Air Guard — all former UVM players — presented their former head coach with two photos and an American flag. One of the photos showed the Vermont Air Guard F-16 flying cover over New York City following the terrorist attacks.
The Catamounts next take the ice this Saturday in an exhibition contest against Moncton.
The Odd
"You just can't do that; that's a penalty."
— Colgate head coach Don Vaughan, on Rob Brown's unusual holding-the-stick infraction last weekend.
Last weekend, Rob Brown of Colgate was whistled for a two-minute minor for holding the stick. Not very unusual, except for how it occurred.
Brown and Nebraska-Omaha's David Brisson went into the corner. Then there was a stick on the ice. Brown carried the puck over to the left side and started the rush with a pass. All the time Brisson was chasing him, and motioning towards him, and screaming. Why?
"Apparently the referee said [Brown] just grabbed the stick out of [Brisson's] hands," said Colgate head coach Don Vaughan. "You just can't do that; that's a penalty."
At first, Brown didn't seem to think so, vehemently arguing that it was his stick when the officials came towards him. Brisson, likewise, was arguing that it was his stick. The two got into a tug-of-war with the stick as the rope. Neither wanted to give it up. Finally the officials stepped in, and took control of the stick.
The officials looked at it, and it turned out to have Brisson's number 10 on it.
Oops.
If It's So Easy, You Try It
The first episode of the Iron Columnists will take place on November 2. What will you challengers bring to the table? How will the Iron Columnists strike back?
Line up if you're interested in putting your money where your mouth is; drop us an email to be eligible to take on the Iron Columnists this season.