Brockport had a season last year that Brian Dickinson would just as soon forget.
"We were in such disarray with attitude problems. Last year was not what our coaching philosophy is about," said the sixth-year coach. On top of that, a number of injuries depleted the Brockport roster, and still other players left the team at the semester break.
Things Are Different
Early in the 2001-02 campaign, it's clear that things are different for the Golden Eagles.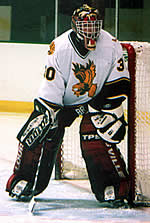 Picked to finish last in the SUNYAC, Brockport has already beaten Geneseo, 2-1, in the consolation round of the Chase Rochester Cup Tournament. The Golden Eagles also played a solid game against RIT in the tournament's opening round, despite a 7-0 loss.
"I'm pretty happy with where we're at. Certainly, we have a long way to go, but I think we got out of the weekend what we were looking for," said Dickinson.
"I would have liked to have another one or two [goals] for a cushion there, but, in retrospect, winning 2-1 was the best thing for us. We're going to be in a lot of those games, and we've got to learn how to win those one-goal games."
Brockport returns seven forwards to the squad, including last season's second- and third-leading scorers, senior co-captain Darren Kennedy and junior Nick Smyth. They're joined by eight newcomers.
Two rookie forwards started on the first line over the past weekend for Brockport: Mark Digby and Brad Zarem. Both came to the team directly from high school hockey.
"They were both a couple of what I consider steals to get out of high school. I'm not sure they are players, at this point, that Brockport could get if they chose to play a year of juniors."
The transition to the college game from high school is a bit more daunting than from juniors, too. "I think they've got a lot to learn, especially the speed of the game. They can't relax for a second because they haven't played at this speed, ever," said Dickinson.
Defense will be key as Dickinson figures his team to be in a lot of close games. A veteran defensive squad returns for Brockport, including junior co-captain Nate VanKouwenberg, who missed several games with a wrist injury, and offensive-minded sophomore Casey Firko.

Goaltenders Steve Tippett and Joe Messina return for the Golden Eagles, joined by junior transfer Brian Tefft.
Tefft saw his first action against Geneseo, impressing Dickinson. "He made the saves he was supposed to make, and made all but one of the ones he wasn't supposed to make. But the area I really liked was the way he controlled his rebounds, and the ones he didn't cover, he was really good at steering them away from trouble."
A Huge Win
A win in an early season tournament consolation might not seem a big deal. But for Brockport, its first win since Dec. 8, 2000, was "huge," said Dickinson.
"The guys know that playing our system, we can win hockey games. They're starting to understand that, yeah, we're not going to play in many 6-5 games … we're going to play in a lot of 2-1, 3-1, 4-2 hockey games, and we've got to get ourselves mentally ready for that."
Bottom Line
A healthy Brockport squad, both mentally and physically, and some good recruits, should propel the Golden Eagles in their mission to regain a playoff berth.