The 2001-02 SUNYAC season promises to be the most competitive in many seasons.
Defending national champion Plattsburgh still stands head and shoulders above the rest of the conference. But for the first time since expanding the conference playoffs to six berths, every team has a legitimate shot at the postseason.
SUNYAC coaches agree.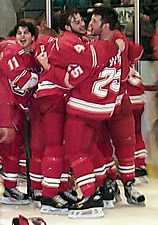 "The league has taken a big jump in getting stronger, depthwise," says Fredonia coach Jeff Meredith. "I think the teams at the bottom and the middle have gotten more competitive and that just makes the conference more reputable."
Brockport's Brian Dickinson concurs: "I don't think the last place team is going to be 0-14. I think a lot of us are going to have two, three, four wins and it's going to kind of spread out because nobody is going to be a pushover."
Buffalo State coach Jim Fowler, whose Bengals are picked to make the playoffs for the first time in the SUNYAC preseason poll, says it's going to be down to the wire. "Each year I've been in the league — for 13 years as a player and coach — you've always had Plattsburgh, Potsdam, and Oswego, and maybe Fredonia up there, but I think its going to be a race for three or four teams for the last two playoff spots."
Oswego's George Roll also notes the improved competitiveness in the conference. "I think the whole league's improved. You know, obviously Cortland's a much better team. I was one of the guys who voted Buff State fairly high; I was very impressed with them, especially the second half of last year. I think they're going to take some people by surprise this year."
Meredith says that no team can take any other lightly. "Even with as much talent as Plattsburgh might have, if they don't come ready to work, they stand a good chance of losing or even tying anybody. That just makes for a great league."
Two new coaches join the conference. Former Bowling Green assistant and All-American Brian Hills takes the helm at Geneseo, while alumnus Tom Cranfield returns to Cortland.
Here's a quick look at the conference's eight teams, in the order they were chosen in the preseason coaches' poll. Click on each link to see a more in-depth report.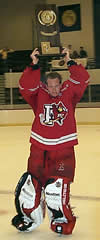 Coach: Bob Emery
2000-01 Record: 29-5-0, NCAA champions
2000-01 Conference: 13-1-0, SUNYAC regular-season and playoff champions
With most of its high-powered offense returning, a goalie still improving, and some good rookies, Plattsburgh may even be better than last year.
Coach: George Roll
2000-01 Record: 17-9-1
2000-01 Conference: 10-4-0, 2nd place regular season, lost to Potsdam in semis
Oswego will be a playoff team again this season. How high the Lakers finish and how far they go in the SUNYACs depends on the progress of a young squad.
Coach: Ed Seney
2000-01 Record: 20-8-3
2000-01 Conference: 8-3-3, 3rd place regular season, playoff runner-up
Although a young squad may take a few games to gain some experience, look for the Bears to be clawing their way to the top in the second half of the season.
Coach: Jeff Meredith
2000-01 Record: 12-11-3
2000-01 Conference: 7-5-2, 4th place regular season, lost to Geneseo in first round
Defense and goaltending took the Blue Devils to the playoffs last year. A few more points on the scoreboard could take them past the first round.
Coach: Jim Fowler
2000-01 Record: 12-12-1
2000-01 Conference: 4-10-0, 7th place regular season, did not qualify for playoffs
A veteran squad that has learned how to win, Buffalo State is going to be in the hunt.
Coach: Brian Hills
2000-01 Record: 14-13-2
2000-01 Conference: 5-7-2, 5th place regular season, lost to Plattsburgh in semis
With every team in within reach of the playoffs, Geneseo will need a strong effort all season.
Coach: Tom Cranfield
2000-01 Record: 9-16-2
2000-01 Conference: 4-8-2, 6th place regular season, lost to Potsdam in first round
Strong goaltending, hard work, and some young talent can put Cortland in the playoffs again this year.
Coach: Brian Dickinson
2000-01 Record: 2-21-2
2000-01 Conference: 0-13-1, 8th place regular season, did not qualify for playoffs
A healthy Brockport squad, a good attitude, and some good recruits should help the Golden Eagles to regain a playoff berth.