Minnesota defenseman Jordan Leopold has over five times as many fan nominations for the Hobey Baker Award on HobeyBaker.com. North Dakota blueliner David Hale is featured on the cover of U.S. College Hockey Magazine, in which he is compared to longtime NHL standout Scott Stevens.
Meanwhile — amidst considerably less fanfare — Northeastern captain Jim Fahey is leading the nation's defensemen in scoring while playing with toughness and intensity for the Huskies.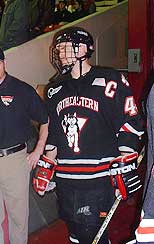 Playing for the Huskies — a team that has tantalized its fans in recent years by beating several great teams while losing to lesser opponents — Fahey cannot be accused of reaping the benefits of piling up points by playing for an offensive powerhouse. The Huskies have scored just 3.3 goals per game this season — not even in the top 20.
Nonetheless, Fahey is the only blueliner to be found in the top 20 individual NCAA Division I scorers list, as he has produced nine goals and 18 assists in just 20 games. In addition to averaging just under a point and a half per game, Fahey is tied for fifth in the nation in power-play goals (7) and for tenth in assists (18).
NU coach Bruce Crowder emphasized that Fahey is not the type to get very excited about individual success.
"I think it's a great thing, but I think if you asked him, it's not what he wants," Crowder said. "He wants to win hockey games and win championships, but anytime you've got an individual who's [leading all defensemen in scoring], it's only going to help win those games."
Fahey got out of the gate quickly this season, notching multipoint games eight times in the team's first 11 games. It wasn't exactly a powder-puff schedule, either, as three of those big games were against Boston College, Boston University, and UNH.
Unsurprisingly, Fahey earned Hockey East Player of the Month honors for October.
"I think this year he's off to a lot better start," Crowder said. "As a junior, he was a captain, and I think he struggled with that leadership role with having seven seniors here last year.
"I think he's got a great opportunity at the next level."
— NU head coach Bruce Crowder, on Jim Fahey
"Now he knows it's his team," Crowder added. "He's playing well, and I think he's a lot more relaxed. He doesn't have to worry as much about stuff off the ice as he did last year."
After scoring just 12 goals in his first three seasons, Fahey already has nine lamplighters as a senior. When told that Leopold recently attributed much of his own goal-scoring to luck — given that defensemen are often shooting from long range — Fahey concurred.
"A lot of it's luck," Fahey said. "I'm sure Jordan is the same way — he just thinks that way. I'll have fun with it now because I don't know how much longer I'll be able to do it.
"It's just something I enjoy doing — jumping in the play," Fahey added. "A lot of times you throw it on net and you get lucky. A lot of it's hard work from my teammates too."
The power-play goals apparently come from a greater willingness to shoot instead of always looking to tee the puck up for a teammate.
"I think the thing that happens is that he's getting the puck to the net," Crowder said. "He's not the guy looking to set things up; he's looking to be a little more of a triggerman."
Fahey, though, would be happy to give up his individual success for a better NU record.
"Hopefully we'll pick it up as a team down the stretch," Fahey said of the Huskies, following Friday night's 3-2 loss. "We've got the capability to, and I think that right now is the most disheartening thing.
"We've got a good group of guys," Fahey said. "We'll start having fun once we start winning."
Sunday's rematch with BU certainly was more fun for Fahey: Although he was held pointless, Crowder raved about his defensive play turning a five-on-three Terrier power play that lasted over two minutes.
"Jimmy Fahey was unbelievable on the five-on-three," Crowder said, noting that Fahey logged massive amounts of ice time in a "huge character win."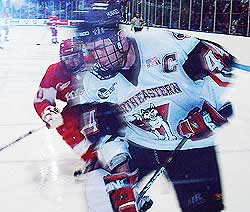 None of this goes to Fahey's head. Even a question about the possibility of becoming a Hobey Baker finalist is quickly turned around as another opportunity to discuss team success. Has he even thought about having a shot at the award?
"No, I haven't," Fahey said. "I'm just going to try to keep on playing. If that's something that comes my way, and I'm in it for that, that's great but we'll see how the stretch goes.
"We're playing some good hockey teams," Fahey added. "I'm enjoying it; I'd just like a bounce here or there and get this thing going the right way because we're working hard."
If the Huskies are able to put together a good stretch drive — they currently are 9-9-2 — it will be a credit to the Milton, Mass., native.
"He's a tremendous leader on and off the ice," Crowder says of his captain. "He gets his teammates to come and play; he's been absolutely fantastic in all aspects of what he's bringing to the team. It's nice to see that he's having a great senior year, and it's obvious he wants to go out with a championship."
Playing for the Beanpot next month will be one of those championship opportunities.
"I wanted to play at a Beanpot school," Fahey said "[The decision] was narrowed down by what they had going here — the building, and the coaching staff and how hard they work — I wanted to be a part of that.
"Unfortunately, I'm at the [rear] end of it. Hopefully we'll be able to reap some benefits this year as we come down the stretch."
After that, the business major will look toward the pros. Though he was a relatively low pick — selected in the eighth round by the San Jose Sharks back in 1998 — Crowder likes his captain's chances of making it.
"I think he's got a great opportunity at the next level," Crowder said. "He knows he has to improve on moving the puck a little bit quicker and stuff, but that's just a natural progression for someone leaving Hockey East to go to the next level.
"He's got all the tools, and he's going to be able to do that."
It's a good thing he has all the tools — he certainly doesn't get that much publicity.