Michigan State head coach Ron Mason addressed the media on Monday, two days after it came out that college hockey's winningest coach will resign after the season to accept the job as the school's athletic director.
The 62-year old Mason stands at 916 career wins in 36 seasons as a head coach. He has 23 years and over 600 wins at Michigan State alone, where he won a national championship in 1986.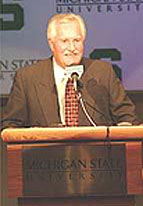 The move awaits final approval by the school's Board of Trustees, which is all but certain. Mason will take over on July 1.
"We were looking for an AD, we got a legend," said MSU president Peter McPherson, in introducing Mason at the news conference.
Mason said he had breakfast with men's basketball coach Tom Izzo and the search committee approximately three months ago, where they discussed ideas about a possible replacement for outgoing AD Clarence Underwood.
On his way to the office from that meeting, he said he had a revelation.
"We were discussing what the job entailed and who the right kind of person would be for this position," Mason said. "I walked away from that meeting saying, 'I think I'm the right person for that position.' It's crazy how these things work."
"It was a difficult decision to give up coaching and it will always be a major part of my life. But I hope to bring to this new position the lessons learned from building programs."
— Ron Mason
Mason said he didn't apply for the job right away, but when he was approached by school officials, he gave it serious thought for the first time.
"It's not like in the past when I gave it a superficial look," he said. "I had meetings, I contacted close friends. It happened over a period of time. It was maybe a week ago that I came to a position of pulling the trigger."
Mason has devoted his life to college hockey, beginning as a player at St. Lawrence. He went on to coach at Lake Superior State, and then replaced the legendary Amo Bessone as head coach of the Spartans in 1979.
He said the hardest part will be stepping away from hockey.
"It was a difficult decision to give up coaching and it will always be a major part of my life," said Mason, who won the Spencer Penrose Award as national coach of the year in 1992. "But I hope to bring to this new position the lessons learned from building programs.
"Being in the locker room, on the ice in pracice, playing games … it's something that will be with you forever. After the game Saturday [when he informed his players] was pretty tough. I gave them a short version of what I'll give them today.
"Hockey has been my love forever, and always will be. No question about it."
Mason said there was never any thought to being both coach and athletic director.
"You can't do both jobs and do it right," he said. "I never once gave that even a thought."
The news came as a shock to most everyone, especially considering when it was discovered, in the middle of another successful Michigan State season.
"The timing is never good," said Mason. "In the summer, there's always recruiting … You can't pick a good time to do something like this. Whether it's now or in the middle of summer. Maybe now is as good a time as any."
Being an athletic director is a completely new set of a challenges for a lifelong coach, someone used to judging his performance by wins and losses.
"There'll be a record. It's just a matter of how long it takes," Mason said. "There's some instant rewards when you coach, but it's a different type of reward. I'm looking forward to it as a challenge. I want the department to be well repsected, and represent our school positively.
"In coaching, half your day is working in an administrative role. … That hasn't changed since day one. So I've been fairly well in-tuned with it. Still, I'm gonna miss practices, I'm still gonna miss games. But I'll be a part of it in some way."
One of Mason's first tasks will be to find his replacement, something he'll be heavily involved in even before officially becoming the athletic director.
One of the potential replacements includes former assistant George Gwozdecky, now the head coach at No. 1-ranked Denver. Gwozdecky is also being mentioned as a possible replacement for Wisconsin's Jeff Sauer, another coaching legend who will step after this season. Current Spartans assistant Newell Brown, New York Islanders assistant and former MSU great Kelly Miller, and former Lake Superior coach Jeff Jackson are other names that have been speculated on.
"I will announce my replacement once the season is completed," Mason said.
Ultimately, Mason said, the opportunity that presented itself was just too good for him to refuse.
"If you asked me this in September, when I was driving back from my cottage in the car — when fishing season is over, that's where I assess things — I would've said I'm gonna coach as long as I can. But things change, and opportunities only come by every so often. And this is a great opportunity."