Northeastern's Brooke Whitney won the 2002 Patty Kazmaier Memorial Award, given annually to the outstanding women's hockey player at the Division I level.
"This is such a tremendous honor," said an emotional Whitney following the presentation of the award. "It's such a great honor, knowing all the talent that is out there, in the league and throughout the nation."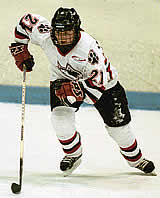 Whitney, who led the Huskies in scoring with 56 points on 32 goals and 24 assists, was named Most Valuable Player in the ECAC East for leading the Huskies to a second-place finish and an appearance in the league's title game. She ranks fourth all-time in career scoring at Northeastern.
This is the fifth year the Kazmaier Award has been presented. In December, all women's Division I coaches were asked to nominate two players from their teams; those players made up the official ballot for the top 10 finalists, again voted on by the coaches.
From the 10 finalists, a 12-member selection committee, made up of Division I coaches, print and broadcast media, and a representative of USA Hockey, chose the recipient.
The top three candidates are announced, and the winner is presented at the annual award banquet, held each year in conjuction with the women's NCAA Frozen Four. This year's three finalists were Whitney, Dartmouth forward Carly Haggard, and Minnesota defenseman Ronda Curtin.

The award is named for Princeton defenseman Patty Kazmaier, a four-year letterwinner who excelled in ice hockey and lacrosse. Kazmaier passed away at 28 following a long battle with a rare blood disease. She is survived by husband Mark Sandt and daughter Serena.
Kazmaier was a teammate of current Minnesota coach Laura Halldorson, who also serves on the board's selection committee. Halldorson suggested the award be named for Kazmaier, to recognize her spirit.
"I played with Patty for three years. I think of her as a big, strong athlete who was a powerful skater and a really great person," Halldorson said.
"The idea of a national award came up first, before any sort of name was suggested. I started thinking about the Hobey Baker, and thinking about what is special about the Hobey Baker. It was an inspirational story, and I thought of Patty, because she basically risked her life to have her child and died at an early age."
Hobey Baker, the namesake of the analogous men's ice hockey award, also went to Princeton.
"When it was decided it would be named the Kazmaier Award, most people had never heard of Patty Kazmaier or knew her story," said Halldorson. "But over time, when you combine what USA Hockey says the award stands for with the individuals that have been honored with the award, it's generating an identity of its own.
"People in women's hockey know the Kazmaier Award. It's recognizable and it's respected."