"It seems like Michigan goes every year, but the rest of us don't."
That's Minnesota head coach Don Lucia on the only repeat team in this year's Frozen Four.
It does seem as though the Wolverines are in the postseason mix yearly, so to those outside the CCHA, Michigan's appearance in St. Paul may have appeared a foregone conclusion. However, given the youth of this Michigan squad and its early-season .500 play, beating St. Cloud and then Denver to advance to the Frozen Four is quite an accomplishment.
A potent mix of talented upperclassmen and enthusiastic newcomers, this bunch of Wolverines is earning comparisons to another young Michigan team, the one that beat Boston College for the national title in 1998. There are, however, points where the 1997-98 Wolverines and this year's team vary — important points, according to head coach Red Berenson.
"The differences are probably that we had more support from our upperclassmen [in 1998]. We had a big junior class, small senior class — there are a lot of similarities, with a big freshman class and Marty Turco in net."
This year's crop of freshmen — they can hardly be called rookies — has not only seen more ice time on the whole than that class of 1997-98, but the newest Wolverines are also more talented than the class to which they've been compared.
"We think they've developed just through osmosis in terms of experience, because we've had to play them a lot during the year," says Berenson. "But this young team, even the last few weeks with our back to the wall … found a way to get in."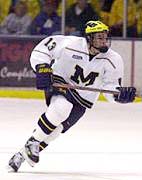 Eric Nystrom (18-12–30), Eric Werner (5-20–25), Milan Gajic (9-13–22), Michael Woodford (8-11–19), and Dwight Helminen (10-8–18) are five guys with whom fans of the CCHA will be very familiar in coming years. Each can score, and three — Nystrom, Gajic, and Helminen — are potential game-makers, the kind of players who can blow a game wide open.
And unlike that freshman class of 1997-98, there's little public ego among the newcomers, a refreshing change for Michigan that seems to have translated into wins.
"This team is the best I've ever been on," says junior forward Mike Cammalleri. "The chemistry is incredible. The character of this team…coming down the stretch we really seemed to focus."
Cammalleri, of course, is another reason for Michigan's success. Not only is Cammalleri (23-20–43) one of the top forwards in college hockey today, but, ironically, his 10-game absence because of mononucleosis seemed to galvanize the Wolverines.
Junior John Shouneyia (10-40–50) filled some of the scoring void during Cammalleri's illness, and the entire team defense seemed to solidify in front of senior goaltender Josh Blackburn (2.22 GAA, .905 SV%) while Cammalleri was out.
Cammalleri says he was not surprised that other players stepped it up when he was ill. "When you come to Michigan, you realize that there are so many guys who are so good that everyone can do the job."
And though the team came together while Cammalleri was out, Berenson is certainly happy to have the junior back. "Cammalleri is one of those classic college hockey players — skilled and smart, and plays the game. He's one of the great players in college hockey, and just a great kid."
"[They don't] fully appreciate what's going on, and I'm not going to tell them."
— Red Berenson, on the nerves-free performance of his freshman class
The key for Michigan in the Frozen Four is team defense. Every team in St. Paul will be able to score — and the Wolverines are averaging 3.46 goals per game — but Michigan has found a way to limit opponent scoring opportunities, holding teams to around 20 shots per game down the season stretch. Senior defenseman Jay Vancik leads a defense that also includes CCHA bad boy and sophomore Mike Komisarek.
Another factor will be the sheer enthusiasm of this team. This is a group that sees itself as the underdog going into St. Paul and relishes the role. This is also a team that has a lot of fun on the ice: fun that leads to smart playmaking, lots of blocked shots, and loads of scoring.
Freshmen have accounted for nearly half of Michigan's points in the postseason, and the class as a whole seems to be peaking now. Berenson says his youngest players don't "fully appreciate what's going on, and I'm not going to tell them."
Berenson's statement says more about the Wolverines than any writer can. They weren't expected to win the CCHA regular-season title. They weren't expected to win the CCHA tournament title. They were an NCAA bubble team going into the CCHA tourney.
In short, no one expects Michigan to win, and that may be the Wolverines' best weapon in a loaded arsenal.
"I think we're happy to be there and at the same time we have some unfinished business," says Cammalleri. "I know myself and my classmates and the seniors, we really want to take advantage of this opportunity. Who knows when it will come again?"