As a fourth seed in the Frozen Four, the Michigan finds itself in unfamiliar, yet not unwelcome, territory. The Wolverines, as underdogs, are virtually under the radar at this year's tournament. There has been little fanfare. No bells and whistles. No household names.
Well, no household names outside the Central Collegiate Hockey Association, perhaps. CCHA fans know Mike Cammalleri and John Shouneyia, two players whose story this season provides a fitting backdrop for this low-key team of relative unknowns.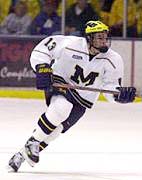 Cammalleri, a Richmond Hill, Ont., native, was the only NCAA player to join the Canadian team at the 2002 IIHF World Junior Championships in the Czech Republic at midseason. The team won a silver medal, and Cammalleri was named Best Forward and picked up a spot on the all-tourney team. Previous WJC Best Forward honorees include decidedly household names — Eric Lindros, Pavel Bure, Peter Forsberg, Wayne Gretzky.
When Cammalleri left for the World Juniors, the Wolverines were struggling and wet behind the ears, playing .500 hockey in their own Yost Arena and dressing as many as 10 freshmen per game. Michigan was looking forward to Cammalleri's return to give the team a lift, but no one in Ann Arbor could have anticipated the kind of boost that his homecoming provided.
"When you travel like that, they tell you you're going to feel tired, jetlagged," said Cammalleri. "So, when I got back, I didn't realize right away that I was sick. I played two games [with Michigan] and knew something was wrong."
Cammalleri was not just tired. The junior had mononucleosis, and the doctors caught it early. "The worst thing about that is that all you have to look forward to is getting sicker before you get better," he said.
So while Cammalleri sat out 10 critical games down the stretch, the Wolverines closed ranks and put together a six-game home win streak that moved them one game ahead of Michigan State at season's end, earning Michigan the regular-season CCHA title.
"I think that [Cammalleri's illness] definitely gave us an extra push," said Shouneyia, from Bloomfield Hills, Mich. "He's obviously a huge part of our team. With him gone at that point in the season, we were still kind of struggling a little bit, and I think everyone around him had to step up more and fill his spot."
Shouneyia himself stepped it up, posting career highs for goals (10), assists (40), and plus/minus (+24, after beginning his junior year with a career +1). Along with classmate J.J. Swistak and seniors Craig Murray and Jay Vancik, Shouneyia became a leader through Cammalleri's absence, helping the young squad grow up in a hurry.
"I think really as a team we stepped it up," said Shouneyia. "I don't know how much personally I did it so much as everyone else. Maybe more on the scoresheet it looks like that, but really everyone as a team came together."
Coming together as a team is the theme of this year's Wolverines, a group that is refreshingly free of ego, packed with enthusiasm, and tempered by an unparalleled work ethic.
"At the beginning of the year," said Shouneyia, "we struggled right off the bat. I think everyone was really nervous … [but] we [upperclassmen] didn't get too nervous. We knew that everyone could play and that it was just going to take a little time for us to come together and find ourselves. Our fans and everyone was guessing a little bit, but in the locker room, everyone was positive. We knew that we would come around."
Shouneyia said that when Cammalleri became ill, the team knew how to compensate because of the way in which the players gelled from even before the season began, when the upperclassmen made the 11-member rookie class feel welcome.
"Right away, we let them know how important they are for this team to be successful. For us to be successful, they would have to contribute every night. They've adapted to it very well, and they've taken on the role."
Cammalleri, who netted five goals in Michigan's first-round CCHA playoff series against Lake Superior State one week after returning to action following his illness, and finished the regular season with 16 goals and 13 assists in 21 games, was not surprised by the way the team came together.
"There's a lot of talent here. Yeah, we're young, but this is the kind of team where anyone can contribute."
Shouneyia said that this is the best team he's ever played with. "I love the team. I love the guys. We've got a little bit of everything out there. We've got a lot of heart, a lot of character."
Young though the Wolverines are, Michigan is the only team from last year's Frozen Four to return this year, and both juniors said that the upperclassman feel as though there is business to be finished.
"The difference between this year and last year, really, is that … last year we were really excited just to be here and this year, while we're very excited to be here, we have more experience," said Shouneyia. "I don't know how much that's going to help."
"This is the first time for the freshmen, obviously," said Cammalleri, "but we really want this one for the seniors."
Michigan, a team that was 11-6-3 at midseason, appears to be peaking now.
"I think we play our best under pressure," said Shouneyia. "We're an underdog, and we like that."