After a disappointing overtime loss to Maine in last year's NCAA East Regional, then-junior Minnesota defenseman Jordan Leopold had a difficult decision to make. The WCHA's top defensive player of 2000-2001, whose NHL rights are held by the Calgary Flames, could have left school early for a pro career.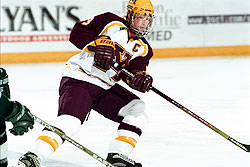 But the Gopher captain from Golden Valley, Minn., decided to return for his senior year. The result? Another WCHA Defensive Player of the Year award, All-American status again, a berth for his team in the national title game Saturday, and the 2002 Hobey Baker Memorial Award.
"He felt like there was a little unfinished business at the University of Minnesota," said head coach Don Lucia. "He wanted to come back and finish his degree, and, as he's talked about, he wanted to return the program to prominence.
"And I think he's done a great job on all fronts."
Leopold set the Minnesota career mark for goals by a blueliner (currently 45) and has 143 career points, including an assist in Thursday's 3-2 win over Michigan in the semifinals.
Seven of his last 10 goals (he has 20 overall, the most ever in a single season by a Minnesota defenseman) have come in the third period or in overtime.
And he's just as important to the team from a defensive standpoint.
"Usually, even the best defensemen are either very good offensively, or very good defensively," said Lucia. "Jordan has the rare combination of being equally good in both areas."
"It's a remarkable feeling," said Leopold seconds after winning the award. For the first time, the award committee selected a "Hobey Hat Trick," the top three players from the original list of 10 finalists. All three (Leopold, Darren Haydar of New Hampshire, and Mark Hartigan of St. Cloud) were on hand as the winner was announced.
"We've had three other Hobey Baker winners at the University of Minnesota, and I'm proud to have my name added to the list," Leopold said. He joins Neal Broten (the inaugural winner in 1981), Robb Stauber (1988) and Brian Bonin (1996) as Minnesota's Hobey winners.
Leopold thanked his past and present coaches at Minnesota, his teammates (singling out defensive partner Matt DeMarchi) and his family, because, "They're the ones who introduced me to hockey, the best thing that's ever happened to me. It's gotten me through some troubled times."
Playing for Minnesota was always in the cards for Leopold, a dream since childhood.
"The dream came true four years ago when I first put on that sweater, and this is an added benefit. It's all I've wanted to do," he said.
Lucia knew it when he first coached Jordan as a teen. "I had the pleasure of coaching him on a national under-16 team before I was fortunate to come to the University of Minnesota," he recalled.
"We sat next to each other on the plane on the way back, and he asked me 'Aren't you going to recruit me?', and I said, 'Jordan, you've already got that 'M' tattooed on you. I know where you're going, so I'm not going to waste my time.'
"Since he wouldn't come to me at the time, I figured I'd to come to him."
Now, after four seasons at Minnesota, Leopold's business is almost finished. He has one more game to play.
"One of the reasons why we're still playing tomorrow is that when your best players are your best kids, that's when you have a championship-type team," said Lucia.
"Jordan is a champion. He deserves this award."