Johnny Pohl knows a thing or two about jumping after a big goal. He paid tribute to his brother Mark's signature move last season by duplicating the "Pohl Vault," a jump and turn into the Plexiglas.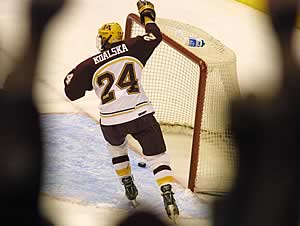 So Pohl was pumped when he saw teammate Matt Koalska come up with his own jump after scoring the game-tying goal with 52.4 seconds left Saturday in Minnesota's 4-3 overtime victory.
Koalska, harkening back to his days at Hill-Murray High School in Maplewood, Minn., skated directly toward the Gophers' bench, leapt in the air, got his knees on top of the boards and got mobbed by his teammates.
"That was so cool the way he jumped up like that," Pohl said. "He got really high, and it was awesome."
Koalska, taking a cue from his roots, dubbed his move the "Polish Leap."
"I've got some ups," he said. "I didn't know what to do. I wasn't sure, actually, if it went in. I saw everybody yelling. It's an unbelievable feeling."
Amid the celebration surrounding the Gophers' first national title since 1979, they were a bit humble, knowing how close they were to watching Maine skate with the trophy in their home state.
Coach Don Lucia led the charge.
"With a minute and a half left, did I think we were going to win?" Lucia asked himself in the aftermath of his first national championship. "No."
Said Pohl: "If one minute would have gone by, this would have been the biggest letdown of our life. Now it's the greatest day of our life."
Some other observations from the Gophers locker room:
Former Wisconsin coach Jeff Sauer greeted Lucia after the postgame news conference. "I'm proud of you, pal," Sauer said.
Leopold arrived at the Gophers' news conference with his full uniform on — skates and all. He did more interviews in the locker room with the skates still on.
Lucia wore the same tie he wore for Thursday's semifinal victory over Michigan. "Johnny [Pohl] told me it was a lucky tie, so I had to keep it on one more time," he said. "Now maybe I'll retire it and frame it."