When asked if Mike Cammalleri and Mike Komisarek would have benefited from another year of hockey at Michigan, Red Berenson's response was quick.
"Absolutely," said the Wolverine coach.
Cammalleri and Komisarek, who each signed professional contracts last month, added their names to the growing list of college hockey players who have left school early in recent years to pursue careers in the NHL. That list has been particularly long for Berenson's Wolverines, who, with the departures of Cammalleri and Komisarek to the Los Angeles Kings and Montreal Canadiens, respectively, have now lost their last five All-American selections before graduation.

"The pros are realizing that there are some great college hockey players out there, so there's more money there for them now," Berenson said. "The opportunities to make money are better than they ever were before. Agents are hammering after these kids, putting ideas in their heads about money and glamour before these kids need it. There's an overall mentality of drafting players and signing them rather than leaving them to develop."
Berenson is probably college hockey's most outspoken critic against players that leave early. While most coaches lament the situation while nevertheless wishing their player well, Berenson normally minces no words.
"Cammalleri made a move he didn't have to make," said Berenson. "You should have a little more trust, loyalty and commitment to what you're doing. You shouldn't drop everything to make a quick buck."
"I know the money is tempting and the opportunities are tempting, but these are the best four years of your life. Your friendships from college are cut short when you leave your teammates early. You can't buy your friends."
— Michigan coach Red Berenson
The situation of losing Cammalleri and Komisarek — plus Jeff Jillson, Mike Comrie, Mike Van Ryn and Andy Hilbert in recent years — stands in stark contrast to Hobey Baker Award winner Brendan Morrison and the rest of Michigan's fabled class of 1997. That class, which now has a number of NHL players to its credit, led the Wolverines to a national championship in 1996 and returned intact the next year.
"Morrison was asked to sign by New Jersey when he was still in school, but he didn't even ask how much money they wanted to offer," Berenson said. "He just said, 'I'm not leaving Michigan.' That's the kind of attitude you can't preach enough. That's a sense of family, commitment and loyalty.
"People are forgetting about development. If [the pro teams] would call the college coaches, the coach would tell them whether or not the player needs more development. There's not a lot of communication between the pro teams and college coaches."
Berenson said there also isn't much communication between student-athletes and coaches in these situations, either. One would think, however, that Michigan players would value the advice of Berenson, who had a 17-year NHL career and earned NHL Coach of the Year honors in 1981.
"They don't talk to me, and that's the problem," he said. "You just hear that there's being discussion when these things happen, and when there's an offer on the table I don't hear a word.
"They're courteous enough to call and tell me what they're going to do [once they've made the final decision]. But it's frustrating from a coach's standpoint to just hear about it and not help the player make a decision."
Berenson said making the early jump to the professional ranks prevents student-athletes from enjoying opportunities — both on and off the ice — he feels are critical to the development of hockey players and human beings, alike.
"[The NHL] is going to be there in the future — this isn't a one-time opportunity," Berenson said. "I've always been a believer that you don't have to take shortcuts to be successful. And the first thing — the most important thing — is getting that degree. I'm not trying to take opportunities away from college players, but if you come to school, you should finish school. If you don't want to go to school, you should go to a Major Junior league and play there.
"I know the money is tempting and the opportunities are tempting, but these are the best four years of your life. Your friendships from college are cut short when you leave your teammates early. You can't buy your friends."
Berenson seemed particularly frustrated with Cammalleri's situation.
"Cammalleri spent the summer negotiating and trying to maximize his opportunities, and I disagree with that," Berenson said. "I think his stock would have gone up this season if he would have stayed in college. He might've been the best player in the country this year."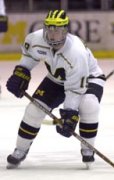 Berenson said he believes Komisarek wanted to return to Michigan. In the end, though, Montreal made an offer he couldn't refuse.
"He felt for personal reasons that he should take it," Berenson said of Komisarek. "He had to make a decision in a short time and he made it."
Berenson pointed to Hilbert, who left last summer and was reportedly guaranteed playing time with the Boston Bruins, as an example of a player who didn't get what he expected after signing on the dotted line.
"Hilbert was disappointed when he found himself in the minors last season," Berenson said. "Those kids sign that contract and then they're at the team's mercy. I'd like to see kids do it like Brendan Morrison, Steve Shields and the others who stayed four years in our league, stepped into the pros and done well."
While Berenson said his team will do "fine" without Cammalleri in the lineup this season, he knows it's going to be a scramble to rethink the team's approach with the start of practice a little over a month away. And when the puck drops at Yost Ice Arena to begin the 2002-03 season this November, Mike Cammalleri may be in Los Angeles, living his dream of playing in the NHL.
Berenson, however, thinks that might not be for the best.
"Your time will come," he said. "What's the rush?"