Bemidji State has named Roseau (Minn.) High School boys' coach Bruce Olson to take over its Division I women's program.
"We're very excited to have Bruce join our program," said athletic director Dr. Rick Goeb. "He has done a great job with the program at Roseau. He has strong northern Minnesota ties and seems to be a perfect fit for Bemidji State University."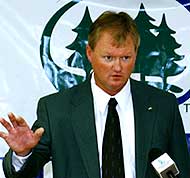 "It is a very exciting time for me personally right now," said Olson. "I am here to promote women's hockey at Bemidji State University, promoting the city throughout the state, and obviously throughout the country. I think that it is a great place to play and a great place to live and that is what I want to promote. I want to see Bemidji State University move forward and one day challenge for the NCAA championship."
Bemidji competes in the women's WCHA where last season, the Beavers finished fifth with a record of 7-11-6, 12-13-8 overall. It was the best record in the program's four year history.
Olson replaces Jason Lesteberg, who left to become head coach at St. Cloud.
Olson comes to Bemidji after a 23-year high school coaching career. He served as boys' head coach at Roseau from 1991-99 and 2000-02, directing the team to the 1999 state championship. He was honored that year as the state's Coach of the Year.
After that season, Olson took a year off to coach North Dakota's women's club team, setting the stage for the program's ascent to the NCAA varsity level this year. He also worked towards a master's degree in educational leadership at UND while serving as coach, returning to Roseau for two more seasons.
Olson is a 1979 graduate of Minnesota-Duluth, where he played 137 games at left wing for the Bulldogs, recording 35 goals and 93 points.
Prior to serving at Roseau, Olson was also the head coach of the Minot (N.D.) High School boys' team from 1979-90. His team was the state runner-up in 1985 and 1987, and in 1987 he was named as the state's Coach of the Year.
Olson was selected from a pool of three finalists over Blaine (Minn.) High School girls' coach Marcia Bydlon and Bemidji assistant women's coach Jim Ingman.