Roger Grillo is entering his sixth year as head coach of Brown. With a contract extension in hand and the go-ahead to build a program for years to come, Grillo is ready to embrace the new role that his team has been earning over the past two years.
"The expectations are higher. I think that's good and we welcome that," said Grillo, whose team advanced to the ECAC playoffs for the second straight year in 2001-02. "It's been the opposite the last couple of years. I told the guys that you won't be able to sneak up on people, that you'll have to work harder and that doesn't make things easier. I welcome the challenge, as do all of us."
After being reliable for the league cellar during the latter half of the 1990s, the Bears began making noise two years ago. Following a 3-6-1 start to the league season last year, Brown pulled together a string of six victories down the stretch to earn a first-round playoff matchup against road partner Harvard. Although the Bears could not manage a trip to Lake Placid, it did take the eventual champions a hard-fought, double-overtime Game 2 to knock off the Bears.
With the memories of that overtime game fresh in the Bears' minds, this season is looking brighter. The team returns its top ten scorers and suffers only five losses in player personnel. All of its forwards return for another season, including top point-getter Brent Robinson, who finished his sophomore campaign with 22 points. Also returning up front are seniors Tye Korbl and Keith Kirley, who combined for 18 points last year.
"We have a nice balance up front," explains Grillo. "We have every forward that played last year back, and we expect our power play to be stronger. To be able to come at teams with three solid lines and maybe a fourth makes a big difference. It's not a situation where we have a guy that will jump out at you offensively, but we can come at you with numbers."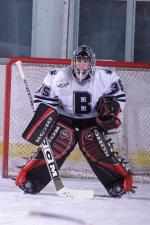 The most exciting prospect this year is the return of Yann Danis, who emerged as one of the top goaltenders in the league by posting a 1.86 goals against average and a .938 save percentage, earning Second Team All-America honors. The junior goaltender, who edged Brian Eklund for the starting role last year, capped his breakout season with a career-high 66 saves in the second quarterfinal game against Harvard.
"Yann emerged as a top goalie in the country, [which] we felt was going to come," said Grillo. "It was nice and a good building block for the future. Goaltending for anybody is critical. Offensive production around college hockey is down and for us we'll build from the back out. We have Yann and a solid group of defensemen. It's definitely our strength."
The six returning defensemen include senior Paul Esdale and junior Scott Ford, who have been regulars along the blue line since their freshman years. Although goaltending has been a major factor, steady improvement in the goals against category has helped the Bears out a great deal over the past few years. Specifically, the defense allowed a total of 80 goals last year, which represents a 25 percent decrease from the previous season.
"I think it was a surprise based on what we did the year before, but for us we felt we were getting closer and closer," said Grillo of his team's preseason ranking. "Our leadership was strong last season and it's even stronger this year. Fifteen out of 23 guys stayed in Providence over the summer.
"With the new rink and the excitement, you'll see a different attitude this year."