New ground is broken this season with the birth of College Hockey America Women, one of two new Division I college hockey conferences for the 2002-03 season.
Three of the new league's teams, Findlay, Mercyhurst and Wayne State, previously formed the Great Lakes Women's Hockey Alliance. They are joined by Niagara, a team left without a conference when Hockey East was formed by a contingent of ECAC teams. Neither Hockey East nor the ECAC asked Niagara to be part of the new alignment, so the Purple Eagles, fresh off their first Frozen Four appearance, joined the CHA, helping to add credibility to the fledgling league.
Mercyhurst coach Michael Sisti, whose team won all three GLWHA titles, sees the formation of the new league as a tool for making the four teams, who have all played each other in the past, battle even harder.
"Niagara is a good geographic fit," he said. "I think we all recruit kids from the same area. Having those kids and being closer together should make for some great games and great battles."
Findlay coach Adam Brinker talked about what the league would be able to do for its member schools in the future. With many expecting the NCAA championship tournament to expand to a minimum of six teams thanks to conferences receiving automatic berths, he feels the time for the CHA had come.
"This is definitely a step in the right direction. … We now have an organization with the backbone to do what we want to do."
— Findlay coach Adam Brinker on the birth of the women's CHA
"This is definitely a step in the right direction," he said. "I think the fact that we have a reputable league, looking at what they have done in men's hockey, helps us out. We now have an organization with the backbone to do what we want to do."
With a postseason tournament and weekly and postseason awards, the players have rewards awaiting them on both an individual and team basis.
"It gives the players something to play for," Wayne State coach Tom O'Malley said of the league's formation. "It gives them recognition and something to significant which to strive for."
One team some expected to be adversely affected by the move is Niagara. A member of an established league, the Purple Eagles won the ECAC title last year. However, head coach Margot Page doesn't see a negative effect for her program.
"The kids we recruit are much more knowledgeable about women's college hockey than they were a few years ago," she said. "They know who has the good programs and where they can play good hockey so, no, we're not affected by the move.
"We still play a tough schedule with a good mix of conference games along with Hockey East and ECAC teams, very similar to the one we played last year. The only down side is that now our opener is a conference game and we don't have any games to get ready for that."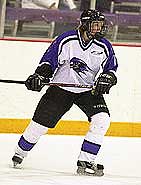 Niagara and Mercyhurst each received two first-place votes and eight points to share top honors in the CHA Women's Preseason Coaches Poll. Findlay and Wayne State each had four points in the poll.
Mercyhurst has already played four games, opening with a weekend home sweep of Bemidji State and followed by two more home wins this past weekend over Connecticut.
Findlay, after a 9-4 exhibition win over the University of Windsor, Sept. 28, dropped 8-1 and 7-2 decisions at home over the weekend to No. 2 Minnesota.
Wayne State opened with 6-1 wins over Windsor and Guelph before tying the latter 2-2 to post a 2-0-1 exhibition record. The Warriors open the season with home games Friday and Saturday, Oct. 18-19, versus Cornell.
Niagara opens the same days, but without the benefit of exhibition games. The Purple Eagles jump immediately into the conference schedule by hosting Findlay.
Below are listed the CHA's member teams. Click on any team's name to see its individual season preview.
Findlay
Coach: Adam Brinker, 42-48-8, 3 years; 42-48-3, 3 years at UF
2001-02 overall record: 8-24-2
Notes: The Oilers return 14 players but have 17 underclassmen, including 10 freshmen, on their roster.
He said it: "We'll learn about our team early," Brinker said of his team, which opened against No. 2 Minnesota. "We have to learn quickly about the focus and work it takes to win. We shouldn't have to wait until January to learn we should have been doing more."
Mercyhurst
Coach: Michael Sisti, 61-30-4, 3 years; 61-30-4, 3 years at MC
2001-02 overall record: 24-8-1
Notes: The Lakers won all three titles during the existence of the Great Lakes Women's Hockey Alliance.
He said it: "This year's pool of recruits was deeper than it's ever been," Sisti said. "The quality of kids and talent is there and this year you'll see the deepest pool of quality teams."
Niagara
Coach: Margot Page, 71-50-11, 4 years; 71-50-11, 4 years at NU
2001-02 overall record: 26-8-2
Notes: Niagara returns 15 players from its 2002 team which won the ECAC championship and advanced to its first NCAA Women's Frozen Four.
She said it: "You can't replace some of the players we lost," Page said. "But you can look to have everyone contribute more."
Wayne State
Coach: Tom O'Malley, 72-157-11, 8 years; 11-67-4, 3 years at WSU
2001-02 overall record: 6-23-2
Notes: Wayne State begins the season with 28 players on its roster.
He said it: "It's creat some interesting competition in training camp," he said. "When we only had 18 or 19 players, everyone knew they were going to play. Now there's competition to get in the lineup and stay there."