It wasn't called the Frozen Four in 1983, when Scott and Mark Fusco headed to the season's final weekend in Grand Forks, North Dakota. In fact, a lot was different back then.
The squabbles between "Easterners" and "Westerners" in college hockey is as old as the sport. But in 1983, it might as well have been the U.S. vs. the Soviet Union, that's how little the two "sides" seemed to know about each other.
Just what were these Harvard guys doing here, some Grand Forks locals thought as the Fuscos sat down for the pre-tournament banquet dinner. They knew Minnesota, they knew Wisconsin — schools that had just bumped off the mighty Sioux. But not Harvard.
"Do you guys have your own rink?" said a woman at the table.
The Fuscos laughed, politely. "I know we're new at the game," Mark said, "but we'll try to do our best."
Wisconsin won its semifinal the next night, and anticipated a rematch with the archrival Gophers in the final. But the Crimson had other plans. They pummeled Minnesota, 5-1, and put themselves right in the middle of the hockey map.
"That was very gratifying," Mark says today. "I wish we could've beaten Wisconsin, but they had a stacked team — [Chris] Chelios, [Bruce] Driver, [Mark] Behrend, [Pat] Flatley — it was a close game and they beat us."
The Fuscos were also put on that map. Three Olympic games, two Hobey Baker Awards, four All-America awards, and four trips to the NCAAs later, Mark and Scott Fusco — a couple boys next door from Burlington, Mass. — were honored with induction into the U.S. Hockey Hall of Fame in Eveleth, Minn.
"We all grow up in our own country and play the game because we like it," says Mark, "but to be recognized as one of the greatest players from your country, it's a pretty great honor."
East vs. West
Following the 1983 NCAAs, the Fuscos soon became more familar with East-West tensions of a different and much more grandiose sort.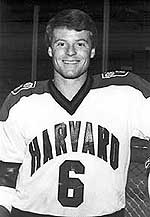 The pair was selected to play on the 1984 Olympic team, following in the footsteps of their Harvard coach, Bill Cleary, who had played on the gold-medal winning 1960 team.
During the pre-Olympic tour, there was still an afterglow from the United States' stunning 1980 Olympic win over the Soviet Union … a victory that propelled hockey in America, and — it's not overstating it to say — also gave hope to America as a country.
That December, the nation still very much embroiled in the Cold War, Team USA met a lesser, but still formidable, Soviet Union team in a "rematch" in Lake Placid. In hockey terms, this matchup wasn't all that big a deal. In sociological terms, it was huge. The game was broadcast on national television.
"It was an unbelieveable atmosphere," says Scott. "The whole town of Lake Placid was packed in. I've never been in a rink so loud. The place was going crazy when we were in the locker room."
"I remember going out on the ice," Mark remembers, "and I've never felt the same feeling as going out on the ice. It was a nationalistic feeling. It was the first time a Soviet team had been back. It was still the height of the Cold War, and we beat 'em, and the people were going ballistic. It really was something unique and special.
"It's like the ghosts of American hockey were hanging right in the rafters. It was a unique feeling. I don't think an American team will have this issue again. So the '80 team did a great thing for all of hockey and certainly American hockey, and paving the way for guys like me."
Unfortunately, the U.S. could not match that success in the 1984 Olympics in Sarajevo. Playing with the weight of a nation's expectations, the Americans lost to Canada in the opening game, one day before the actual opening ceremonies, and could never get on track.
"The point it drove home to American players was, for the first time, we can play with anybody. These guys are just like us, a few years older than I was at the time, and coming through the same system, the same background, and could play with any players in the world."
— Scott Fusco about the 1980 U.S. Olympic gold medal
"I don't think we felt that much [pressure] until we got to the Olympics," says Scott. "It was actually a great year. We had unbelievable sponsorshiop and support as we did our pre-Olympic schedule, everywhere we went, we were the big show in town. It was very exciting.
"I think it did hit us when we got to the Olympics that there were these expectations here, and we had a very young team and we didn't really perform up to our capabilities."
Again, it was a different time. With Sarajevo then a crowning jewel of Yugoslavia, today, it's been ravaged by war.
"What I think back to are the people that we met," says Scott. "The people were very nice, very friendly, they would go out of the way to do anything for us when we were there. As you travel around and meet people from different cultures and backgrounds, you realize they're the same as we are. Their political situation may be different, or their economic situation, but they're just people. They want the same thing, and every once in a while you think about what they're going through compared to what we have here, and it makes you sad in a way.
"Ten years later, [someone] did an extensive documentary about it. They showed the old rink; they had U.N. peacekeeper vehicles parked in the wall."
Cambridge Revival
The changes at Harvard were much less geo-political, but no less vast in a relative sense, from the time Mark Fusco arrived, until the time Scott Fusco left.
A struggling program in 1979, Fusco went to Harvard, hoping to help revitalize it and, more importantly, to get his degree. It was before 1980, before American Bobby Carpenter was a Sports Illustrated cover boy, and U.S. kids just didn't think about the NHL in those days.
"I met [Cleary] and I decided I really wanted to go to Harvard," says Mark. "It's a great school, and at that time in high school, I had no reason to think I'd be a good enough player to play after college. So I just wanted to go to college and get a great education.
"It was a different time. … The odds of an American kid making the NHL were still fairly slim."
Mark's arrival coincided with the building of a new rink, Bright Arena.
"All of a sudden, we had one of the best facilities. So what was a negative became a positive. And I think Harvard changed their recruiting policies, trying to go out into the Western U.S. and Canada to recruit the best players."
And as the changes were occurring at Harvard, they were happening everywhere else, too.
It's almost a cliche to say it now, but it's no less true; when the 1980 U.S. Olympic team won the gold medal, the shockwaves it sent through American hockey — and America — were enormous.
"It certanily changed my thoughts," says Mark. "When they won the gold medal, I think everybody looked up and said, 'That would be pretty good to be an Olympian.' And I really set my sights on becoming an Olympian."
Scott was still in prep school at Belmont, but the impact was the same.
"The point it drove home to American players was, for the first time, we can play with anybody," says Scott. "These guys are just like us, a few years older than I was at the time, and coming through the same system, the same background, and could play with any players in the world. And immediately after that, a lot of them did well in the NHL, and more and more Americans started doing well in pro hockey."
The Crimson were still below .500 in Mark's sophomore season, but the portent of things to come arrived in February, when they won the Beanpot for the first time since 1977.
"That really set the stage for Harvard to have a good program in the '80s," Mark says. "When we won that, it proved we were on the upswing. We beat BC, which was one of the best teams in the country. That was a big difference."
As this was happening, Scott was making his college decision.
"I was approached by a junior team," says Scott. "I was playing in the midget nationals and a team talked to me about going up there. But it was one conversation. No one really did it at that time."
Had Scott not gone to Harvard, big brother might never let him hear the end of it. Mark was looking forward to playing with his brother, but, more importantly, looking forward to Scott's goal-scoring prowess.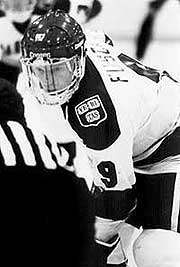 "We really needed [Scott]," says Mark. "It made a big difference when he showed up, and the overall quality of the players on our team went up. We really didn't have a [sniper] until he showed up.
"[And] Neil Sheehy, he was a forward and really wasn't a good forward. He changed positions and became a defenseman. That made a big difference on our team as well, and he became a good defenseman. That really solidified things; it gave us size and strength."
Ultimately, there really was no big choice for Scott.
"The money wasn't as big in the NHL. So from the player's side, the decision was, you basically went to college," Scott says. "Even if you made it big in the NHL, it wasn't a huge amount of money. Now you're talking millions and millions of dollars. It adds complexity to the equations. What's the best way to get that pot of gold. Most American players 20 years ago were more interested in going to college, and if pro hockey developed after, you kinda take that as it comes."
Crimson and Hobey, Over and Over
After three solid recruiting classes, and the Beanpot win, Harvard got another big win over BC in the ECAC tournament. Despite heading into the playoffs below .500, the Crimson then blew out Clarkson in the semifinals, before losing to Northeastern in the finals. They wound up getting an NCAA tournament bid, before losing to Wisconsin in the first round.
"I think we learned a lot," says Mark. "And then my last year, we started off 8-0, and we only lost nine games all season."
This time, the ECAC tournament championship was theirs. Personally, Scott lit it up for 33 goals in his sophomore year, and Mark followed up a 40-point season with 46 from the backline. And the Crimson marched their way to the NCAA semifinals in Grand Forks, N.D.
And if the sight of a bunch of Harvard nerds in the semifinals was good for a big shrug, imagine the scene when Mark had the nerve to win the third-ever Hobey Baker Award, beating out the likes of future NHL'ers Scott Bjugstad, Bob Brooke, James Patrick and Randy Velischek. He was the first defenseman, and first "Easterner" to win the award.
"It was some sort of function room at the rink," says Joe Bertagna, a former Harvard goalie and current commissioner of Hockey East, who then worked in Harvard's athletic department. "And as soon as they announced it, there were like 20 writers, and they announced 'Mark Fusco from Harvard' and all the Western writers walked out of the room.
"It was completely Dark Ages when you think what they do now with the Hobey."
With the Fuscos away for the Olympics, Harvard slipped under .500 the following season, which was only a temporary setback until Scott's return for his junior season in 1984-85.
Meanwhile, Mark got a contract with the NHL's Hartford Whalers. Fate allowed him to play his first NHL game in Boston Garden.
"I don't think many NHL games have been snowed out, but we were snowed out in Montreal on a Tuesday night, and we ended up playing in Boston on Saturday. So I guess it was destined."
After 17 games following the Olympics, Mark played 63 for Hartford the next season, scoring three goals, including his first against Boston. But when Hartford wanted to send him to the minors, Mark decided to call it a career.
"I had just gotten really badly hurt, and I think, yeah, there was the issue they were going to send me down and that was catalyst for things," Mark says. "But I got really badly hurt and had many head injuries during my career, and this was the worst one.
"Basically, a guy [New Jersey's Jan Ludvig] pulled my helmet off and I got checked into the glass. … I spent a week in the hospital. So it was a combination of things, and I don't regret my decision to leave. I just felt it was time. I never really as a kid thought about hockey as a career. I did it because I liked it, and that's why I went to Harvard, so I'd be able to do other things."
"It's really all your perspective on things. My perspective was to be educated and I really wanted to go to business school — and to Harvard business school — and I did. I think the decision in Hartford, I got really badly hurt, and I didn't feel good. And I hadn't played any minor league games to that point, and I really didn't want to go backwards. And it was time at a crossroads. There's a lot of things to do in life … I'm educated, let's move on to the next thing."
Meanwhile, the ECAC Scott returned to had also changed. Bigger than any Eastern hockey-Western hockey squabble there had been, the Ivy/non-Ivy squabble resulted in a whole new set of hockey tensions, and the creation of Hockey East. The ECACs 17 teams had turned into 11, and Harvard lost some rivalries.
But soon that was forgotten, as Scott went about the business of tearing up the ECAC and RPI steamrolled its way to a national title. Scott scored a career-high 34 goals and 81 points, but the Crimson fell short of the finals, and Scott lost the Hobey Baker Award to Minnesota-Duluth's Bill Watson.
"Bill Watson was a good player, they had a good team," Scott says. "I can't say it was a bad pick. A lot of time with the awards it depends on where you're from, and what year it is; East-West, one wins two in a row, then it's the other side's turn to win."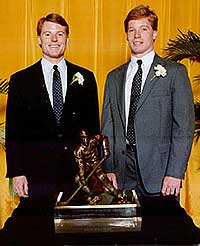 The next season was Scott's last to make a last impression and join his brother among the ranks of Hobey elite, and he didn't squander the opportunity. Helped by an infusion of young players by the names of Lane MacDonald, Ed Krayer and Allan Bourbeau — names that would become quite important three years later when the Crimson finally won the elusive national championship — Harvard rolled its way back to the national semifinals.
But in a semifinal win against Denver, Scott got hurt. The Crimson went on to lose a bitterly disappointing 6-5 game to Michigan State in the finals.
"We had the lead most of the game," says Scott, holding not the slightest bitterness about the situation. "You always think, could I have made a difference? Maybe yes, maybe no. The game could've taken a totally different path, who knows.
"I knew I wasn't going to play the next day, [but] it wasn't a serious injury. At the time, once you got over that point of 'I'm not going to play,' there's nothing I could do about it. I was still excited to be in the finals and hopeful we could pull it out anyway. It was hard to watch, very nervewracking. …
"It was a disappointing way to end a career, but overall I don't have any bad things to say. I was given a great opportunity by coach Cleary and the coaching staff, we had a good group of guys and were very successful."
End of an Era
Scott decided to go to Switzerland to play pro hockey the next season, and then geared himself up for another Olympics, this time in Calgary in 1988. It was the last time the U.S. would play the Soviet Union in a meaningful game, before the collapse of Communism that came rapidly over the next couple of years.
Olympic teammate Peter Laviolette, now the coach of the NHL's New York Islanders, remembers Scott fondly.
"I remember him as being an honest hard-working American kid," says Laviolette. "You want good people to represent the United States and he was one of those people.
"He had talent, but he worked hard at it. He cared about the game, he cared about winning hockey games — but probably the thing that sticks out most is that he was a good person."
The '88 Olympic team was even more loaded than the disappointing '84 one. Brian Leetch, Craig Janney, Mike Richter, Kevin Stevens, Scott Young, Brian Mullen … But, again, there was no medal.
"Through the whole tournament, we had a tendency to make a mistake at the wrong time," says Scott. "Either give up a bad goal, take a bad penalty. But in terms of competitiveness, we pretty mcuh dominated every team, even the games we lost. So that was frustrating because we felt we should have done much better. Had we had a break gone our way, or cut down on our mistkes just a little bit, we probably would have been in contention to win a medal. We had enough talent to do that."
And then … Scott followed in his brother's footsteps, and quietly said goodbye to competitive hockey.
"I just felt I played a lot of hockey, had done pretty much all I wanted to do, and it was time for me to do something else," says Scott. "And I just wasn't that excited to continue to play hockey.
"It was never a huge goal of mine growing up to play in the NHL. I just took one step at a time and followed the path that led me. So it's never really bothered me."
Something Old, Something New
Fifteen years later, the Fuscos have parlayed what was once a family software testing business into executive positions for a major corporation. Mark was recently named president at Ajilon Consulting, an IT services provider which acquired the Fuscos' business.
It's as if those philosophies of their old coach, Bill Cleary, live on. The deep-seeded belief that amateur athletics is the ultimate ideal. Also a U.S. Hockey Hall of Fame member, fans of today may not remember how great a player Cleary was, and how, as a coach, his passion for his ideals came out in everything he did.
"He was just a great guy to play for. He's such a competitive guy, and he let the players play," Scott says. "We had very few rules about what we had to do on the ice. As a forward, as long as we had one forward in a defensive position, that's all we needed. It's not like it is now where, 'You four guys stand in center ice and we'll let one guy go in and play offense.' We played a very fast game, we moved the puck, we skated, we pressed the offense a lot.
"Teams just play so much more defensive. In the ECAC in particular, it's just, a lot of the teams aren't very talented. They figure, if they can get into the third period in a one-goal game, you have a chance to win. You get a power play, get a lucky break, someone makes a nice play and ties it up.
"He was definitely a disciplinarian, but he had a great knack of keeping practice light, knowing when the team needed a day to just fool around and have some fun, and then there were days we had to knuckle down and work hard. At a place like Harvard, it was very successful because you have a lot of acadmeic stress, so in some ways it's hard to really drive the guys every day for six months. And it worked. We had fun. Everyone loved coming to the rink every day."
Now the hockey fix is had on Sunday mornings, where the Fuscos can still be found playing every week at Bright Arena, in a who's who of Ivy League and Harvard hockey lore. In what has to be the smartest regular pickup game in the world this side of the Oxford intramural league — the Fuscos play with MacDonald, Cleary, Kirk Neilson, ex-NHL and Princeton defenseman Mike McKee, and a host of others.
It's a chance to remember the old days, especially playing for Cleary.
"Occassionally, the old coach comes out in him sometimes, when guys aren't doing what he thinks they should be doing," says Scott, as the memories come back.
It's not a bad life for a couple Harvard hockey yokels, eh?