Colorado College forward Peter Sejna, the nation's leading scorer and a top candidate for the Hobey Baker Award, was named WCHA Player of the Year at the Final Five Awards Ceremony Thursday.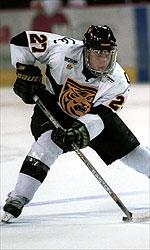 Sejna, a junior, has 34 goals and 77 points in 38 games this season for the top-ranked Tigers. He is the first CC player to win the top honor since Doug Palazzari in 1973-74.
CC senior forward Joe Cullen and Denver senior defenseman Aaron MacKenzie were named co-Defensive Players of the Year. Cullen joins North Dakota's Matt Henderson (1997-98) and Northern Michigan's Dallas Drake (1991-92) as other forwards to win the honor. MacKenzie is the first Denver player to be so honored.
Thomas Vanek, the first European player in Minnesota history, was named WCHA Rookie of the Year. He is the sixth Gophers player to win the honor, and first since Mike Crowley in 1995-96. Vanek had 15 goals and 33 points in 28 league games this season.
Named Coach of the Year was MSU-Mankato's Troy Jutting, who so far has led the Mavericks to a share of second place in the final league standings, a home playoff berth, a pair of first-round playoff victories, a top 10 national ranking, and a school-record 17-game unbeaten streak (12-0-5) that ended on Feb. 28. The Mavericks are headed towards their first-ever NCAA tournament berth.
All-WCHA First Team
F Peter Sejna, Colorado College
F Shane Joseph, MSU-Mankato
F Grant Stevenson, MSU-Mankato
D Tom Preissing, Colorado College
D Aaron MacKenzie, Denver
G Curtis McElhinney, Colorado College
All-WCHA Second Team
F Noah Clarke, Colorado College
F Thomas Vanek, Minnesota
F Brandon Bochenski, North Dakota
D Paul Martin, Minnesota
D Keith Ballard, Minnesota
G Wade Dubielewicz, Denver
All-WCHA Third Team
F Zach Parise, North Dakota
F Kevin Doell, Denver
F Troy Riddle, Minnesota
D Andy Schneider, North Dakota
D David Hale, North Dakota
G Isaac Reichmuth, Minnesota-Duluth
All-WCHA Rookie Team
F Thomas Vanek, Minnesota
F Zach Parise, North Dakota
F Brett Sterling, Colorado College
D Mark Stuart, Colorado College
D Chris Harrington, Minnesota
G Isaac Reichmuth, Minnesota-Duluth