When Harvard scored its third goal before the NCAA Northeast Regional opener was even half over, Boston University goaltender Sean Fields didn't appear to be a likely Terrier hero. None of the three scores had been soft: the first came from the low slot, the second deflected off a body in front and the third came from the doorstep.
Nonetheless, this was a big game and Fields had distinguished himself this year as a big game goalie. He'd earned berths on the all-tourney team in the Ice Breaker Tournament and Great Lakes Invitational, adding the MVP award in the latter. He'd earned the Beanpot MVP and Eberly Awards for making 59 saves on 62 shots, most notably the famed "toe save" on Noah Welch that made highlight reels everywhere, but more importantly turned around that opening round contest against Harvard.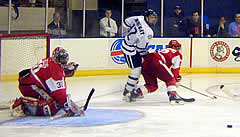 He then outdid himself in the Hockey East tournament, becoming only the third MVP in defeat. Fields earned that distinction by single-handedly keeping Boston College off the board in the semifinal's 25 minutes of overtime, stopping all 17 shots. Then in the title game, Fields made one stop after another after another while New Hampshire dominated his legless teammates.
He carried a shutout into overtime for the first time in Hockey East championship game history and would finish with 40 saves. In the end, only his teammate could put one past him as UNH's Tyson Teplitsky put a shot on net that deflected off BU defenseman Ryan Whitney's stick.
As a result, the conventional wisdom said that the Terriers had a shot at a national championship this year, but only if Fields again carried them on his shoulders.
So what was going on with three goals allowed to Harvard in 28:33? Sure, the blame belonged primarily with some exasperating turnovers and defensive zone play.
Nonetheless, Fields had been ordinary. Adjectives like "good" and "okay" and "blameless" would not be sufficient if Boston University planned on hoisting a fifth NCAA championship banner in October.
"It's always a battle out there," Fields would say later in the postgame press conference. "You just buck up and play the way you can."
BU coach Jack Parker raised his eyebrows at the comment, asking, "He did say 'buck up,' didn't he?"
Parker had taken a playful jab at Fields in the newspapers that morning, saying, "All goalies are a little crazy, but I think Sean works at it." He elaborated. "He prefers to have you think he's a little nutty. He's not as nutty as he puts on for himself. It's part of his schtick."
Fields just grinned and said, "I guess it's a work in progress. It's just a bad rap [goalies] have."
There was nothing humorous, however, in trailing Harvard, 3-2, in the biggest game of the year. The time had come for Fields to live up to his reputation.
He shed the trappings of early-game mediocrity and donned his traditional big-game garb, a Superman cape.
With the game potentially hanging in the balance, he flashed a tough pad save on Charlie Johnson. Fields then stopped Dan Murphy from the right faceoff circle, and in short order Tyler Kolarik and Dominic Moore. Any one of the excellent chances could have easily become a crushing fourth goal and a 4-2 deficit, but Fields had entered the zone.
His teammates eventually finished the period having lost a mind-boggling 28-of-31 faceoffs, including a 19-for-20 stretch, resulting in a 13-5 shot disadvantage, but Fields had shut the door. Brad Zancanaro's roofed shot off a two-on-one tied the game and Fields sent the teams into intermission tied, 3-3, with a stacked pad move on Kolarik that resulted in a shot over the net.
The Terriers exploded with three goals in the opening three and a half minutes of the third period to all but seal the game before Fields allowed a Moore power-play goal to make it 6-4. Harvard's last gasps came on a Moore shorthanded breakaway and then a Tim Pettit shot off a three-on-one, but on the former Fields forced a wide shot and on the second he made the stop. He finished the period with 14 saves and 38 on the game.
"Sean's been playing great for us all year," said BU captain Freddy Meyer. "We don't expect anything less out of him. He stood on his head again for us."
Fields, who may either be crazy just like all other goalies or simply crazy like a fox while working on his schtick, just shrugged when asked why he's been able to elevate his play so consistently when in the limelight.
"I dunno," he said with a grin. "Big games are just much more fun. There's more on the line. There's more pressure. It makes it that much more fun."
Fields' latest game-saving performance reminded Parker of an encounter he'd had years ago with a basketball star who had little familiarity with hockey. The hoopster had seen a Clarkson goaltender make 54 saves to defeat BU and then later that same day an Edmonton Oilers netminder stymie the Bruins with 48 stops.
"Why do they call it hockey?" asked the basketball star. "Shouldn't they call it goalie?"
"This guy didn't know anything about hockey," said Parker, "but he figured it out in one day. We won this game tonight because our goaltender played absolutely fabulous.
"He's turned things around for us a number of times. He made the unbelievable toe save in the Beanpot. He changed not only the Beanpot, but our season because we were up and down a little bit. If we hadn't beaten Harvard and BC in the Beanpot, it wouldn't have been a very successful year and maybe we wouldn't have even gotten into this tournament.
"We expect to get good goaltending. We have to get good goaltending. We work like hell to get good goalies here [at BU] and certainly Sean Fields is one of the best goalies we've ever had."
The Harvard Crimson would sadly second that emotion.