They entered their NCAA semifinal contest as clearly the two best goaltenders left in the tournament. In fact, one could make a strong case that the two netminders were the best in all college hockey, active or not. In the minds of most, however, they were not 1A and 1B; they were numbers one and two and no one was wondering which was which.
Cornell's David LeNeveu was one of only three remaining Hobey Baker Award finalists and would have to allow 12 goals in this contest to fail to break Ken Dryden's all-time NCAA record for a season's goals against average, 1.46. LeNeveu had yet to give up four or more goals in a single contest and had only allowed three goals twice. The numbers boggled the mind.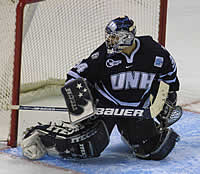 New Hampshire's Mike Ayers, a mere Hockey East co-Player of the Year, had failed to make the Hobey Baker cut of 10 finalists. He'd played second banana to LeNeveu in the recently announced All-America team. His save percentage of .927 suffered by comparison to LeNeveu's .942. His goals against average of 2.14 was exactly one goal per game higher than his Cornell counterpart.
Number one and number two, clearly.
"That was the big hype going into the game, [but] I thought it was more of a team effort tonight," Ayers said after UNH emerged with a 3-2 win. "I knew that was going to be the case.
"Obviously, growing up you always want to be the number one guy; you never want to be the number two guy. That was kind of in the back of my mind going into it."
The thing of it is, Ayers had been the number two guy often in the early stages of his career. Playing for Hobomock as a youngster in the Metro Boston Hockey League, he played second banana to Brian Eklund, who would eventually have a solid career at Brown until being supplanted by Yann Danis. Coaches calling for all-star teams would call Eklund first, not Ayers.
Then it was on to prep school at Thayer Academy and Trinity Pawling Prep. He was good, but not yet ready for Division I competition so it was off to the Dubuque Fighting Saints of the USHL. Even after earning all-star honors there, many Division I coaches gave Ayers the thumbs down, a decision they have since come to rue.
When he arrived at UNH, Ayers wasn't even second banana as a freshman. He totaled less than 26 minutes of action that year as third string behind two-time All-American Ty Conklin and Matt Carney. He broke through as a sophomore following Conklin's graduation, splitting the job with Carney. He posted 18 strong games between season-opening and season-ending stinkers.
Ayers was one of those success stories that you really had to applaud. A kid who'd had nothing gift-wrapped for him. One who had persevered through many years in which he would "always want to be the number one guy" but was number two … or three … or four.
So second banana now to LeNeveu, the guy who'd break the record of Ken Dryden, a pretty fair duffel bag himself, was no cause for embarrassment.
And yet, some observers had to wonder. Maybe it should really be 1A and 1B between Ayers and LeNeveu. Of the Cornell goalie's 36 games, 29 had come against ECAC opponents. By contrast, Ayers had faced the iron of Hockey East night in and night out. Not to put too fine a point on it, but when the two leagues met, Hockey East posted a crushing 32-8-6 record.
So, sure, Cornell was one of the top teams in the country, a club that had recorded three of the ECAC's eight wins against Hockey East. And, sure, LeNeveu was one of the top collegiate goaltenders. But maybe those numbers of 1.14 and .942 would be more like Ayers' numbers if the schedules were reversed.
Maybe Ayers deserved to be a Hobey Baker finalist, just like LeNeveu, and maybe the rankings should be 1A and 1B in some order.
But, hey, that's all personal recognition and it's a team game. What really matters is that when the 60 minutes of the NCAA semifinal contest had ticked off the clock, the scoreboard read UNH 3, Cornell 2. Both teams finished with 21 shots; Ayers stopped one more than his counterpart. As the two goaltenders had done all season, Ayers deftly deflected attention to his teammates as easily as a weak flip shot from center ice into the corner.
"To go along with goaltending, you need great defense and our guys have been playing great defense all year," Ayers said. "That's a big part of how successful I've been this year. To beat LeNeveu, who's a great goalie, was more of a team effort than a one-on-one situation."
Ayers also exorcised the demons from last year's season-ending stinker — a 7-2 loss to Maine on the same NCAA semifinal stage. The entire Wildcat team played poorly, but none more so than Ayers. To redeem himself one year later while leading UNH to the national championship game was a sweet reversal indeed.
"Definitely," he said. "That's been a distasteful feeling in my mouth all year and all summer. To get back here is one thing. To actually win a big game like that is even bigger."
Not that it was easy. The Wildcats started slowly, their only shot in the first 12 minutes being a dump in from centser ice. Cornell, by contrast, had dominated territorially and then at the 12:06 put a deflection past Ayers. The UNH goaltender, however, got some help from the contest's "seventh" man, the replay official, who disallowed the goal because it was redirected from an illegal height.
UNH used that momentum-turner to full advantage, scoring two minutes later and taking a 3-0 lead 7:10 into the second. With the game theirs to lose, however, the Wildcats began to open the door to what would have been the most crushing of all defeats with ill-advised penalties.
Cornell got back into the game and reversed the momentum on a power-play goal, a deflection from the doorstep that Ayers had no chance on but still got a piece of.
"I can't always tell if it's a good or bad penalty, but you never like to see your own players go to the box," Ayers said. "But we have a real good penalty killing group and we've been battling hard all year. This game wasn't going to change that."
UNH hearts went cold when Ayers appeared to be injured near the end of the period. Outside the press elevator during intermission, an ESPN2 reporter relayed the news upstairs to the broadcasting booth. "Slight groin pull and he got hit. He's probable to start the third period."
Probable? Ayers was probable?
"If I'd gotten a broken leg, maybe I wouldn't have shown up, but there was no doubt in my mind that I was going to come back," Ayers said. "I just needed a breath at the time. I just got my bell rung there a little bit, you could say. There was a shot from the point and it got me in a tough spot and I hadn't recovered yet."
Bell rung? Actually, it was a little lower.
"To be honest," Ayers said, "I got a shot in the old cojones."
Another shot to the old cajones came in the form of Cornell's second goal off a two-on-one at 9:52 of the third period. The 3-0 cakewalk had become a high blood pressure special.
A foolish Big Red penalty with 3:08 remaining in regulation gave UNH a power-play opportunity to salt the game away, but LeNeveu's great save on Sean Collins preserved the 3-2 score and kept the Big Red within striking range of an extra-skater goal.
They had used that to full effect in the ECAC championship game, tying Harvard in the closing minute and then winning in overtime. A repeat performance in this venue would break hearts throughout the Granite State.
Instead, Ayers saved the day with a facemask save on Stephen Baby in front. With UNH outnumbered down low, Ayers dove across and got a piece of Baby's shot, which then caromed off the post.
"It doesn't take much at this stage [to keep you focused]," Ayers said. "With a minute left and you're up by a goal and they pull their goalie, that's all the motivation in the world for me to be ready.
"The kid had a clear shot, but I knew he had short side. He couldn't go far side because of the commotion in front. I just did everything I could to get my body over there and luckily I got a piece of it with my helmet."
It wasn't anything that UNH fans and Ayers' teammates haven't seen time after time.
"He's meant a ton to the team this year," said senior Josh Prudden. "All of us have the utmost confidence in him. He comes up with some spectacular saves, some that you can't even imagine that a goalie could do. We know that he's back there and he bails us out a lot of times when we make a mistake. The confidence level is through the roof with him."
As it will be, and justly so, during Saturday's NCAA championship game. Then Ayers will try to do for the Wildcats what he has done for himself: Make them second banana to no one.