There has been much talk of Minnesota's back-to-back national championships, but for Thomas Vanek, named the Most Outstanding Player in the Frozen Four for his game-winning goals Thursday and Saturday nights, it wasn't a repeat at all. Vanek was a freshman this year, not a part of last year's championship team.
"It was huge. For other guys it's back-to-back, but for me it's the first one," Vanek said after the game.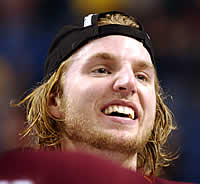 "I give Thomas a lot of credit because from the start of the year he wanted to win a championship," Minnesota coach Don Lucia said. "He's never been a part of a championship team before."
"A championship means so much to me," Vanek added. "That's why I came to Minnesota, because I wanted to win a title."
The overtime winner on Thursday night against Michigan may have been more dramatic, a sudden-death goal that broke a 2-2 tie. On that goal, Vanek used his extended reach to throw a puck past Michigan rookie goalie Al Montoya, as he's done to so many other goalies this year. The score sent Minnesota on a date with destiny in the title game.
But Saturday's winner, in the third period against a workhorse in New Hampshire goalie Mike Ayers, was more beautiful. All alone in front of the crease with the puck, Vanek patiently held on until Ayers was out of position and slid it into the empty net.
"There are still some parts of his game that he needs to work on," Lucia said of Vanek. "Sometimes he needs to settle down and relax. He wants to do it now. He hasn't developed the patience you need the higher up you go."
You wouldn't know it from that particular goal.
"Michael Ayers played phenomenal the whole game," Vanek said. "It's so tough to beat him; he comes out of the net and plays the angles well. I tried to be patient, fake a shot a few times and go around him. I had the open net so it was an easy goal at the end."
Ayers agreed. "When I went down, I thought he had a lot less room behind me," he said. "He made a great play; that's a good goal-scorer's goal."
Vanek's tally shifted the momentum of the game squarely into Minnesota's camp, and the Wildcats never quite recovered.
"That was their momentum shift," said UNH's Patrick Foley. "It's unfortunate for us that it was at that point in the game."
Ayers concurred. "After Vanek scored that goal we were a little timid out there."
"Thomas, with the game winning goal on back-to-back nights, he's a great player that seems to step up when the game is on the line," Lucia pointed out. "But that's what great players do."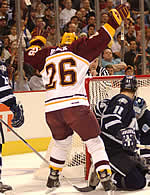 Gopher netminder Travis Weber has the unenviable task of facing him during practices, but he's relieved that when the puck is dropped for real, Vanek is on his side.
"In practice, sometimes he scores on you and sit there in awe and say, 'Holy crap,' because you've never seen anything like that before," Weber said. "He's got awesome hands, and he can really move his feet."
"Don't believe him," deadpanned Vanek.
It's that humble attitude that makes a world of difference for team chemistry, Lucia noted.
"He's been our leader offensively, with all our injuries, and that's been a lot to shoulder for a 19-year-old. He's done it in a very unassuming way, not cocky. It's not like the Thomas Vanek show. The guys are very happy for him with the success he's had this year.
"It really was a team effort," Lucia added. "It wasn't just one guy, it was a different player every night."
But most nights, it seemed to be Vanek. Of his 31 goals on the season, the most of any freshman at Minnesota since Gopher great John Mayasich, five were game-winners. He was tabbed the WCHA Rookie of the Year and a second-team All-WCHA forward, led Minnesota in scoring with 62 points, and was named the MVP of the NCAA West Regional before earning the Frozen Four's Most Outstanding Player honors.
Lucia believes the thing that makes Vanek unique is his ability to step up his performance when the situation warrants.
"He's a difference-maker, and that's why you work hard to recruit players like that," he said. "If Thomas is playing at Michigan or some other program, maybe they're sitting here [with the NCAA title]. One or two big-time players can make all the difference in the world."
He certainly made the difference in the Frozen Four. And Vanek is quick to point out that while the MOP might be an individual award, the national championship is a team award.
"I'm so proud of the team right now," he said. "It was a team effort."
And with all but one regular returning to the Gopher squad next year, combined with a good incoming class, Vanek likes how things look for the future. But keep in mind that this isn't a repeat for Vanek and the other freshmen.
"It's the first one," Vanek said, "with hopefully more to come."