The NCAA legislation on the table that could strip Colorado College and other Division III schools playing at the Division I level of the ability to award scholarships served as something of a wake-up call, a notice that life sometimes drops changes on unsuspecting parties.
The lesson, then: Enjoy success while you have it.
The Tigers have to be looking at that statement in two ways as they embark on defending the WCHA regular-season championship. A worst-case scenario could leave them playing in Division III or struggling to get quality players to a once-major program in 2008. If CC and the other affected parties lose their bid to have the Division III reform package amended to allow them to continue to compete as they have for years, these may be the last years for the Tigers as we now know them.
CC officials are confident, meanwhile, they have adequate contingency plans that will allow the hockey program to be largely unaffected however the battle ends.
In a more immediate sense, however, the Tigers have some time left to enjoy being the MacNaughton Cup-holders, a prize earned partly through the efforts of Peter Sejna, Noah Clarke, Tom Preissing and Joe Cullen — four of the top five scorers from last year's team, all of whom aren't back this season.
Those losses may have wounded the Tigers, but they aren't dead. What they are, however, is indistinct.
Coach Scott Owens isn't sure what he's going to get from his team this season. He does know that the light at the end of the tunnel is a beacon calling them home for the NCAA tournament.
With the West Regional scheduled for the World Arena in March, the Tigers would be afforded the opportunity to play at home if they make the NCAAs.
"We're going to be pushing hard because we think it's a big advantage," Owens said. "We're not going to have nearly as good a team as last year, but if somehow we can get into the regionals, we feel very comfortable and confident at the World Arena."
They should. Last season, they were 18-3 at home en route to a 30-7-5 record and first place in the WCHA. But most of the key components are gone from that group, which, as WCHA champions are wont to do, fell one game short of the Frozen Four.
Days after the Tigers were eliminated, Sejna picked up a contract with the St. Louis Blues, forgoing his senior season, and then picked up the Hobey Baker Award. Clarke, Cullen and Preissing all were seniors.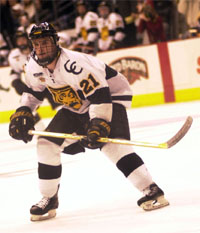 The loss of production up front could be especially troubling to the Tigers. But Owens said he thinks sophomore Brett Sterling, a WCHA all-rookie pick last season, can do well in the role of the top goalscorer. Sterling had 27 goals as a freshman despite missing six games, and might be the only exception to a scoring-by-committee offense this season.
Senior Tyler Liebel, junior Scott Polaski and sophomores Joey Crabb and Aaron Slattengren are being counted on to up their scoring from last season and help offset some of the losses.
A more pressing concern is the power play. Last season, the Tigers scored on 30.8 percent of their chances, tops in the nation and 2 percent better than second-place Quinnipiac. Much of that was thanks to Sejna (15 power-play goals) and Preissing (17), so there are spots to fill.
Sterling was third on the team with 14 power-play goals last season, so there's another responsibility placed on the sophomore's shoulders. Defenseman Andrew Canzanello quietly contributed to the power play last year and will have more of a role in his senior season.
Because of all the uncertainty, Owens is looking at October as something of a preseason. The Tigers play exhibition games against British Columbia and the U.S. Under-18 Team before four nonconference games. It's in that stretch that CC will have to work everything out, because Minnesota State comes calling on Oct. 31 and Nov. 1, followed by a home-and-home series with rival Denver.
"I think our schedule in that sense is good for us, because it'll give us enough time," Owens said.
The Tigers won't need much time to figure out who the defensive leader will be. Mark Stuart's solid freshman season set him up to take over for Preissing. He was selected to the league all-rookie team, then became the first CC player ever to be picked in the first round of the NHL draft when he went to Boston at No. 21.
"I think Mark Stuart, because of the way he plays, his ability, his heart, his competitive nature, will probably be our go-to guy already as a sophomore," Owens said. "[He] will be a guy that's called upon in a lot of key situations."
Junior Richard Petiot is expected to have a better year than the last, when he gathered only eight points in 38 games. Canzanello, Stuart, transfer Brady Greco, seldom-used Jesse Stokke and newcomers Lee Sweatt and Brian Salcido give Owens a group with which he feels comfortable.
The thought of Curtis McElhinney returning in goal also is comforting to CC. He was a first-team all-WCHA pick and a second-team all-American as a sophomore, when he stepped out of Jeff Sanger's shadow and showed he would be just fine as the No. 1 goalie.
Newcomer Matt Zaba and walk-on Chris Kawano will provide backup.
"I think we're pretty solid defensively and in goal, and we've got some good pieces up front," Owens said, "but we've just got to see how that all comes together."
With the uncertainty at CC, we'll all find out together.
Noteworthy
The Tigers don't host North Dakota or Michigan Tech, and don't travel to Minnesota or Minnesota State. … CC doesn't have a stretch of WCHA home games longer than two. … Goaltender Kjell Bennemark, who played in six games last year, did not return for his sophomore season.