In the moments before each game, Don Lucia is "scared to death" wondering whether his team will win.
But the Minnesota coach will counter claims that his team has to be feeling extraordinary pressure as the first two-time defending national champion in 31 years.
"I think winning it doesn't put any extra pressure on our players or our program. Everybody wants to beat Minnesota," Lucia said. "So whether we're 20-10 or 10-20, I don't think it matters if we're going into Duluth or North Dakota or wherever else we go. They want to kick our rear end — that's just the way it is. And I think that says a lot about our program and where we're at as far as the respect factor."
His program starts this season at the top. That's because of two straight national championships. That's because of the return of Thomas Vanek, the Frozen Four most outstanding player who was selected No. 5 overall by Buffalo in the June NHL entry draft. That's because the Gophers have still have most of the players that handled expectations so well last season.
Of the 20 players that dressed in last April's championship game against New Hampshire, 17 are back this season — a number that could have been 19 if not for early departures by defenseman Paul Martin and goaltender Travis Weber.
"One of the things that I think has really helped is that I think, as a team, we've been humble and know that it requires a lot of hard work," Lucia said. "What happened last year has no bearing on what happens in the future."
What happened in the offseason, however, may have quite an impact on the Gophers' run at a third straight NCAA title.
Martin's loss to New Jersey of the NHL had been the subject of speculation after a junior season that landed him on the WCHA's second team. The Gophers will expect Keith Ballard and Chris Harrington to progress a little faster to fill the gap.
But when Weber decided not to return to school for personal reasons, it left the Gophers thin at goaltender too late in the summer to be able to do anything about it. So they'll rely on junior Justin Johnson, who stepped in for an injured Weber to win the WCHA Final Five last season, and newcomer Kellen Briggs from the United States Hockey League.
If there are doubts about Minnesota this season, they can be tied to those two departures.
"We have question marks like everyone else," Lucia said. "If a goaltender can step forward, if we have some defensemen emerge and can make that next step, then we should have a pretty good team."
Ballard will have to be a top-rate defenseman in the mold of recent Gophers blueliners Jordan Leopold and Martin to keep Minnesota afloat. He'll be the quarterback on the power play, Lucia said, and likely will be playing upwards of 30 minutes a game.
He was a second-team all-WCHA pick as a sophomore, but Lucia said he is counting on him to be a first-team player and an all-American this season.
Harrington has gained 10 pounds from a summer in the weight room. He started off last season by struggling with turnovers, but gradually improved. He and Ballard likely will be the top defensive pair to start this season.
The goaltenders, meanwhile, will get much of the attention to see whether Johnson can handle more playing time and whether Briggs can make a seamless transition from juniors to college.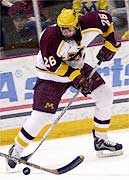 "One of them has to step forward and be the go-to guy," Lucia said.
The Gophers don't appear to have any shortage of dependable players on offense. The dilemma they may face is what to do with all that talent.
Not only does Minnesota return such stars as Vanek, Grant Potulny, Troy Riddle and Matt Koalska, the Gophers add Potulny's brother Ryan, last season's USHL player of the year.
"I will say this: We don't decide who plays, the players do," Lucia said. "And if our incoming guys are better than guys that we have returning, they're going to play. Are we going to have more depth up front than we had a year ago? Yeah, I think we will."
Lucia said he'll try to balance the talent around the four lines, making quite a dilemma for opposing defenses and likely helping the development of players like sophomores Tyler Hirsch and Andy Sertich.
Even with Grant Potulny, the hero of the 2002 championship run, and Riddle, who was a consistent scoring threat when the Gophers needed one last season, Vanek will be a popular choice to lead this team in scoring again and likely will be one of the candidates for conference player of the year.
Because of the likelihood of a work stoppage in the NHL after this season, it's unclear whether this will be Vanek's final season at Minnesota. The excitement about his play at the Frozen Four may have been the reason some were saying he was ready to jump to the NHL in the offseason after just one season in college.
But Vanek still has some things to improve on before he can become an NHL star. He had a habit last season of being omnipresent on the ice one night and invisible the next. One of the knocks on Vanek when he started at Minnesota was that he didn't play hard enough.
"I think he proved a lot of people wrong last year," Lucia said. "Now the key for Thomas is that he's got to make that next step in his development as a player and mature to where he can be a dominant player game in and game out, shift in and shift out as opposed to being a streaky player like he was last year."
Noteworthy
The Gophers don't host Colorado College or Minnesota State, and don't travel to Michigan Tech or St. Cloud State. … A January stretch sees the Gophers play eight straight games against NCAA tournament teams from last year. It starts with a series against Boston University, followed by two games at CC, a series at Minnesota State and a home series against North Dakota. On top of that is a home series with rival Wisconsin.