The promising start North Dakota put together a year ago ended up amounting only to an appearance at the WCHA Final Five and an appearance in the NCAA tournament, not the victories in each of those competitions that seemed plausible.
Things like that happen. Often, there's a scapegoat — for the Sioux last season, it was the woeful goaltending that never could seem to come up with a clutch performance. But that only serves as a convenient answer to the question, "What went wrong?"
North Dakota coach Dean Blais appears to understand that. He doesn't blame only the goaltenders for last season's collapse. He admits his team's lack of depth up front allowed teams to key on the Brandon Bochenski-Zach Parise combination and limit their effectiveness as the season continued. He recognizes that his defensemen took some ill-timed penalties.
But for Blais, the best news might be that he can see remedies in place for what ailed the Sioux last season. The goaltending corps has been revamped, the makings of a productive fourth line appear to be in place and a young defense may have matured past its bad-penalty phase.
So this is the crossroads for the Sioux. Either they take steps to improve themselves — leading quite possibly to a WCHA title — or they'll once again be labeled a good team that didn't live up to expectations.
"I'm confident that our forwards can score goals and our goaltending's going to be good enough … that if they can be anywhere close to 90 [percent in save percentage] and give up two or three [goals per game], we'll be in good shape," Blais said.
But can the North Dakota goaltenders live up to that expectation this season? As a team, the Sioux had a save percentage of 87.7 last year, worst in the WCHA in overall statistics. Josh Siembida, who managed a 12-4 record despite a 85.3 save percentage, parted with the team in the offseason and is playing with Wichita Falls of the North American Hockey League.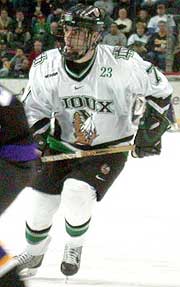 Jake Brandt and Marc Ranfranz are back, and with freshmen Jordan Parise and Nate Ziegelmann, Blais said the Sioux have some stability in goal. They'll have to prove it to everyone else.
Brandt, who played the most of the four goaltenders who suited up for UND last season, likely will be the starter early in the season, but Blais wants to see how the young goalies do. Early in the season, the Sioux host Boston College and go to Minnesota.
"Oh, they're going to get their chances," Blais said of the newcomers. "I'm going to put those freshmen right into the heat of the game.
"I'm happy with the goaltenders. I think we've got pretty good balance and stability, like we maybe didn't have last year. It was a big question mark of who's going to play and how they're going to play."
It appears newcomers could make a significant showing this season — though probably not to the extent Zach Parise did last year. One of the most intriguing young players in the WCHA this season could be forward Brady Murray, who played for Salmon Arm in the British Columbia junior league last season after playing as Parise's linemate at Shattuck-St. Mary's in Minnesota.
Murray, the son of Los Angeles Kings coach Andy Murray, could play alongside Bochenski and Parise on the Sioux's top line.
And with newcomer Drew Stafford also expected to figure into the scoring right away this season, North Dakota could have something like the depth that carried them to their most recent national titles, in 1997 and 2000. Blais lamented his team's spotty fourth-line production, and issued a warning that, because of the number of quality forwards he has available, a spot in the lineup won't be as easy to come by as it was last season.
Blais could make a second line of David Lundbohm, Rory McMahon and James Massen, leaving veterans such as Ryan Hale, Quinn Fylling and Nick Fuher to fight for spots in the lower lines.
"I'm looking for consistency this year and I'm looking for it every game," Blais said. "Lack of effort this year will not be rewarded by being in the lineup the next night. Last year, we had to go with what we had the last month of the year because we did not have — not only a fifth line pushing, we didn't really have a fourth line. We didn't have the depth."
The loss of David Hale to the pros after his junior season hurt the Sioux in depth and intensity. UND might not be able to replace his strength and character on the blue line, but fellow third-team all-WCHA pick Andy Schneider will have to try. Schneider had 41 points as a sophomore.
North Dakota also has big plans for newcomer Matt Smaby, also a product of the Shattuck-to-Sioux pipeline. At 6-foot-5, he won't be outmuscled near the net and has the ability to start the offense from deep in his zone.
"He makes that outlet pass. Almost every time, he completes it," Blais said. "I think our offense is really going to be helped by Matt's ability to move the puck out of the zone with that first outlet pass. Not off the glass and out, not missing passes. He's good defensively, but I think he can really help us offensively."
During the course of last season, Blais expressed displeasure with undisciplined penalties taken by some of his defensemen. The most notable offender was freshman Matt Greene, who led the WCHA in penalty minutes by a large margin.
Blais said former UND standout Mike Commodore turned around his play after a wild freshman season, and maybe Greene can make a similar transition.
"Certainly, you don't want to take that aggressiveness away from him, but it's a tie game and they take a stupid cross-checking penalty. That's undisciplined," Blais said. "The best discipline is self-discipline, and hopefully they'll learn from that, from what happened last year."
A better statement for the team as a whole couldn't be made.
Noteworthy
The Sioux don't host Wisconsin or Minnesota State, and don't travel to Alaska-Anchorage or Colorado College. … Freshman Jordan Parise is older than sophomore Zach Parise. Jordan is 21; Zach is 19.