The bulk of the team that produced a 25-loss season in 2002-03 returns this season. That's not exactly a good thing. Granted, the Engineers will look to build off the tough lessons of a year ago, but it's hard to imagine them making much of a run in the standings.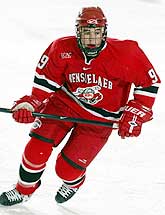 ECAC All-Rookie Team selection Kevin Croxton returns after posting a team-high 15 goals and 30 points, making him the first freshman to lead the Engineers in scoring in over 11 seasons. Senior Ben Barr also made an impression last year, combining his known defensive work with a new-found scoring touch. He posted 11 goals and 24 points — second on the team — and registered 17 points in Rensselaer's last 20 contests.
Junior Nick Economakos and senior Ryan Shields, 18 points each in 2002-03, will need to reach the 25-point plateau this season for the Engineers to make any serious move in the standings.
On the blueline, sophomore Brad Farynuk (15 points) is a player to watch as he develops into a potent threat. Complimenting him will be senior rearguard Scott Basiuk (14 points) and sophomore Keith McWilliams.
In goal, the Engineers return seniors Nathan Marsters and Kevin Kirk, a duo capable of shutting down any opponent on a particular night, but who each struggled at times with consistency. To push the tandem, coach Dan Fridgen has added junior Andrew Martin, a transfer from Fairfield University.
The Engineers averaged the second-fewest goals per game in ECAC play last season (2.23) and don't exactly look positioned to improve on that. What's worse is that they also allowed 3.8 goals per game, suggesting on most nights that their defense could be taken advantage of.
Rensselaer returns seven blueliners this season, but could use some new blood, especially killing penalties, where the Engineers managed to nullify only 78 percent of shorthanded situations.