Last year Merrimack was picked in the preseason coaches' poll to finish in the cellar for the umpteenth time, but defied those expectations with a seventh-place performance that fell only two points short of sixth. The lion's share of the credit, however, went to All-Hockey East goaltender Joe Exter, whose graduation leaves a significant hole in the lineup. As a result, the Warriors are once again pegged by the coaches for last place.
"We're picked as number nine every year so that doesn't surprise me," coach Chris Serino says. "If our goaltending holds up, which I think it will, I don't think it's out of the realm of possibility for us to challenge to have home ice."
Challenge for home ice? The knee-jerk reaction is to wonder what hallucinogens Serino has been ingesting.
And yet, stranger things have happened. Last year's UMass squad faced similar expectations and questions only to be a significant player. If all the cards in Serino's hand turn up aces, the Warriors could pull it off.
More likely, though, Merrimack will be fighting it out with UMass-Lowell (and potentially Northeastern or Providence) for the final playoff berth.
"I think we're probably stronger everywhere except in goal," Serino says.
Which is the million-dollar question. Over two years, Casey Guenther forced himself into the lineup for only three games (other than mop-up duty). That's hardly reason for optimism that he can suddenly emerge as a middle-of-the-pack Hockey East goaltender, much less replicate Exter's heroics.
And heroics will be called for if the Warriors are outshot by a wide margin on most nights — as they were last year, averaging a 34.2 to 23.0 disparity. Both figures, shots allowed and shots taken, were dead last in the league with the next team not even in striking distance.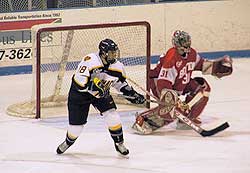 So barring significant improvement at the other positions, Guenther can expect to see a lot of rubber.
"I have a lot of confidence in Casey," Serino says. "I think he's a very, very good goaltender. The fact of the matter is that I had a goaltender who was playing as well as anybody in the country last year and every game was important for us. We think Casey is going to be very good, one of the better goaltenders in the league.
"The big difference between Casey and Joe is that Casey isn't as big physically as Joe. Whether Casey can hold up and play a lot, I don't know yet. We do have a very capable backup in Jim Healy, a freshman. I'd like to get him 10 games if I can, but whether we can do that or not I don't know."
There is reason to be optimistic about the blueliners' ability to make life easier for the Merrimack goaltenders. Bryan Schmidt opened some eyes as an All-Rookie Team performer and the rest of the core is solid as well.
"Schmidt will be one of the better defensemen in the league and the set of [Rob] Lalonde, [Tony] Johnson, Schmidt and [Eric] Pedersen is the strongest four we've had since I've been here," Serino says. "Then we have Peter Hams, who transferred from Fairfield and sat out last year. If he wasn't the best defenseman in the MAAC, he was certainly one of the better ones. So as a group, depthwise this is much stronger than it's been in the past."
The offense is also likely to improve with the top five scoring forwards, and seven of the top eight, returning. It's a predominantly young group with upside. Senior Marco Rosa is the prototypical well-rounded, three-zones player while Brent Gough and Matt Johnson finished first and third, respectively, in team scoring as freshmen.
"I think the line with Rosa, Johnson and Gough was one of the better ones in the league last year," Serino says. "They're only going to get better this year. [Steve] Crusco, [Tim] Reidy and [Nick] Pomponio are going to be a great line. So I think we're going to have plenty of offense.
"This year what we have is depth. We have five lines that can play. The depth factor is really going to help us when the injuries come. It should be a strong position for us."
Whether the improvement up front and on the blue line is sufficient to offset the loss of Exter remains the question.