Did you know that the list of distinguished Yale hockey alumni includes a former United States Secretary of State? Or a high-ranking intelligence operative who was once thought to be a candidate for "Deep Throat"? What about the only pitcher to have a winning record on the 1962 New York Mets? The answer is probably no, unless you are fortunate enough to have known Cyrus Vance '39, Cord Meyer '43, and Ken MacKenzie '56E personally or recently picked up a copy of Bulldogs on Ice. Written by former Bulldog radio voice Dan Fleschner '01 and consisting of 128 pages of words and pictures, the book is a must have for any fan of Yale or college hockey.
The stories of Vance, who under Jimmy Carter became only the second Secretary of State to resign for ideological reasons after disagreeing with the President's handling of the Iranian hostage crisis; Meyer, a CIA officer who was eventually ruled out by Woodward and Bernstein as their actual source on Watergate; and MacKenzie are just three of the many gripping tales presented in this work on one of America's most storied college hockey programs. From the first collegiate hockey game in America over 107 years ago to the present, the Bulldogs have given generations upon generations of their loyal fans much to cheer about. Now, for the first time, the Eli faithful can immerse themselves in the compelling tales of Yale's brightest stars and both their on and off-ice accomplishments.
Fleschner, an Olympic researcher at NBC, was first presented with the idea of writing a book on the Yale program by Yale Assistant Athletic Director for Sports Publicity Steve Conn while still an undergraduate.
"The idea came about because there had never been anything like this done before and I knew there would be a desire for it," Conn said.
Fleschner was deeply interested in writing the book, but clearly did not have the time as an undergraduate. Nor did he have the time immediately after graduation due to the significant amount of hours and travel required by his job at NBC. But last fall, Fleschner had no immediate large projects on his work schedule and submitted a proposal to Arcadia Publishing, which primarily prints pictorial histories. Even though Fleschner would have preferred – and would still like to do — a full-fledged narrative history, the Arcadia format was the right fit at the time, and judging by the finished product, there can be no complaints about the work.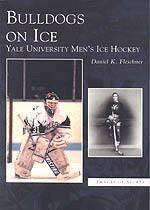 Once approved by Arcadia, the project gained full steam this past spring, as Fleschner spent several days combing through the Yale Athletics archives for the necessary photographs and also began interviewing former Bulldogs. Fleschner used a combination of e-mail and phone interviews with most of the Eli alumni, and hearing the stories flow from the mouths of the past Yale greats was one of the project's most rewarding experiences for Fleschner. One particularly special interview came at the home of goaltender Franklin "Tot" Farrel '31, who, until his death this summer, was a staple at Ingalls Rink for Yale home contests.
"Hearing someone who had graduated 70 years before I did talk about Yale was very interesting," Fleschner said. "Not only did he enjoy a tremendous career at Yale, but he was one of five Yale players to represent the United States at the 1932 Olympic games."
One of the most incredible stories involves the captain of Yale's first NCAA tournament team in 1951-52, Harry Havemeyer and his teammate and friend Ted Shay. After graduation, Shay was in Japan during the Korean War as a member of the U.S. [nl]Army, and, by an odd stroke of fate, found himself alongside Havemeyer, even though the two had no previous knowledge the other was there.
Equally as compelling as the personal stories are the accounts of some of Yale's most memorable games and teams. Take the 1967 game at Cornell when the Bulldogs handed the eventual national champions their only defeat of the season on their home ice, or the detailed profiles of the key members of Yale's outstanding 1985-86 team which finished second in the ECAC and surpassed 20 wins on the year.
Fleschner's chronology begins where it all began — with the first collegiate hockey game in America between Yale and Johns Hopkins on Feb. 1, 1896. Fleschner's discussion of the early years frames not only the development of the Yale program, but of college hockey's roots, as the Elis were among the nation's elite teams in the early years, back when every puck was dropped on an outdoor ice surface.
As Bulldogs on Ice points out, Yale, unlike Johns Hopkins which no longer fields a team, is still a force to be reckoned with in Division I college hockey today. Fleschner's descriptive prose and some incredible photos provide the historical context necessary to understand why Yale Hockey today means what it does to its legions of fans.
And as for that more detailed and thorough narrative of the program?
"If there is an interest and a desire for it, I'd certainly be interested in writing and learning more about this great program," Fleschner said.
And, with another strong freshman recruiting class playing in its first games at Ingalls Rink this weekend, any future narrative figures to have many more memorable figures and moments to detail.
---
USCHO's Adam Wodon is currently working with Arcadia Publishing to create a similar Pictorial History of Cornell hockey. This is in the investigative stage. For suggestions or contributions, contact Adam Wodon.