TECO Arena, Estero, Fla., Dec. 27-28
Notre Dame vs. Cornell, 4:05 ET Saturday
Ohio State vs. Maine, 7:05 ET Saturday
Consolation, 1:05 ET Sunday
Championship, 4:35 ET Sunday
Television: CSTV (DirecTV Ch. 610), all games except the consolation.
No. 15 Cornell (4-2-5)
Players to Watch: F Matt Moulson, Soph. (7-11–18); F Ryan Vesce, Sr. (6-10–16); F Shane Hynes, Soph. (5-3–8).
Notable: This tournament was arranged by a Cornell alumnus, and member of the 1970 championship team, Craig Brush, who owns the East Coast Hockey League team that plays in the arena, the Florida Everblades. (Brush's son, Matt, played for Princeton, 1994-98.) Nevertheless, Cornell has not managed to win the tournament in three tries, going 1-5. … Maine, Cornell and Ohio State have long-term commitments to be permanent participants in the tournament. The other team rotates. … Cornell's only two nonleague losses last season (other than the NCAA semifinal) came here. Conversely, this season, while unbeaten in league play, the Big Red are 0-2-3 outside the league, all at home. … The matchup with Notre Dame is the fifth this season against a CCHA team. … Sophomore forward Matt Moulson remains one of the nation's leaders in points per game (1.64), with 7-11–18 in 11 contests. … Freshman David McKee has played every minute in goal this season. Following the late-summer departure of Hobey Baker Award finalist Dave LeNeveu, McKee was called in early from his junior team in Texas. He had been planning to attend Cornell beginning next year. McKee is coming off a 1-0 shutout win over archrival Harvard, the first Cornell shutout of the Crimson since the legendary Ken Dryden in 1967.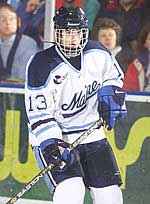 No. 3 Maine (12-2-1)
Players to Watch: F Colin Shields, Sr. (8-6–14); F Todd Jackson, Sr. (9-4–13); G Frank Doyle, Sr. (7-1-0, 1.88, .919).
Notable: Maine will be without forward Greg Moore and goaltender Jim Howard. Both, for the second straight year, were selected to play in the World Junior Championships for Team USA. Howard, however, was injured recently and will not participate. The goaltending in Florida is left in the capable hands of senior Frank Doyle (1.88 GAA, .919 save percentage). … Senior captain Todd Jackson has four of the team's five shorthanded goals, and leads the team in total goals (9). … Maine remains one of the most pleasant surprises of the first half of the season, after most prognosticators expected a rebuilding year.
Notre Dame (8-5-2)
Players to Watch: RW Rob Globke, Sr. (10-7–17); C Aaron Gill, Sr. (5-12–17); G David Brown, Fr. (6-3-2, 2.42, .919).
Notable: After cracking the USCHO.com poll last week, Notre Dame went out and got swept on the road against Western Michigan. The Fighting Irish have yet to play most of the CCHA's elite teams, and was just 0-1-1 against Michigan State, and 1-1 against Ohio State. But in their only nonleague game, they shocked Boston College on the road, 1-0, on national TV. … Freshman David Brown got a chance to play early in the season when incumbent Morgan Cey was out after having knee surgery in July. He has made the most of it, factoring in 11 of the team's 15 decisions, including three shutouts. He won the Commissioner's Association Rookie of the Month Award in October. … The last time the Irish won an in-season tournament came at the 1981 Great Lakes Invitational. Current Irish coach Dave Poulin was a member of that team. … Notre Dame has won all three lifetime meetings against the Big Red, who they face in the opener. The last time the two teams met was in November 1979. Poulin was a member of that Notre Dame team but did not play in the 1979 series due to a viral infection that sidelined him for 11 games. … Cey underwent successful arthroscopic surgery on his right knee on Wednesday, Nov. 19. He re-injured the knee on Nov. 8 at Michigan State and is expected to be out 4-6 weeks. … Notre Dame is 2-0 on CSTV.
No. 11 Ohio State (11-7-0)
Players to Watch: F Paul Caponigri, Sr. (11-8–19); C Dave Steckel, Sr. (10-5–15); G Mike Betz, Sr. (9-6-0, 2.14, .924).
Notable: Ohio State has been playing better than last year despite losing two first round NHL Draft picks to the pros — sophomore-to-be Ryan Kesler and senior-to-be, and Hobey Baker Award finalist, R.J. Umberger. Another first-round pick, Dave Steckel, returned, and has elevated his game. … Ohio State was rolling and shot to No. 6 in the polls, until getting swept in a weekend series with Miami, which dropped the Buckeyes out of first place. … Ohio State lost to Massachusetts in last year's Everblades tournament, then defeated Cornell, 1-0, in the consolation game. … Paul Caponigri, the team's leading scorer, was named CCHA Player of the Month for November.
Quotable
Maine coach Tim Whitehead: "We're excited about the Florida tournament. It should be very competitive; we've got four teams with a winning record. It's a good opportunity for us to be challenged right at the start of the second half of the season. … We have a lot of respect for Ohio State — that's who we face off against first, and they're obviously a very well-established, strong program. With my wife being from Ohio, we've got some serious family bragging rights on the line."
Notre Dame coach Dave Poulin: "It will be a great test and a strong kick to the second half to the team that play well in it. We always try and handle these tournaments like a postseason tournament. … It will be a terrific tournament. We haven't played Cornell since Mike [Schafer] and I took over these programs, nor have we played Maine since I've been back at Notre Dame. I'm sure the outcome will have postseason ramifications, possibly even for all 4 teams, which is more than a little unusual."
Poulin: "This is the really tough part [playing so close to Christmas break]. We'll only be able to skate once before the first game. We'll be off for a total of three weeks between study days, finals, and Christmas. Depending on where the tournament falls in terms of days, it's tough to prepare. The burden falls to the players to look after their conditioning and timing."
Analysis: Cornell is dying to win the tournament that its alumnus created, but faces a tough task again. This tournament has quickly become one of the premier events of the holiday tournament schedule. Whoever wins this, will be looking real good in the polls and soon-to-be-released first peek at the Pairwise Rankings. Maine has yet to get into the meaty portion of its schedule, and its two losses are to Boston College and New Hampshire, so, despite the strong record, the Black Bears still come down here with something to prove. Cornell's shot at an at-large NCAA bid is all but gone at this point anyway, but pride will take over. Ohio State needs to rebound from its last effort, and Notre Dame is trying to prove itself as well. With a lot on the line for all teams, it should be spirited play. Despite the hot air and beach that beckons, it will be all business.