When the San Jose Sharks made Mike Morris their first-round selection in the 2002 NHL Entry Draft, to say the Northeastern sophomore's family was surprised is a bit of an understatement.
In fact, the second-year winger's parents weren't even in the building when the Sharks rolled off Morris' name with the 27th overall pick.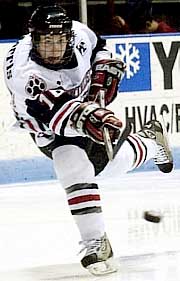 "We went to go for a walk and get a soda and a pretzel," said Diane Morris, referring to herself and husband Michael at the Toronto draft, in which the Central Scouting Service had pegged their son to go 57th. "When we came back in we were looking around for Michael and when we found him I said, 'Mike, I think he's walking to the stage.'
"He was sitting eating a soft pretzel with mustard and drinking a soda next to his sister, Jill. When they called his name he looked at Jill, and Jill said, 'Stand up, Michael,' because they were looking around for him. So he just sort of dropped the pretzel and went up there.
"For him to get drafted was an amazing thing for my family," she added. "My mum has lived with Michael since he was born. My sisters live five minutes away and our family, Mike's entourage, is at most of the games. We're very close."
Now, 13 games into his second season on Huntington Avenue, the Morris clan must be just as shocked that the 6-0, 188-pound kid who first donned navy blue Pac-Man skates at 18 months has scored just once this year.
Judging by his history of terrorizing goalies, though, his relatives won't have to wait much longer for their favorite forward to light the lamp. For the pint-sized Morris, love for the game soared after the first few skates with his mother at UMass Boston and Neoponset Rink.
"It's funny, he's always had a thing for hockey," Dianne Morris said. "My brothers are local and played town hockey. They were always playing with him. I was going through some of his paperwork the other day and every paper that child ever wrote was hockey related. I looked back at the folder I've been keeping and every essay was hockey. He'd be watching cartoons on the couch with a stick in hand bouncing a golf ball, or sometimes he'd stuff the sofa cushions in his younger sister's shirt and make her play net.
"We had nets inside the house, outside the house, just about everywhere."
Morris is a city kid, raised in Boston's Dorchester area. He grew up playing street hockey as a youngster every day after school. He grew up firing countless shots into a makeshift goal in his backyard while a neighborhood girl shagged pucks for him each winter.
And, undoubtedly, he grew up roasting buddy after buddy with nifty goals each time he picked up a stick.
After winning a national title with his youth team, the South Shore Kings, in 1999, Morris attended St. Sebastian's School to prep for college. While there, he tallied 108 points in the 59 games of his junior and senior seasons. More importantly, he tossed the puck in the net 49 times during the same span.
"I think going to St. Seb's changed his life," Diane Morris said. "He got to play a great level of hockey on a great team that had great sportsmanship and camaraderie. That was the best thing that ever happened to Michael. He went to Latin Academy, and when he was in the seventh grade he played in a varsity hockey game against Charlestown. These guys had beards and mustaches, and they probably could've killed Michael if they checked him, but he was such a spitfire that no one could catch him.
"When he moved over to St. Seb's, though, he got to play a great caliber of hockey and develop while he waited his turn to play. I'm very grateful that he had that opportunity."
Before getting drafted by the NHL, Morris committed to play hockey at NU, turning down inquiries from Boston University, Boston College and Harvard.
"I wanted to stay in Boston and have a chance to play in the Beanpot," Morris said. "I loved the atmosphere and Matthews Arena, and I liked the coaching staff. I've known Jamie Rice since I was about 15; he coached me at a USA Select Festival.
"I just felt more comfortable at Northeastern," he added. "Coming here you can be a part of building something. If you go to BU or BC you're going to win every year, and it's good to win, but if you win here it'll be that much sweeter."
For a kid who's had success everywhere he's gone, his current setting must be strange. Against Denver on Oct. 18, Morris broke free while killing a penalty and slipped the puck past Pioneer goalie Glenn Fisher. He hasn't scored a goal since.
After taking title after title in youth hockey and prep school, Morris and the rest of his Husky mates have suffered through an unbearable couple of years. Dating back to last season, Northeastern has exactly three wins in its previous 23 games — including a program-worst 11-game winless streak to open the current campaign. That's a far cry for a player whose resume reads longer than most of his textbooks.
Still, Morris tries to remain positive through it all.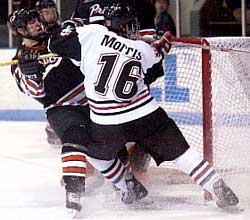 "I expect great things of myself when I'm on the ice, and I put a lot more pressure on myself than anyone else does," he said. "My parents always tell me I'm my own worst critic. With me struggling offensively this half of the year, it's tough. I feel like if I had a few more goals, we'd probably have more wins. I've just got to keep shooting. I've scored goals all my life; I know any given game I can score three or four goals."
Crowder believes the drought will help Morris in the long run.
"Right now as he sits as a 20 year-old, he's got tremendous, tremendous potential," Crowder said. "I think some of these things he's going through right now are going to help him at the next level. He's handling the adversity well here, so next time he goes out and goes through something like this he'll know what he has to do.
"We all know that he's been snakebitten the first 13 games, but at the same time he's getting tremendous opportunities — hitting goalposts and goalies making great saves on him. That's why he's got to keep working and shooting the puck."
For now, though, Diane Morris isn't getting too many cheery phone calls.
"He'll call me, but he's pretty good about it. He hasn't been real whiny or anything," she said. "It's been difficult this year, but dealing with it is all a part of growing up and dealing with adversity. It does affect him, but he is dealing with it. He's working hard and sooner or later it'll break."
It's certainly been a trying early season for the Huntington faithful — and no one is more emblematic of NU's struggles than Morris. He's skated well and made good contact with the puck, but has little to show for it.
But with two consecutive wins under their belts, the Huskies could be climbing out of the 0-9-2 hole they dug to start the year.
"I hate losing," he added. "I don't care what it is; if it's shimmy hockey I'll do whatever it takes to win. I'm definitely not a fun person to be around after a loss. We've got a good team, though. Getting that first win against Vermont was a big load off."
And, hey, when Morris awakes from his Christmas break slumber, maybe St. Nick will have replaced those donuts in his stocking with a few well-deserved goals.
Jack Weiland is sports editor for the Northeastern News and a regular contributor to USCHO.com.