No one saw it coming.
On Nov. 15, Minnesota, the two-time defending NCAA champion, blew a two-goal lead at Wisconsin. The loss dropped the Golden Gophers to 2-7-1 overall, and a dismal 1-6-1 in league play.
A month into the season, and already hope of a WCHA regular-season championship seemed lost. The Minnesota coaching staff scrambled for answers.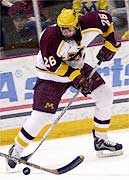 No one saw it coming. Sure, the somewhat-unexpected loss of All-America defenseman Paul Martin was a blow, but it was counterbalanced by the somewhat-expected return of phenom Thomas Vanek, the Frozen Four MVP who propelled Minnesota over New Hampshire back in April.
When number-one goaltender Travis Weber, citing personal reasons, left the team just before the start of the season — "out of the blue," assistant coach Mike Guentzel said — the storm clouds gathered. But didn't Minnesota have an experienced goalie in Justin Johnson, who'd seen plenty of action last season?
Besides, wasn't this the same team that won the 2002 NCAA title with Adam Hauser — a capable player, but not a star — in net? Hey, the Gophers are all about skating, about passing, about power-play goals and solid blueline play. Don't worry: everything's fine.
Opening the season against Maine at the Maverick Stampede, the Gophers seemed flat. The rematch of the 2002 title game was one-sided, though no debacle. Maine's 4-0 victory was almost welcomed to shake the Gophers out of post-championship complacency. Minnesota scored seven unanswered goals to run away from host Nebraska-Omaha the next night, and everything was fine.
Except it wasn't. Minnesota was swept at home by Minnesota-Duluth two weeks later, and worse yet, lost defenseman Keith Ballard to a leg injury, then fellow blueliner Chris Harrington.
The Gophers beat Denver, then went 0-4-1 in their next five WCHA games against the Pioneers, North Dakota and resurgent Wisconsin. In Madison, Minnesota twice lost 3-1 leads, salvaging a 3-3 tie Friday before the stunning 4-3 loss on Adam Burish's shorthanded winner.
2-7-1, the overall record said. And ninth place in the WCHA.
Two wins at home against Michigan Tech were welcome, but still expected. The returning Ballard had a goal and two assists on the weekend, and Harrington added a goal and an assist. Suddenly the defensive corps looked OK.
The offense followed suit a week later. Vanek scored 1-2–3 against Michigan State at the College Hockey Showcase, and the next night the Gophers rallied for three unanswered goals to beat Michigan as well. A tough road trip to Alaska-Anchorage netted a split, leaving Minnesota two wins shy of a once-trivial goal: to be above .500 at the holiday break.
That meant the Gophers would need to win their own Dodge Holiday Classic, the weekend before Christmas. A 9-0 thrashing of Princeton only set the table for the biggest game of Minnesota's season. New Hampshire, in a rematch of April's NCAA championship, with … well, everything at stake.
Win they did, in a thriller that head coach Don Lucia called "the best game of the year." Minnesota built a 3-0 lead on goals by Jon Waibel, tournament MVP Matt Koalska, and captain Grant Potulny, then hung on for dear life as UNH's Preston Callander made a singlehanded attempt to ruin the Gophers' holiday with two goals.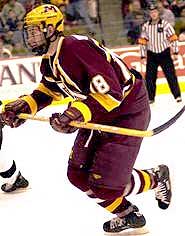 But with the oft-reserved Mariucci Arena crowd roaring its approval, Vanek iced the game with an empty netter in the last second, and that was the proverbial that. A shockingly rough start was hardly forgotten, but it seemed a lot farther away.
The Gopher players and coaches were of one mind on the subject.
"I think the break comes at a great time for us right now," said Lucia. "Now we can recharge and get ready for the second half."
"I think this two-week break will be good for us," agreed Waibel, who grinned and added, "You hang around the guys so much, you start to get sick of them."
Clearly, the sense of humor hadn't departed despite a stretch of lost leads, underperformances and tough losses — some deserved, some not.
"It was a long struggle," Lucia said. "We didn't start out where we left off."
There was no doubt, however, that the New Hampshire game was the key. Despite having won six of seven coming into the evening, a loss to UNH would have undone the Gophers' efforts, and possibly dealt a crippling blow to the team's confidence.
"We knew to solidify going in the right direction, we were going to have to beat New Hampshire," Harrington acknowledged.
So don't worry: everything's fine — right?
As the adage goes, "Problems which go away by themselves, come back by themselves." And the Gophers had plenty of problems early on, from marginal goaltending and spotty scoring, to a failure to put opponents away when they were down.
On a team of stars, something was missing. Koalska knew what it was.
"We need that chemistry," he said, "for guys to know their roles."
Freshman goalie Kellen Briggs, pressed into service this season by Weber's loss, stopped 27 of 29 shots against the Wildcats. His growth will be crucial down the stretch for a team whose head coach has never been reluctant to rotate goaltenders, but who still likes to see one guy emerge at crunch time.
"Some things weren't clicking for us at the beginning of the year, but knew we had all the elements," Briggs said.
Like chemicals in a beaker, those elements are congealing before our eyes. Will the simmer become an explosion?
Find out in the second half.