There was much hullabaloo in the online blab-o-sphere regarding comments by Jack Parker in last week's college hockey column in the Boston Herald, written by John Connolly.
Connolly was asking Parker why there are fewer dominant Hockey East teams in the last couple of years. Parker mentioned that there is greater parity than ever before, which is certainly true when you have Massachusetts improving, and teams like Northeastern and Merrimack capable of beating anyone on a given night.
Parker went on to say there is a dearth of talent in hockey these days, across the board — college, junior, high school, NHL. We've been talking in this column for a while now about the drastic decline in scoring these days, across the board.
"I think there's more people playing youth hockey in the state of Massachusetts than ever before, and yet we're not producing anywhere near the caliber of players we used to, and I think it's because kids aren't having any fun," Parker told the Herald.
"They quit playing. I think they're told they're not good enough at 12 or 8 to make the travel team and they decide to do something else. It's a whole bunch of kids who started out playing hockey and they're not playing hockey anymore. Kids will do stuff that's fun."
Some people used these comments as an excuse to rip Parker. They said Parker was using this "lack of talent" excuse to explain his own program's slow slide back to the middle of the pack. Parker, of course, doesn't need to make any excuses for his own program. And his honesty on many topics is extremely refreshing, and we've never known this kind of honesty to be a veiled attempt at excuses, even if we disagree.
Parker makes an outstanding point about the way we're teaching young kids, and this is not unique to hockey. To the extent that accounts for a dropoff in "talent," I agree, specifically in North America. We're just not doing a good job of nurturing talent, and it's no secret that the leading scorers in the NHL are almost all Europeans these days.
In the broad sense, however, I don't believe there is less talent in hockey today. Sure, if you look back to Kariya, Tkachuk, Amonte, et al., the dropoff in numbers is almost by half. It's like that at every high level of play. But we've already gone over the multitude of reasons — better goaltending, better coaching, videotape, bigger players, etc… — and they don't have to do with less talent.
This could just be splitting hairs, though.
Reel World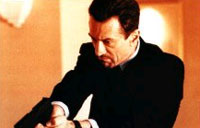 OK. I now know that the 1995 movie "Heat" contains a college hockey sighting. Thank you to the 16 people who wrote in to tell me so. Last column, I mentioned that the recent Jack Nicholson film "About Schmidt" contains a scene of a character watching a college hockey game. I mentioned that "Grumpy Old Men" and "Fargo" also had such moments. Sometimes, it is genuinely the intention to have the characters watching college hockey games, like in "Fargo." Other times, they're just watching hockey and using old college hockey footage, probably because it's cheaper to obtain the rights.
I've since been told, as well, by a few people, that the clip from "Grumpy Old Men," while they are ice fishing, is actually of the Minnesota State High School tournament, and features a shot of Apple Valley's Karl Goehring, who went on to play goal for North Dakota. Apple Valley wears maroon and gold, so perhaps I could be forgiven for the confusion.
Only one person wrote in to remind me of a scene in "A Simple Plan," an interesting psychological thriller starring Billy Bob Thornton and Bill Paxton. This 16-to-1 ratio tells us more about the nation's movie-going habits than anything, but, oh well. There's actually two different bar scenes where a game is playing on the TV. The characters aren't paying attention, but you can tell it's a Gopher broadcast with current Fox Sports North play-by-play man Frank Mazzocco at the microphone. In the second scene, you can make out the word "Yale" and not much else. The movie came out in 1999. Prior to that, the most recent time Minnesota played Yale was Dec. 30, 1994, so there you go.
The scene in "Heat" comes as Robert DeNiro's character is about to off someone. The soon-to-be victim is watching a game from Joe Murphy-era Michigan State when DeNiro's character throws a chair through his window and shoots him.
In the Fargo scene, the William H. Macy character asks his father-in-law, "Whachya watchin' there'?" He replies, "Goophers." You can hear in the clip the announcers dicussing that Paul Ranheim "leads the Badgers in goal production this year with five." The video is Wisconsin at Minnesota, and we are going to assume it was some time in 1987-88, Ranheim's senior season. Ranheim led the team in goals that year with 36 compared to Steve Tuttle's 27. Although it certainly could've been 1986-87, when Ranheim had 24 goals, compared to 28 for Tony Granato and 31 for Tuttle. You can also hear, "Back to Stanton at the line, oooh, an excellent play by Ranheim." The goal was scored off Robb Stauber, who played almost every game in 87-88, and just 20 in 86-87.
Just because I can't get enough of this topic, it should be noted that a former Air Force player wrote to me and said he believes there is a scene in Lethal Weapon 3 with another college hockey sighting. He says Mel Gibson ties a rope to his truck and uproots a house. He says the scene is the North Dakota-Michigan State 1987 NCAA championship game. "As a former college player I was pleasantly surprised at this esoteric choice of TV programming in an L.A. home," said the letter writer. Upon further review, however, this former player says he may have been meshing this scene in Lethal Weapon with the scene from "Heat." Anyone want to confirm this one way or another, or do I have to waste a Netflix selection?
I have saved the best for last, however. I got another e-mail from loyal reader Matt Dauphinais, who said there is a sighting in the 1984 film "Gremlins." This film takes places around Christmas time, and set in New York somewhere, I believe. Matt says there's a scene that contains a clip of a New Hampshire-Cornell game. Boy, I saw this in theaters at the time, but of course would not have made note of the college hockey sighting. This could be the earliest sighting of a real game, and a Cornell one to boot. Nice. I really need to find out about this one.
Finally, I must go off the board to give a nod to Michael Ontkean. Ontkean played none other than the legendary Ned Braden in "Slapshot," released in 1977. Braden is the Ivy League graduate who refuses to play dirty. Well, in "real life" (wait, isn't "Slapshot" a documentary?) Ontkean played three years of college hockey at New Hampshire, scoring 30 goals for the Wildcats in 1967-68. The last thing Ontkean was in that I've heard of is 1990's "Postcards From the Edge" with Meryl Streep, playing a very minor character.
Long Live the Dish
The encouragement of homerism and schtick from anything-for-a-buck general managers, to the point of absurdity, and the necessity to sell your soul, is what largely drove me out of professional hockey. Thankfully, that kind of pressure doesn't exist, by and large, in college hockey. Which, unfortunately, doesn't prevent overbearing homers from existing.
Don't get me wrong, though. Of course the people broadcasting games on a local station are going to root for that team. You work for them, you know them — it's only natural, and there's nothing wrong with it. And of course you're going to analyze the game through the prism of the home team and what it means to them. But there's a huge difference between schtick and pulling for the team. You can remain professional and at least attempt to be objective while still hoping the home team wins. I believe the audience deserves objectivity, however, and most want it.
This takes on a different wrinkle these days. Thanks to the dish, I can see a lot of hockey. Thanks to the Internet, I can listen to a lot of games on the "radio."
The point of all this is to say that the television broadcast tandem that best balances this natural root-for-the-home-team mentality with remaining reasonably objective professional broadcasters, is the one on Fox Sports North — the aforementioned Frank Mazzocco and former Minnesota coach Doug Woog. Woog, in particular, is an improvement over his predecessors in this regard, and has actually gotten better and better as time has gone on.
His improvement, and what it means to the broadcast, was apparent to me while watching this weekend's BU-Minnesota series. And, believe me, this is appreciated by fellow dishies who like watching games from around the country. And FSN does every Gopher game.
Interestingly, my favorite color man on local NHL broadcasts, for the same reasons, is Joe Micheletti, who does New York Islanders broadcasts. Micheletti is a former Gopher, circa 1976.
Nationally, I liked the job Sean McDonough and Bob Norton did on last year's Frozen Four. And I still miss Tom Mees.
Musings

• Having only been intimately connected to college hockey since the late '80s, I must admit that I never knew the story behind the 1981 Hobey Baker Award until just recently. In a story catching up with the winner of that award, Minnesota's Neal Broten, he noted that his statistics were far inferior to that of his little brother, Aaron, but that he felt he won the Hobey based on his reputation coming off the gold medal in the 1980 Olympics. Looking at his stats, it's pretty hard to argue. Neal Broten, who went on to a lengthy and distinguished NHL career, had 71 points in 1980-81. Aaron, who had a decent NHL career as well, mostly with New Jersey, had 47 goals and 106 points. Is it too late to change that vote?
• Hello America. It's the week after New Year's. Do you know where your World Junior team is?
• Sometimes people wonder why you love sports. How can you not love sports when you see things like Brett Favre's spectacular performance, one day after the death of his father? And now, next Sunday, I will get paid to watch Favre play at the Philadelphia Eagles-Green Bay Packers playoff game. That, you've really gotta like.
• Goaltender helmets have taken on a life of their own. The artwork continues to get better and better, and the themes get more creative. Just when you think you've seen it all, however, Minnesota's Kellen Briggs takes the cake. His mask is brilliantly designed to look, from a distance, like a goaltender wearing just the old-style mask, complete with ears and hair painted on the sides to make it seem like a real ending of the mask. Took me aback for a few seconds.
• Considering the flak Boston University defenseman Ryan Whitney took last season, it's nice to see him playing so well. Whitney, a former first-round NHL Draft pick, did not have a good sophomore season, but was playing hurt much of the year. People started to wonder whether he'd be a flop. He isn't.
• Boo of the week to St. Cloud State officials, who, as reported in the St. Cloud Times, did not allow people from Ralph Engelstad Arena to Netcast (video and audio) the games between North Dakota and the Huskies last weekend. The report said school officials were reserving the right to limit live video of the games to area cable network Victory Sports One. Are we supposed to seriously believe that a single-camera video Internet feed, that was to cost $17.90, is a serious competitor to a cable network? Someone has to explain that one to me.
• More to come on this topic, but it's a major bummer to ECAC fans that Vermont is leaving the league (and it will happen). Just when there was renewed hope that this sleeping giant was ready to make the most of its resources, with a new president, new athletic director and new coach, it decides to make this move. I suppose new Vermont AD Bob Corran can't really be blamed for such a decision — especially considering the sorry state of the ECAC's leadership — but it's disappointing nonetheless. The best the ECAC can hope for is Holy Cross to join the league, in order to keep the geographic and academic consistency. But really, wouldn't it just be better for them all to just jump ship already? What in the world are these ECAC schools waiting for? How much more negligence do they have to put up with (more on that in the coming weeks too)? OK, none of this is really about Vermont, but it sure is frustrating.
Unfortunately, adding to the mix is the limbo of Rensselaer, St. Lawrence and Clarkson regarding the Division III scholarship situation, another issue coming to a head this week as the NCAA meets for its annual convention in Nashville, Tenn. … That makes three major issues hanging out there right now: Vermont, The future and general state of the ECAC, and the particular fate of three of its schools plus Colorado College. A relatively sedate season in the sense of off-ice news is suddenly become quite intriguing, but not for the better.
• Zach Parise. World Juniors leading scorer. At least eight NHL teams. Clueless.
• Since it seems most of this week has been spent talking about BU and Minnesota, why not just cap the whole thing off, tie it all together, and mention that last weekend's two-game series at Mariucci Arena was six periods of some dang entertaining hockey. Two 5-5 ties, comebacks by both teams, lots of hitting. The defenses weren't too great Friday, and the hitting got overzealous at times (David Van der Gulik got away with a nasty hit from behind late in the first game), but boy was that fun.
In Closing
How do you look people in the face after 14 years and admit now that you bet on baseball? The audacity of the lies Pete Rose committed in the last 14 years, looking people right in the eye, with conviction, and saying he didn't do it. And further, denigrating the people that brought the evidence against him, and spinning it every which way.
Everyone's been saying "Boy, if only Rose would come clean, he can be forgiven." But, I'll tell 'ya, given the audacity of his lies over the years, I'm not sure that's going to be so easy. He has to profusely apologize, and seem like he means it. Not just admit it.
All of which is irrelevant to my perspective on his potential reinstatement to baseball. Pete Rose should be in the Hall of Fame. Pete Rose should not be allowed back in baseball. I'll allow a little window for the hope Rose will go through a serious program for gambling, and show majorly severe remorse. But what Rose did is the worst crime against sports. Sure, there are murderers, wife-beaters and drug addicts allowed to participate in sports all the time. Those are much more severe crimes against society. But gambling is the worst crime against sports, because it taints the essence of the sport. I have great sympathy for Rose, but he shouldn't be allowed back in baseball.