Maine and Ohio State got the top seeds in the East Regional the old-fashioned way. They earned them on the ice, where both teams won conference championships with thrilling performances.
The Black Bears needed three overtimes and the netminding wizardry of Jimmy Howard to eventually put down a Massachusetts uprising in the Hockey East final. The Minutemen, playing for their NCAA tournament lives, got just one goal past the Maine defense — which has given opponents fits all year, especially in the last half of the season.
That could bode ill for the ECAC's surprise champion, Harvard, which enters its third straight national tournament finally playing the kind of hockey that was expected of the Crimson all season.
Meanwhile, in the two-three game, Ohio State will try to ride the momentum of a stunning three-win CCHA Super Six performance, coming from behind twice for overtime wins before unseating Michigan for the title.
The Buckeyes take on Wisconsin, a rebuilt success story which staggered late in the year, after rising as high as the top five in the national polls. The Badgers will try to erase the unpleasant memory of losing in the first round to Alaska-Anchorage — the Seawolves' first WCHA playoff wins ever.
Maine vs. Harvard
Friday, 5 p.m. Eastern, Pepsi Arena, Albany, N.Y.
Maine Black Bears
Record: 30-7-3, 17-5-2 Hockey East (second)
Seed: No. 3 overall, No. 1 East
How in: Hockey East tournament champion
2003 NCAA tournament: Lost in first round
How do you spell Maine?
D-E-F-E-N-S-E.
The Black Bears rank first in the nation in team defense with a 1.55 goals against per game mark. To provide context for that gaudy number, Boston College ranks second (1.92) and the next NCAA tournament team is Wisconsin (2.22).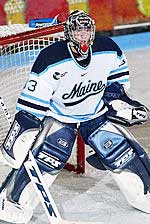 Which is why they boast a seven-game winning streak, have won nine of their last 10 and are 13-1-2 dating back to late January.
"It starts with our team defense," coach Tim Whitehead said recently. "That's been a big reason for our consistency. We've been really trying to focus on limiting the other team's quality chances. That's been a big objective of ours. For the most part, we've done that."
A big part of the reason has been the goaltending tandem of Jimmy Howard and Frank Doyle. The two alternated all the way to the Hockey East semifinals, but Howard played both games at the FleetCenter.
"Frankie [Doyle] is such a great goalie, but it was an easy decision for us," Whitehead said after the triple-overtime title game. "If you saw the [semifinal] game you know why we started him. He was just very sharp and at the top of his game right now."
After that semifinal game, a shutout over Boston University, Howard's play, as well as the overall Maine team defense, prompted the following observation from BU coach Jack Parker. "He's a real technically sound goalie. He plays with poise; he doesn't make flashy saves or flash the glove; the puck just seems to hit him.
"In front of him, Maine does a great job. [The Black Bears'] goals against average is a credit to two things: how hard they work defensively as well as how good the goaltending is."
Howard, named the Hockey East tournament MVP, is poised to rewrite the record books, not to mention potentially backstop the Black Bears to their third national championship. His save percentage is .958 and his goals against average is 1.05, numbers that put him on pace to break the marks set by Cornell's Dave LeNeveu last year.
Making matters all the worse for potential goalscorers, Howard is the hottest he's been all year. He's allowed only two goals in his last five games — and that includes the triple-overtime championship game against Massachusetts as a singleton — and has five shutouts in his last nine games. He also hasn't allowed an even-strength goal since Dec. 5, a streak that includes over 600 minutes. Oh, and by the way, he's allowed more than two goals in a game only once all year and that was back in early November.
The possibility does remain that Whitehead, who keeps his goalie decisions close to the vest, will start Doyle against Harvard to keep Howard fresh for the potential second game at Albany against either Wisconsin or Ohio State. This seems unlikely, however, based on how dominating Howard has been and how few goals the Black Bear offense has been scoring. Perhaps if Maine had drawn either Holy Cross or Niagara, but not Harvard.
As for that Black Bear offense, it's led by Colin Shields (17-25–42), Michel Léveillé (5-33–38, second in assists nationally), Todd Jackson (20-12–32) and Derek Damon (13-17–30). Prestin Ryan leads a solid defense. Jackson and Ryan were recently named Hockey East's top defensive forward and defenseman, respectively.
Don't be surprised to see Maine riding that team defense and spectacular goaltending to the Frozen Four.
Harvard Crimson
Record: 18-14-3, 10-10-2 ECAC (sixth)
Seed: No. 14 overall, No. 4 East
How in: ECAC tournament champion
2003 NCAA tournament: Lost in first round
So this is what the ECAC's preseason No. 1 pick was supposed to look like.
For the second time in three seasons, the Harvard Crimson rode a late-season surge to capture the league's tournament championship. And just like in 2002, the Maine Black Bears await as Harvard's NCAA first-round opponent.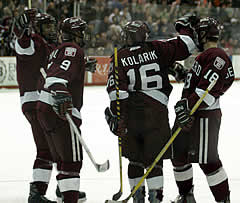 "Their ranking as the number-one team in the nation," said Crimson head coach Mark Mazzoleni about the Black Bears, "their Hockey East championship and their second-place finish in the league are a real reflection of what they are about.
"Maine is the best team we will have faced all year and we'll have to play our best hockey."
Two years ago, Harvard lost to Maine, 4-3, in overtime. Expect another close game on Friday, but this time from a vastly different Crimson sextet.
Players and coaches have been preaching for weeks that this year's Harvard squad is very different from that of 2002. Despite similar regular-season struggles, they all insist the only similarity is that each won the Whitelaw Trophy.
"It's been a constant push for us over the last six weeks," Mazzoleni explained. "Because this wasn't our best season, down the stretch every game was a single-game mentality. If at any time we failed, we were done."
Two seasons ago, the Crimson skated 17 freshmen and sophomores; this year nine seniors lead the way and the experience has been evident. This is a veteran team entering the NCAAs as a playoff-tested bunch, much better prepared for what lies ahead in its quest to still be playing in April — back in Boston, no less.
"We've gone through this three times now," said netminder Dov Grumet-Morris about his team's playoff escapades. "That's helped to an extent, but each year is unique. We're loaded with veterans as opposed to being a bunch of young guys. We're a completely different team."
Among those skating in their final season for Harvard are five notable, dangerous players.
Tim Pettit (10-23-33) has arisen from being MIA most of this year to register 14 points in the last 14 games, including an assist on the goal that began Harvard's championship comeback Saturday in Albany. While it is hard to believe he has yet to connect on the power play this season (he had seven PPGs last year), Pettit still owns the best shot on the team and his one-timers are deadly.
Tyler Kolarik (12-18-30) is as clutch as they come. He's posted eight goals and 12 points in his last 14 games and is, in every sense, Harvard's heart and soul. His overtime winner in the 2002 ECAC title game while playing with a cast on his wrist was the moment the Crimson program officially turned the corner. His line with rookies Kevin Du and Steve Mandes (a Kolarik clone) can change the momentum of a game with one shift — just ask Brown.
Dennis Packard (10-11-21) travels somewhat under the media radar, but is one of the ECAC's best two-way forwards. His empty-netter against Clarkson last Saturday set career-best marks for him in goals and points. And at 6-5, 215 pounds, he's adept at neutralizing opponents.
On the blueline, Kenny Smith and Dave McCulloch are significant factors each night. Smith's game-winner last Saturday aside, he's known more for going up against the league's best forwards and as captain of a club that pulled itself from the abyss as late as mid-February. McCulloch, meanwhile, is a mean, physical presence in the Crimson end whose return from injury in early 2004 was the first step in the club's turnaround.
A pair of juniors should not be overlooked. Leading scorer Tom Cavanagh (16-20-36) has already set career highs in goals, assists and points this season and was the catalyst in defeating Clarkson for the ECAC championship with two goals under five minutes apart to start the second period. He is Harvard's most dangerous player and a target of opponents, yet he still found a way to register 10 multi-point games this year — including three in the last five contests.
In goal, Grumet-Morris (16-3-3, 2.27, .916) goes about his business of making key saves when needed. Not as flashy as some of his NCAA brethren, he is no less consistent. Grumet-Morris has allowed more than two goals in a game just once this postseason and has only one ECAC playoff loss in his entire Crimson career. But this is the NCAA tournament, where he's 0-2-0 with 10 goals against.
With the exception of Cornell's run last season, this is tough time of year for ECAC teams, and especially for the Crimson, which lost a heartbreaker to Boston University last season in Worcester. Friday night, Harvard, as the lone ECAC representative will once again have the opportunity to exorcise its demons in nonconference play. Since the 2001-02 campaign, the Crimson are an ugly 4-15-2 against non-ECAC teams.
"Our performance over the last two [NCAA] tournaments," said Mazzoleni, "shows that we've played better. If you compare the two games, we played a much better game against Boston University than two years ago."
Everyone keeps preaching that this is a different Harvard team. Different enough to win its first NCAA tourney game since 1994? We'll find out soon enough.
Ohio State vs. Wisconsin
Friday, 8:30 p.m. Eastern, Pepsi Arena, Albany, N.Y.
Ohio State Buckeyes
Record: 26-15-0, 16-12-0 CCHA (fourth)
Seed: No. 6 overall, No. 2 East
How in: CCHA tournament champion
2003 NCAA tournament: lost in first round
Surprising Ohio State is the highest seed from the CCHA going into the NCAA tournament. To attain that standing, the Buckeyes played two come-from-behind, overtime Super Six win before toppling two-time defending Mason Cup champ Michigan in the title game.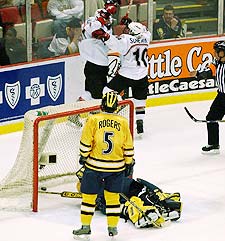 "We're really concentrating on ourselves," said OSU head coach John Markell. "Can we keep matching our effort and our consistency and our tenacity and desire and character? That's all we're worried about.
"When we shut the door, and it's 28 people in that room — 24 players and four coaches — that's all we're worried about right now. They're playing for the crest on their sweaters. They're playing with a passion for the game … and if they do, they can be that good."
OSU finished the regular season fourth in CCHA standings, behind clustermates Michigan, Miami, and Michigan State, in that order. In the CCHA, teams in a cluster play each other four times, and everyone else in the league twice. The top three teams in the league were separated by two points.
"Playing those teams, that level of competition — there's not a weak sister in the bunch," said Markell.
The Buckeyes spent a few weeks at the top of the CCHA standings early in the season but gave way to Miami in early December. It was fitting, then, that OSU kept Miami from a regular-season title with a 5-4 win the last game of the regular year, and prevented Miami from advancing in the Super Six with a 4-3 overtime win.
"If you think back, December 5 and 6, we were in first place and they swept us in a home-and-home series, and that put us out of contention for a league championship," said junior captain J.B. Bittner, "so no doubt that was in the back of everyone's mind when we were playing them the last few games."
Ohio State's offensive balance was what got it through the season and the Super Six. In the 6-5 overtime quarterfinal win against Notre Dame, the Buckeyes came from behind three times — twice erasing a two-goal deficit — and relied heavily on underclassmen like Matt Beaudoin (7-7–14), who had two goals in the contest.
In their game against Miami, the Buckeyes answered every RedHawk goal with one of their own, with the junior Bittner (12-8–20) getting the game winner at 0:23 in OT.
It was two seniors and a sophomore — Doug Andress (5-27–32), Paul Caponigri (17-22–29), and Dan Knapp (13-17–30) — who scored in the 4-2 win over Michigan.
And an unknown sophomore goaltender, Dave Caruso (2.09 GAA, .920 SV%) stepped in after Notre Dame scored five goals on senior Mike Betz and carried the Buckeyes to a title.
"We feel like we're a family, and everyone's on the same page, and we don't have anyone straying away from the team," said Bittner. "I think that's what's making us really strong right now."
OSU's Achilles' heel is its defense, which is hard-pressed without injured sophomore Nate Guenin.
Markell said that his team — which looked like no one anyone in the CCHA had seen last weekend — is focused heading into this weekend, OSU's second consecutive trip to the NCAA tournament and fourth overall, all under Markell's guidance. OSU is 2-3-0 all-time in the NCAAs.
"We beat three tournament teams," said Markell, referring to last weekend's wins. He said the Buckeyes "know we're not a flashy hockey club. They know that every one of them has to bring it."
Wisconsin Badgers
Record: 21-12-8, 14-7-7 WCHA (third)
Seed: No. 11 overall, No. 3 East
How in: At-large
2003 NCAA tournament: none
Only four of this year's Wisconsin players were alive for the school's first "Black Sunday." In 1981, the Badgers made the best of that situation, and now, these players are looking to do the same.
On March 8, 1981, the Badgers entered the second game of their WCHA playoffs total-goals series with Colorado College ahead by a comfortable six-goal margin. It turned out to be not so cushy after all when CC beat up on Wisconsin 11-4 in the second game to win the series 13-12.
Then-Wisconsin coach Bob Johnson got on the phone and lobbied to get the Badgers in the eight-team NCAA tournament, and it worked. A few weeks later, a team dubbed the "Backdoor Badgers" beat Minnesota for the national championship.
Flash forward 23 years and there are some similarities. Wisconsin was knocked out of the WCHA playoffs in three games — the final one on a Sunday — by Alaska-Anchorage two weeks ago, but still got into the NCAA tournament. Coach Mike Eaves didn't have to make any phone calls on his team's behalf because the selection process has changed dramatically since 1981.
But he now has a different task: getting his team to come out ready to play Ohio State after a layoff.
"I always hope that we're a better team after every weekend, after every experience that we have," Eaves said. "So I hope that's part of who we are now. The good thing is that we are fresh, we've healed. The down side of that coin is we haven't played in two weeks.
"The first period's going to be a key period for us in terms of us being able to keep it simple and effective. If we try to get too fancy, we'll probably stub our toe. But if we can get through that first period and as the period goes on we get our legs, we get up to game speed, that'll be a big period for us."
The Badgers also have to deal with the experience factor, or the lack of it. Ohio State was in the tournament last season, so most of its players know about the NCAA experience. Only two current Wisconsin players — defenseman Dan Boeser and forward Rene Bourque — played the last time the Badgers were in the tournament, in 2001.
But Eaves is confident the high-level experience some of his players have will be beneficial to the Badgers not stumbling at the start Friday night.
"We have guys that have played in world championships and other kinds of championships," Eaves said. "We hope they bring those experiences to the table. It depends on how we respond, and we won't know until we get there."
The Badgers have plenty of motivation: the bad taste in their mouths left after they became the first team to lose a WCHA playoff game and a playoff series to Alaska-Anchorage.
"That's something we do not want to run into," freshman forward Robbie Earl said. "We know how it feels, and that's more motivation. People can say we're going to come out rusty or whatever, but we're not. We're really pumped. I can feel it with the guys."
Wisconsin has done well this season considering the team is being driven by freshmen and sophomores. For that reason, the Badgers have played as underdogs for most of the season, even when they were on a 15-game unbeaten streak. The NCAA situation may not be familiar, but the underdog feeling will be, anyway.
"I think it's better when we're underdogs," defenseman Tom Gilbert said. "It's kind of like the beginning of the year, when we went on our big streak. We played a lot of good teams."