It was a difficult year for Harvard goaltender Dov Grumet-Morris, for as his team struggled with high preseason expectations, he took a healthy share of the blame for the Crimson's mediocre season.
For the first hour and a half of Friday's game, though, Grumet-Morris was walking on water, making the tough saves and controlling his rebounds. He was facing off against rock-steady Jimmy Howard, and he wasn't blinking. It seemed to be his night.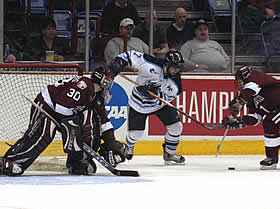 He finished the game against No. 1 Maine with a season-high 41 saves and negated its potent offense for a full two periods. But that was not nearly long enough, for in that final frame the Black Bears mounted a furious comeback, scoring four unanswered goals and sending Harvard down to a 5-4 defeat.
For Grumet-Morris and the Crimson, the result, if not the means by which they got there, was familiar. Despite sporting a 13-1 record in the ECAC playoffs, Friday's loss marked the third straight year Harvard has bowed out in the opening round of the NCAA tournament.
Grumet-Morris has been between the pipes for all of them. He was victimized by Maine's John Ronan in overtime of 2002, when the Black Bears beat Harvard 4-3. And last season, he was in net for Harvard's 6-4 loss to BU in the Worcester regional.
Both those games were close, at least at the beginning. Friday started out promisingly for Harvard: Grumet-Morris had 31 saves through two periods and had allowed only one goal despite being on the penalty kill three times. And with that backstopping, Harvard's offense staked a 4-1 lead after two.
"I think we got pretty fortunate tonight," said Maine coach Tim Whitehead. "I think we were pretty thoroughly outplayed over two periods."
But in the third, the Crimson defense started to unravel around Grumet-Morris. Harvard was outshot badly in the third after keeping the play even over the first two periods.
"[In the third period] we didn't clear the puck and they got second opportunities and you don't want to give a good team like Maine second opportunities," Grumet-Morris said.
Especially not when they bury the puck like the Black Bears. In the third period, Maine put home four of its 14 shots, and tied the record for the largest comeback win in an NCAA regional.
"They came at us in the third — they finished the job," said Harvard coach Mark Mazzoleni.
"[Maine] was the most difficult team we had to shut down defensively all year," seconded his captain, Kenny Smith. "They really had us on our heels in the third."
And, unfortunately for Smith and Harvard, they were unable to shut down Maine defensively for the full 60 minutes. As the Black Bears got better scoring opportunities, Grumet-Morris was unable to keep them off the scoreboard.
But in the eyes of his coach, Grumet-Morris did enough for Harvard to enable the team to win.
"It wasn't Dov's fault we lost; he did a good job for us," Mazzoleni said.