Over the last 30 years, the impact of college hockey players in the NHL has gradually grown bigger and bigger every year. Great stars like Brian Leetch, Chris Chelios, Brett Hull, Mike Richter and Joe Nieuwendyk have won Stanley Cups, and others like Keith Tkachuk, John LeClair and Tony Amonte have joined them to win World Cups and Olympic medals.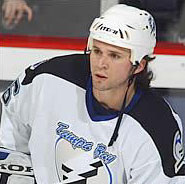 But never before had a former U.S. college player led the NHL in scoring.
Until now.
Former Vermont star Martin St. Louis has become the first ex-college hockey player to win an Art Ross Trophy as regular-season NHL scoring champion, finishing with 38 goals and 94 points. The Tampa Bay Lightning are the No. 1 seed in the Eastern Conference, with the NHL's playoffs set to begin Wednesday.
The 5-foot-8 St. Louis is also in contention for the league's MVP honor, the Hart Trophy.
St. Louis burst onto the NHL scene last season last season, his sixth in the NHL, when he scored 33 goals and 70 points and led Tampa Bay to its first-ever NHL playoff series win.
St. Louis, a native of Laval, Que., scored 93 goals and 267 points in four seasons at Vermont, where he, along with fellow All-Americans Eric Perrin and goaltender Tim Thomas led the Catamounts to their only Frozen Four in 1996. St. Louis was the ECAC Player of the Year in 1994-95 with 71 points, while Perrin won the award the next season as both he and St. Louis broke the school's single-season point record with 85.
An undrafted free agent, no NHL teams took a flyer on St. Louis coming out of college. Instead, both he and Perrin went to play for Cleveland in the IHL. After scoring 56 points in 50 games, the Calgary Flames signed him and sent him to Saint John of the AHL for the rest of the 1997-98 season.
The next season, St. Louis was an AHL All-Star and was leading the league in scoring at the time of his recall to Calgary. In 1999-2000, St. Louis played 56 games in Calgary, but had fourth-line minutes and registered just 18 points. He signed with Tampa Bay as a free agent in 2000-01, and began to blossom. He had 43 points his first year with the Lightning, then had 35 points in 53 games in 2001-02 before an injury cut short his season.
St. Louis' feat came the same week that former North Dakota star goalie Ed Belfour and former Princeton star Jeff Halpern won the NHL's defensive and offensive player of the week awards, respectively. Belfour currently plays for the Toronto Maple Leafs, and Halpern with his hometown Washington Capitals.